Rebecca Sharp takes a look at 10 incredible debut feature films from female directors including Amy Heckerling's Fast Times at Ridgemont High, Sofia Coppola's The Virgin Suicides, and Julie Dash's Daughters of the Dust.
Feature film debuts by female directors often follow a substantial career in the film industry via acting or screenwriting before they finally earn their place in the director's chair. Nancy Meyers was a producer and writer in Hollywood for over 15 years before she directed The Parent Trap (1998) and Nicole Holofcener's step-dad was a producer but it still took her five years after the release of her short film Angry (1991) to earn enough kudos to direct her feature film debut Walking and Talking (1996).
Despite double standards, the ten female directors listed here produced excellent feature film debuts that have allowed them to continue directing phenomenal movies or, in the case of newbie directors, will have at least secured a follow-up film and a maybe slightly bigger budget on their sophomore effort, if they're lucky.
10. Fast Times At Ridgemont High (Amy Heckerling, 1982)
Some may regard Fast Times at Ridgemont High as just another 1980s high school movie, and to an extent, they might be right. There's nothing groundbreaking about the way it's shot, the characters are fairly 2D and stereotypical and they're played by actors in their twenties just like any other teenage film of the time.
But not many other American High School films featured a teenage girl getting an abortion. Not many are this honest about the realities of teenage sex and the toxicity of friendships at this age. Not to mention the incredible cast featuring Sean Penn in his most un-Sean Penn performance as well as Jennifer Jason Leigh, Forest Whitaker and even Nicholas Cage.
As a directorial debut, Amy Heckerling does a stellar job at putting middle-class American teens under a microscope and dissecting them to their core. And she must have done a good job because 13 years later she would direct Clueless (1995) which is nothing short of an era-defining high school film.
9. Thirteen (Catherine Hardwicke, 2003)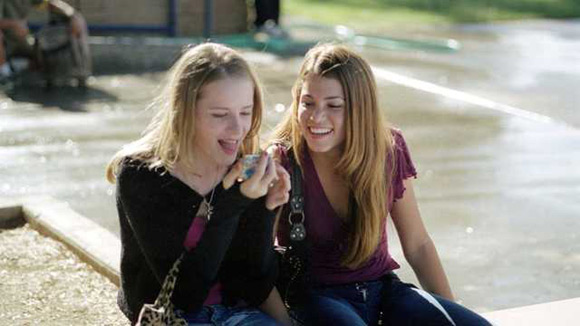 I may have watched Thirteen too late in life, and it's definitely rough around the edges, but the film is still an incredibly strong feature film debut and allowed Catherine Hardwicke to continue directing films in Hollywood, despite many being critically panned and unsuccessful at the box office (the less said about Red Riding Hood (2011) the better).
Thirteen follows a working-class family in Los Angeles with Melanie (Holly Hunter) as a single mother making ends meet by hairdressing and Tracy (Evan Rachel Wood) as her daughter. After Tracy is teased about her clothing, she ditches her 'nerdy' friends in order to fit in with the popular, so-called pretty girls. When Tracy is accepted into the new friendship group she is persuaded to do more and more extreme acts of rebellion until she is completely unrecognisable from her former self.
The film demonstrates how manipulation and bullying can seriously affect a young girl's mental health. And while Thirteen's narrative leans towards the more extreme end of the spectrum, it definitely doesn't exaggerate what could be a real-life scenario. It's an independent film through and through and Hardwicke doesn't treat the teenage characters with any condescension. After watching Thirteen, you can see why she was given the director's chair for a big budget film like Twilight (2008).
8. Deliver Us From Evil (Amy Berg, 2006)
Since Spotlight (2015), the scandals surrounding the Catholic Church and their sexually abusive Priests is, disturbingly, losing its shock factor. But before Spotlight, there was successful documentarian Amy Berg's feature film debut.
Nominated for an Academy Award, Deliver Us From Evil focuses on the life of Irish Priest, Oliver O'Grady and how his pattern of molestation and rape of children in various parishes in California was enabled to continue for over 20 years by the Catholic Church and even the Police.
What's so incredible about Deliver Us From Evil is that O'Grady featured significantly in a documentary about his own horrific crimes. It's a skilled documentarian that can influence the subject of a documentary who is evidently the 'villain' of the film to go on record. Berg consistently achieves well-rounded narratives that feel like they tell the whole story without a stone left unturned which is no more true in her second documentary film West of Memphis (2012).
7. A New Leaf (Elaine May, 1971)
Elaine May's feature film debut seems like it would have been more at home as a British comedy produced by Ealing Studios than an American independent film but nevertheless, I'm very glad it was released at all, which it almost wasn't. May's final cut of A New Leaf was a staggering 180 minutes but Paramount producer Robert Evans took the negatives and cut it to 108 minutes, the version that was eventually released.
A New Leaf follows a trust fund manchild (played by Walter Matthau) who crashes down to earth when he discovers he's spent all his money and has nothing left. His Butler (George Rose) recommends he gets married to a wealthy woman so he can repay all his debts and continue to live the life of Riley. Enter Henrietta Lowell (portrayed by Elaine May herself) as a clumsy bookish type with a huge bank balance.
The film absolutely bombed at the box office but still holds a 100% certified fresh rating on rotten tomatoes. Elaine May might have wanted her name taken off the film but A New Leaf is a truly original and funny dark comedy and by all accounts a great feature film debut. Perhaps her experience as a first time director on A New Leaf would taint the remainder of Elaine May's career as a filmmaker as she has only ever directed two other feature films: The Heartbreak Kid (1972) and Ishtar (1987). The latter failed so spectacularly she has never directed a feature film since.
6. The Virgin Suicides (Sofia Coppola, 1999)
Daughter of Francis Ford Coppola (though I'm sure you're very aware of that by now), Sofia Coppola chose to focus on filmmaking after her half-hearted attempt at an acting career. During the late 1980s and early 1990s, she acted in several of her father's films, most notably as Mary Corleone in The Godfather Part III (1990). Most of her performances were widely criticised and dismissed as a father showing bias towards his daughter.
Luckily, her first short film Lick the Star (1998) was a success and her feature film debut was released a year later. The Virgin Suicides is a coming-of-age tale that follows five sisters who are isolated by their overprotective Catholic parents and their efforts to rebel and survive their parent's oppression. The film received generally good reviews and the success of her feature film debut has allowed her to continue as a respected writer and director. Coppola's follow up to this film, Lost in Translation (2003), is arguably the best film in her repertoire.
The Virgin Suicides was the first of Coppola's films to focus on female-driven narrative through the eyes, or with the aid, of men. The Virgin Suicides is primarily told through the experiences of three boys who are fascinated by the girls, and Coppola's most recent film The Beguiled was criticised for failing the Bechdel test as the women in this film became incessantly preoccupied with the arrival of a civil war soldier. Regardless, her body of work is consistently acclaimed and there's no doubt she's inspired many young women to follow in her footsteps.
5. Red Road (Andrea Arnold, 2006)
For an independent film shot almost exclusively in dogme 95 style, Red Road is an exceptionally stirring and powerful drama. Set in Glasgow near a housing estate, Jackie (Kate Dickie, who you may recognise from Game of Thrones) is a CCTV operative who spots someone from her past walking down the street. Her fascination and obsession with this person builds until we finally discover the truth.
Red Road wouldn't be Arnold's only film featuring lower-income families and housing estates as her follow up Fish Tank (2009) and her most recent film American Honey (2016) also pay closer attention to the working class rather than the wealthy middle class. Not in a voyeuristic way, but Arnold actually sees and creates stimulating narratives about those experiencing poverty when other, lesser filmmakers can only regurgitate films about middle-class, wealthy people with whom they can relate.
4. Lady Bird (Greta Gerwig, 2017)
Greta Gerwig has been a prominent face in the American indie and Mumblecore genres for over ten years. She's cemented herself as a talented writer and actress, often collaborating with Joe Swanberg and her long-term partner Noah Baumbach. Over her ten years as an actress, she's worked with three female directors including Mia Hansen-Løve as well as co-directing Nights and Weekends (2008) with Joe Swanberg. Her feature film debut was not only anticipated but long overdue.
Lady Bird is a coming-of-age film based on Gerwig's experiences growing up in Sacramento in the early 2000s. The titular character (played by Saoirse Ronan) is a teenager attending a Catholic high school who is about to leave for college. The film covers her final year of high school, the highs and lows of her relationships and other poignant events during the year. The film was a huge critical and commercial success and was nominated for five Academy Awards, including Best Director for Gerwig. She is only the fifth woman to be nominated in the Best Director category.
The coming-of-age narrative or more character-driven stories are a common theme for the feature film debut by female directors, possibly because of the obligation to portray alternative or more realistic female stories from personal experience. In the case of Lady Bird, Gerwig utilised her own upbringing to craft a heavily relatable yet distinct character and a storyline that feels refreshing for such a well-trodden genre.
3. Songs My Brothers Taught Me (Chloé Zhao, 2015)
Chloé Zhao completely turns my 'female directors like to draw from their own experiences for their feature film debut' theory on its head. She is a Chinese filmmaker who moved to the USA to finish high school and has lived there ever since. So the fact she managed to create a beautiful and sensitive film about a Native American community in South Dakota is even more astonishing.
Songs My Brothers Taught Me was developed at the Sundance Institute workshops before premiering at Sundance Film Festival. The film stars Jashaun St. John and John Reddy as sister and brother Jashaun and Johnny. Johnny wants to move to California with his girlfriend, leaving his young sister with their absentee mother. Upon the death of their father (who had 25 children in total to 9 different mothers) and the news that her older brother will be leaving her, Jashaun begins to connect with her other brothers and the wider community, which is deeply affected by alcoholism and unemployment.
It's just a beautiful, deeply spiritual film and it's a credit to Chloé Zhao's skill as an artist that she could capture the spirit of a community so far from her own. And if you think it's just a fluke, then you need to watch her follow up The Rider (2017).
2. Daughters Of The Dust (Julie Dash, 1991)
The fact that Daughters of the Dust even got made is nothing short of a miracle. It was the first feature-length film directed by an African American woman to be released in the United States, the subject matter is extremely personal and specific to one community and is, so far, the only film Julie Dash has every directed.
The film is set in 1902 on the island of Saint Helena, just off the coast of mainland United States. This was when the island was inhabited by Gullah people: African Americans who spoke their own Creole language and had a distinctively different culture to mainland African Americans. The film is a fictionalised tale of three generations of Gullah women and their preparation to sail to the mainland in search of a better life with more opportunities. The film comprises of flashbacks and spends a significant amount of time displaying Gullah rituals and traditions. The ethereal tone of Daughters of the Dust compliments the steady pacing of how the family goes about their lives and the outcome is a very beautiful, emotive drama.
Daughters of the Dust draws a lot of parallels with The Color Purple (1985) considering they were released only six years apart and focus on black communities around the same time period. But whereas The Color Purple was a lot more mainstream and accessible, Daughters of the Dust was very unconventional and difficult to sell to mass audiences. This might be why American cinema has been starved of another Julie Dash film for almost thirty years.
1. La Pointe Courte (Agnès Varda, 1954)
Argued by some film scholars as the precursor to the French New Wave cinema movement and the oldest film on this list, La Pointe Courte is required viewing for any self-respecting cinephile. And this film alone would make Agnès Varda one of the most important female directors in film history. La Pointe Courte was highly praised by those who managed to see it but the film failed spectacularly at the box office. It would be seven years before her second film, the phenomenal Cléo from 5 to 7 (1961), was released.
La Pointe Courte is set in a little fishing village on the south of France and follows a few characters that live there, but specifically a married couple who are on the verge of ending their relationship. Like other films considered part of the French New Wave, the shots were wide and long with few cuts, was shot on location and the themes include an existential crisis which was all very typical of the movement.
While it wasn't revered as a masterpiece of cinema at the time, looking back it's easy to appreciate what a visionary Varda was even though it was her feature film debut. Thankfully, she was able to come back from her first box office failure and become one of the influential female, feminist and French filmmakers of all time.
Your turn – what are your favourite films from first-time female directors?