American cinema has, in the past, yielded some snappily-dressed movies. Yet not all of the costumers involved with these works were short-listed for an Academy Award – even when the films themselves picked up nominations in other categories. Mark Fraser, in a list which is far from complete, looks at 10 unfashionable snubs.
10. Hoffa (Deborah Lynn Scott, 1992)
WINNER – Eiko Ishioka for Bram Stoker's Dracula
While this strangely flat Jack Nicholson-driven biopic about the life of Jimmy Hoffa only received Oscar nominations for cinematography and make-up, costume design could justifiably have been another given it's one of the best things this movie has going for it.
9. Shutter Island (Sandy Powell, 2010)
WINNER – Colleen Atwood for Alice in Wonderland
A major challenge facing contemporary costumers is to make the grey suit-dominated Eisenhower Era look interesting. If anyone can take credit for having achieved this it's Sandy Powell who, in Shutter Island, not only dresses US marshals Daniels (Leonardo DiCaprio) and Aule (Mark Ruffalo) to the hilt, but makes everyone else in the cast – from the American soldiers, German prisoners and surviving inmates of Dachau at the end of World War II to the residents and staff of the Ashecliffe Hospital on the titular island in Boston's harbour during 1954 – look appropriately contemporary. Despite its many fine qualities, this Martin Scorsese-directed effort received no Oscar recognition whatsoever.
8. Angel Heart (Aude Bronson-Howard, 1987)
WINNER – James Acheson for The Last Emperor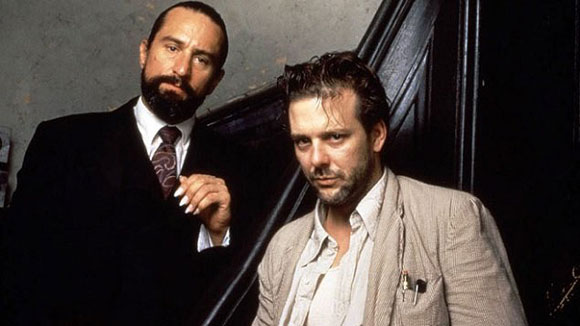 Alan Parker's Angel Heart, which was arguably one of the most sumptuous-looking studio movies of the 1980s, was also overlooked by the academy for everything, including the efforts of costume designer Aude Bronson-Howard, who did a pretty neat job of stitching 1940s urban noir and the steamy environs of New Orleans into the one wardrobe.
7. Blade Runner (Michael Kaplan and Charles Knode, 1982)
WINNER – John Mollo and Bhana Atharya for Gandhi
Although 37 years old, most of the clothes in this film still wouldn't look out of place in some kind of other modern science fiction noir adventure. Blade Runner was only nominated for its art-set direction and visual effects, neither of which won.
6. The Deer Hunter (Various, 1978)
WINNER – Anthony Powell for Death on the Nile
Never has being dressed like a blue collar redneck shooting pool at the local drinking hole looked so fashionable. Then there's the Vietnam War sequence, which is big on detail – including wardrobe. As with this list's soon-to-be-announced winner (see below), The Deer Hunter is not a total Hollywood product, having been half funded by the English through EMI and, later, distributed by Universal Pictures (which, judging from information gleaned from various bits of available literature, signed the cheques for director Michael Cimino's budgetary excesses). It was, however, immediately embraced by the industry, becoming a leading Oscar winner at the 1979 ceremony and pulling in, among others, the best picture and directing gongs.
Sadly, the clothes (and the art direction for that matter) were somehow brushed aside by the academy. Eric Seelig is credited as the film's costume supervisor, with gender specific duties being attributed to Laurie Riley (male) and Sandy Berke Jordan (female).
5. The Doors (Marlene Stewart, 1991)
WINNER – Albert Wolsky for Bugsy
Despite dressing the characters in three big 1991 movies – Oliver Stone's The Doors, James Cameron's Terminator 2: Judgment Day and JFK (Stone again) – Marlene Stewart received no Oscar nominations for that year, although the latter two films were praised by the academy in other categories. Despite the director's insistence for exaggeration, historical distortion and (sometimes clunky) in-your-face melodramatics, The Doors remains one of the best attired rock and roll biopics around.
4. Cold Mountain (Ann Roth and Carlo Poggioli, 2003)
WINNER – Ngila Dickson and Richard Taylor for The Lord of the Rings: The Return of the King
As with the above-mentioned period piece Hoffa, here is a movie which was recognised by the academy for its excellent cinematography, but completely ignored when it came to the work of both the costume and set design departments. (Director Anthony Minghella was also unlucky not to have been nominated.) It eventually won one out of seven Oscars (for best supporting actress Renee Zellweger).
3. War Horse (Joanna Johnston, 2011)
WINNER – Mark Bridges for The Artist
The expansive military uniforms on display in the first half of this story, during which Joey the English farm horse is plunged into the heart of late World War I, should have been reason enough for costumer Joanna Johnston to garner an Oscar nomination. In the end the film was short-listed in six categories – including best film, cinematography and art direction – but won none.
2. Inglourious Basterds (Various, 2009)
WINNER – Sandy Powell for The Young Victoria
When German-speaking British spy Archie Hicox (Michael Fassbender) inadvertently reveals his identity to a Nazi officer (August Diehl) in a French basement tavern, it's not because he's wearing a faulty uniform. Perhaps one reason the academy overlooked this movie for its wardrobe was the fact there were 12 names listed in the costumes credit which appears at the end of the film. Were the judges worried that the Kodak (now Dolby) Theatre stage couldn't handle such a crowd on awards night, or were they concerned about the cost of manufacturing multiple statuettes for this lot?  Maybe they were too lazy to contact the producers to see who would be the appropriate person to collect the gong on behalf of this talent pool? Whatever the case, Inglourious Basterds was nominated in eight categories, with film, director and cinematography being three of them, but won just one (Christoph Waltz as the year's best actor in a supporting role).
Again, while a movie's overall visual impact was acknowledged, some of the parts making up its screen tableau (read costume and set design) failed to register sufficient interest to garner a nod. Had this Quentin Tarantino-directed war opus been short-listed for its dress sense and won, those asked to go on stage and collect a gong may have included Daryl Bristow (costume supervisor), Brigitte Rodriguez (wardrobe supervisor), Jenny Lorenze and Daniela Backes (principal set costumers), Gary Lane (military uniforms supervisor) and Metin Misdik (key principal costumer).
1. Lawrence Of Arabia (Phyllis Dalton, 1962)
WINNER – Mary Wills for The Wonderful World of the Brothers Grimm
Having David Lean's desert epic as the top entry on this list may be a little problematic given the company behind its production – the Sam Spiegel-led Horizon Pictures – was British. And, in this regard, it's also worth noting that the Hollywood studio directly associated with it, Columbia, didn't open a UK office until 1965. Nevertheless, it made good money for its American partner, becoming Columbia's sixth biggest money spinner during the 1960s.
Furthermore, it won seven out of 10 of its Academy Award nominations, including the big one (film), director, cinematography and set design. Taking all this on board, tossing Lawrence of Arabia so late into this mix isn't too blasphemous. What is, though, is the fact that a period piece of this size and scope could be injected with plenty of Oscar love, but not enough to extend to its wardrobe department. And let's face it – the costumes, some of which have cemented a place in cinema's iconography, ultimately played a pivotal role in the execution of this film's rich and expansive visual narrative.
Written and compiled by Mark Fraser
Over to you: where do you think the Oscars have got it right and wrong in regards to costumes?
Discover more writing on film by Mark Fraser
"Salvador" Is More Revolt Than Revolution | "The Deer Hunter" Remains An Adult Fairy Tale | "The Train" Still One Hell Of A Ride | "Barry McKenzie Holds His Own" Maintains Its Irreverent Grip | Umberto Lenzi's "Eaten Alive" Is A Hard Act To Swallow | William Friedkin's "Sorcerer" Is A Curiously Mistreated Masterpiece | "To Catch A Thief" Shows Hitchcock Dabbling In Blandness