Tag:
battle
,
deathly hallows
,
draco malfoy
,
film
,
ginny
,
harry potter
,
hermione granger
,
hogwarts
,
part 1
,
revenge
,
romance
,
ron weasley
,
snape
,
story so far
,
voldemort
,
war
Is Harry Potter and the Deathly Hallows the first Potter film you will see? Or do you fancy a recap of the story so far? Read on to prepare yourself for Harry Potter's latest adventure!
A bit of background:
Harry Potter is an orphan. His parents (two of the world's best wizards) were killed by evil Lord Voldemort but when Voldemort tried to kill Harry as well, his killing curse rebounded and reduced the evil wizard to a weak, half-life like form. Voldemort then disappears for a decade.
Harry is left to be raised by his despicable Uncle and Aunt, the wizarding world believing that Voldemort is gone forever.
At the age of 11, children with wizard powers are invited to a special school – Hogwarts – to train and learn about their special gift. It is here that Harry meets Hermione and Ron, the two children who would become his best friends and closest allies in the battle against evil.
Also check out: Harry Potter and the Deathly Hallows TRAILER | Clips from the Deathly Hallows | Harry Potter and the Deathly Hallows TRAILER 2 | Deathly Hallows – IMAGES 1 | IMAGES 2 | WORLD PREMIERE PICS 1 including pics of the head-turning Emma Watson and her very short dress | REVIEW: Harry Potter and the Half-Blood Prince
Catch up with the entire series on DVD and Blu-ray:
Amazon.com: DVD
| Blu-ray

Amazon.co.uk: DVD
| Blu-ray
!!!SPOILERS AHEAD FOR THE FIRST SIX MOVIES!!!
Introductions:
KEY CHARACTERS
Good Guys:

Harry Potter, Hermione Granger, and Ron Weasley
Hogwarts' ace wizarding pupils and best of friends, these three band together to fight evil Lord Voldemort.

Ginny Weasley, Fred and George Weasley, Luna Lovegood, Neville Longbottom
Harry's allies from Hogwarts, fellow students Ginny, Fred, George, Luna, Neville and several others join Harry's army. Fred and George, Ron's older twin brothers, are two powerful and talented wizards. Neville has a similar personal reason why he wants to defeat Voldemort.

Hogwarts' teachers – Professor Dumbledore, Hagrid, Minerva McGonagall
Professor Dumbledore is the most knowledgeable of all wizards but succombed to the double-crossing Professor Snape and is killed at the end of Half-Blood Prince. Hagrid and McGonagall remains loyal to Harry's cause.

Sirius Black, Fleur Delacour, Remus Lupin, Nymphadora Tonks, Alastor Moody, Arthur Weasley
Members of the Order of the Phoenix, a group of good wizards, set-up to protect the wizard and muggle worlds from evil.
Bad Guys:

Lord Voldemort, Professor Snape, Draco Malfoy
Voldemort is eager to kill Harry Potter, the only wizard powerful enough to stop him ruling the world. He is helped by Hogwarts' teacher Professor Snape and young bully Draco Malfoy.

Bellatrix Lestrange, Lucius Malfoy, Peter Pettigrew
Bellatrix is one of the craziest witches and devout follower of Voldemort. Lucius Malfoy is Draco's father, a scheming wizard who cares not for his family, only his stature within Voldemort's army. Peter Pettigrew double-crossed Harry's parents and was directly responsible for their deaths as well as Cedric Diggory's.
THE STORY SO FAR…
Chapter 1 – Philosopher's Stone (aka Sorcerer's Stone)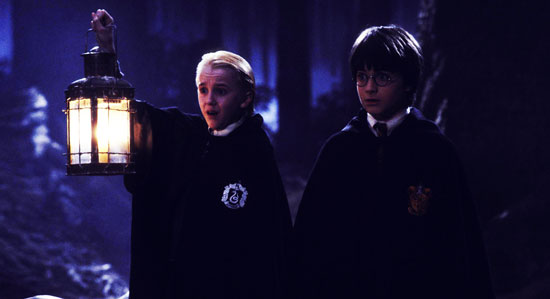 Harry Potter (Daniel Radcliffe) goes to Hogwarts school of Witchcraft and Wizardry for the first time. He meets Hermione Granger (Emma Watson) and Ron (Rupert Grint), learns how to play Quidditch (a game involving flying about on broomsticks that is a cross between football and rugby), and has his first battle with Lord Voldemort.
Voldemort has devised a way to partly come back to life by way of attaching himself to one of the school's teachers Professor Quirrell. If he can get the Philosopher's stone then he can regenerate fully. He tries to coax Harry into giving it to him but Harry refuses. He kills Quirrell inadvertently by touching him, causing Voldemort's spirit to flee.
Chapter 2 – Chamber of Secrets
The Chamber of Secrets has been opened! Yes, even if you've seen the film you won't really know what it all means in this convoluted episode of the Harry Potter story. Harry, Hermione and Ron all return to Hogwarts for their second year, where Harry discovers a mysterious diary that belonged to Voldemort when he was a young student at Hogwarts. Harry learns of Voldemort's past and begins to understand just how powerful and dangerous a wizard he is. Through the diary, where Voldemort hid a peace of his spirit – known as a Horcrux – he comes back to life in the body of his teenage self. But he is still weak and Harry defeats him once again when he kills the snake serpent summoned by the evil wizard.
Chapter 3 – Prisoner of Azkaban
Harry returns to Hogwarts for his third year, this time under the protection of the mysterious Dementors who are defending the school from the escaped convict Sirius Black (Gary Oldman). But Black isn't the one they have to fear. Harry learns more about his past including the fact Sirius tried to help Harry's parents when Voldemort threatened them. Harry finds out that Peter Pettigrew, who Sirius was supposed to have killed, was in fact working with Voldemort and instead of killing Pettigrew, Sirius was trying to protect Harry's parents from him. Pettigrew is in fact not dead and returns only to escape and rejoin Voldemort's band of evil followers.
Chapter 4 – Goblet of Fire
The episode that introduced the world to Robert Pattinson!
Harry joins four other young wizards in the Triwizard Tournament – a series of challenges that pit the skills of each wizard against various foe. At the beginning of the film the Death Eaters – Voldemort's band of evil followers – attack the Quidditch World Cup, alluding to the fact Voldemort is getting stronger. At the end of the film, Harry, and fellow contestant Cedric Diggory (Robert Pattinson), are transported to a secluded graveyard where Voldemort appears. Voldemort kills Cedric but the spirits of Harry's parents arrive to help Harry escape. Harry returns to Hogwarts with the news that Voldemort has returned and that Cedric Diggory has been killed. No one believes his story.
Chapter 5 – Order of the Phoenix
The death of Cedric Diggory and Harry's possible involvement in the death is hot on the agenda at the Ministry of Magic (essentially, the government for wizards and witches). The Ministry of Magic denies the possibility of Voldemort's return, believing him to be dead. Dumbledore (the headmaster of Hogwarts) supports Harry's story.
Some of the students at Hogwarts disbelieve Harry's story causing divisions at the school headed by bully Draco Malfoy (Tom Felton). But Harry's closest allies including Hermione and Ron join forces with others that remain loyal to him and begin learning the skills to defeat Voldemort and his army.
These skills are put to the test when Harry, Hermione, Ron, Luna, Neville and Ginny go to the Ministry of Magic to save Sirius who they learn is in trouble. They battle with the Death Eaters including Draco's father Lucius (Jason Isaacs) and the psychotic Bellatrix Lestrange (Helena Bonham Carter). The Order of the Phoenix – a team of good wizards set up to battle Voldemort – arrive. The Order includes Sirius Black, Remus Lupin (David Thwelis), Alastor Moody (Brendan Gleeson), and Nymphadora Tonks (Natalia Tena), amongst others. Voldemort arrives too and battles Harry and the others. Sirius is killed by Bellatrix. In a moment of rage Harry takes on Voldemort himself only to be injured before Dumbledore (Michael Gambon) appears and fights Voldemort. When members of the Ministry of Magic arrive on the scene and see that Voldemort has indeed come back from the dead, Voldemort escapes.
Chapter 6 – Half-Blood Prince – Full review here
Voldemort and his Death Eaters are causing havoc in the wizarding and human worlds (humans, or none wizards/witches, are known as muggles). In order to help Harry understand how to defeat Voldemort once and for all, Dumbledore begins to show Harry a series of past events. These events show how Voldemort rose to power. Dumbledore reveals that Voldemort has managed to split his life force into several hidden objects known as horcruxes. To kill Voldemort, Harry must find each and every Horcrux and destroy them.
Dumbledore and Harry set off together to destroy one of Voldemort's horcruxes. While they are away Voldemort attacks Hogwarts using Draco's help. Draco is tasked to kill Dumbledore but cannot do it so Professor Snape enters and kills Dumbledore.
Mourning Dumblerdore, Harry, Hermione and Ron vow to continue Dumbledore's search, to find the remaining horcruxes and destroy Voldemort for good.
KEY PLOT POINTS TO RESOLVE
Revenge:
Voldemort has killed Harry's parents, his uncle Sirius Black, his friend and tutor Dumbledore, and others. Now Harry is stronger and wiser. It is time for him to exact his revenge – but will Voldemort be too powerful? And who will be sacrificed along the way?
The Destruction of the Horcruxes:
In order to gain revenge and destory Voldemort for good, Harry, Hermione, and Ron have to discover and find each of Voldemort's horcruxes. Basically, Voldemort has immortality as long as a piece of his life-force remains hidden in an object, known as a horcrux. These horcruxes must be found and destroyed. But they could be hidden anywhere and in anything. Our three heroes will begin their search in Deathly Hallows Part 1.
Romance:
Will Harry and Ginny survive so that their mutual love for one another can blossom into romance? Will Ron and Hermione finally get together?
The Enigmas:
For a long time, Harry had reservations about the secretive Professor Snape, believing him to be working with Voldemort and the Death Eaters. But he was always told by Dumbledore that Snape was to be trusted, despite evidence to the contrary. Harry's accusations were proven when Snape double-crosses Dumbledore and kills him. In doing so, he helps school bully Draco Malfoy escape and join the Death Eaters. But there are still question marks about both characters – is Snape playing for both sides and for what reason? Did he really kill Dumbledore? As Draco's conflicting alliances muddle his own hatred towards Harry, will he finally see that his father has influenced him down the wrong path? These two characters will provide the most interesting resolutions in Deathly Hallows.
The Battle for Hogwarts:
There will be a final showdown at Hogwarts between Voldemort and his army of Death Eaters and Hogwarts' teachers and the Order of the Phoenix. Who will triumph, and what will be left of the school?