One of the horror genre's great attributes is its flexibility to be moulded in unique and fascinating ways; a mark of its roots in fantasy. In this top 10, Zoe Rose Smith takes a look at a collection of genre greats that have become pieces of art themselves.
With the hype surrounding Netflix's new original horror film Velvet Buzzsaw from director Dan Gilroy (Nightcrawler) and starring Jake Gyllenhaal and Toni Collette, we're looking at horror's top 10 art horror films. Some are about art similar to the theme throughout Velvet Buzzsaw, and some are pieces of artworks in themselves.
10. A Field In England (Wheatley, 2013)
Director Ben Wheatley delivers a beautiful masterpiece in psychedelia with his historic horror film A Field in England. Set in the 17th century during the civil war in England, a group of men who have abandoned their posts endure a psychological trip through a countryside field. Shot solely in monotone, this film's cinematography is dull yet vibrant and eerie throughout.
9. Only Lovers Left Alive (Jarmusch, 2013)
Starring Tom Hiddleston, Tilda Swinton and Mia Wasikowska, this 2013 vampire film from director Jim Jarmusch is an artistic gem often hidden. Two lovers reunite their century old passion but are disrupted by the arrival of her chaotic younger sister. Only Lovers Left Alive is a sophisticated look at the desperation felt when society is not idyllic.
8. Black Swan (Aronofsky, 2011)
Darren Aronofsky, director of Black Swan, has a habit with giving the audience intense, horrific and anxiety-driven films that are portrayed as art pieces. From his depressing film A Requiem for a Dream to his nerve-wrecking Mother!, his art form is to push the viewer's emotional boundaries. One ballerina enters a nightmarish world of horror-fuelled dance in Black Swan. The choreography is distressing in itself and shows that art is often terrifying yet mesmerising.
7. The Shining (Kubrick, 1980)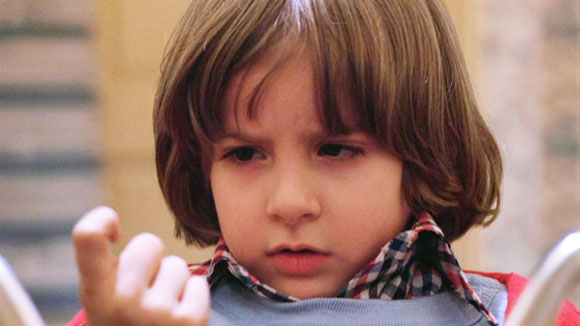 Author of the original book, Stephen King, was never happy with director Stanley Kubrick's imagining of The Shining, but he took a tale of horror and added an alluring aesthetic to it. Jack, his wife Wendy, and son Danny become caretakers for the isolated Overlook Hotel for the off-season, which leads to a spiral of madness and chaos. Every shot in The Shining is a piece of art in itself laden with vivacious reds and hidden messages.
6. Nosferatu (Murnau, 1922)
A classic treatment in horror films is the 1922 film from director F.W. Murnau, Nosferatu. One man discovers the host he is staying with has bloody tendencies and could have a very niche type of lust for his lover. This silent film relies on imagery to embrace and engulf the audience in the horror of our protagonist vampire's thirst for blood. The most iconic scene with the lingering and growing shadow of Orlok is a portrait of pure horror that cannot be abolished.
5. The Love Witch (Biller, 2017)
This is not a film I can endorse for it's story, however the aesthetics of the film are some of the most impressive known to film. Director Anna Biller gives us Elaine, a seductive young witch whose goal is to find a suitable man. When she finds the perfect man, it soon leads to murder. Every detail in The Love Witch has been given utmost attention, and the look of the film is perfect to the era and tonality.  
4. House (Obayashi, 1977)
Nobuhiko Obayashi's House is a Japanese horror comedy film from the late 70s that delivers everything in terms of visual effects. Gorgeous visits her aunt's mansion with a group of friends to escape spending time with her father and step-mother; the house is a shrine full of bizarre supernatural happenings. House layers graphical elements on top of its cinematography to create psychological effects that disturb and delight the eye.
3. A Ghost Story (Lowery, 2017)
Horror films do not always have to fill the audience with terror, sometimes they remind us of the horror that is life; full of sadness, woe and loss. A Ghost Story from director David Lowery and starring Rooney Mara and Casey Affleck, follows through the eyes of a ghost as he watches his wife mourn him. This film requires patience and an understanding of what is trying to be said through the work, similar to art itself.
2. The Neon Demon (Refn, 2016)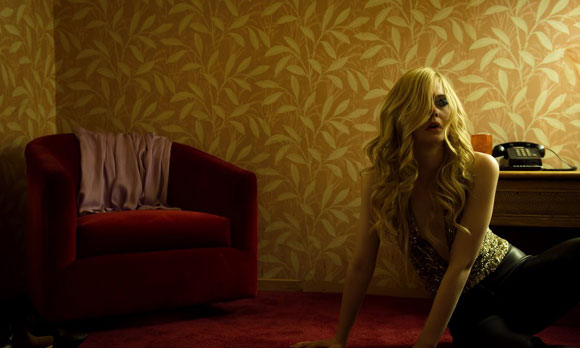 This vivid horror film from director Nicolas Winding Rehn shows that horror can be dictated by visuals and the chance to flourish through looks. As she starts to quickly rise through the ranks of the modelling industry, Jesse comes head to head with the jealous wrath of the fading beauties of the vain world. Even though the storytelling is slow and not overly compelling, The Neon Demon has a skin deep elegance that will gnaw away at you.
1. Suspiria (Argento, 1977)
This Italian horror film from director Dario Argento combines the art of ballet with the artistry of witchery, through a unique and visually stunning film that is Suspiria. A young dancer joins a new ballet school but soon becomes aware that something is amiss within the building. Entwined with a colour palette that makes any pantone book jealous of the alarming blood red hues that dominate throughout, and with dreamy yet nightmarish camera angles, this film truly is the Mona Lisa of art horror films.
Your turn? What are your favourite art horror films?