From French Kiss to When A Man Loves A Woman, from Top Gun to When Harry Met Sally, we check out the top 10 Meg Ryan films.
She was once America's other Sweetheart. She was loved and revered and everyone wanted to see her in rom-coms, especially with Tom Hanks. She was the kind of actress people could relate to. People could empathize with her in films where she was looking for love or wronged by a lover. She could do no wrong.
But like any Hollywood star, she had a shelf life. Eventually, people stopped wanting to see her in films and her box office returns diminished. She's been acting in films for more than 30 years and for at least 20 of those, she was one of the biggest stars in the world. She made a career out of playing lovable characters in light and funny stories but she also has occasionally allowed her darker side to come out.
Here's the top 10 Meg Ryan films…
10. French Kiss (Kasdan, 1995)
Although not a film that did well at the box office, it is one to see simply for the chemistry between Meg Ryan and Kevin Kline. Some have said this movie is a throw back to the screwball comedies of the 30s and 40s and if that is true, the reason it works is the two leads. Ryan does cute like no one else. And this allows us, the audience, to empathize with her character. She plays a woman who had her whole life mapped out and then the rug is pulled out from under her as her husband breaks up with her over the phone…from France. Ryan then gets on a plane to try and win him back and she meets Kline's character. There's nothing groundbreaking about her performance but she does what we want her to do. And sometimes that's enough.
9. Innerspace (Dante, 1987)
Meg hadn't hit super-stardom yet, that wouldn't come for another couple of years. So at this point of her career she was relegated to the cute girlfriend type roles. While she plays the same kind of role in Innerspace, she had much more to do in this one. Here she plays Dennis Quaid's girlfriend. Quaid gets injected into Martin Short and hilarity ensues. Ryan comes off as cute and bubbly and yet her and Quaid have excellent chemistry, even though he is injected into Martin Short's body.
8. Top Gun (Scott, 1986)
"Hey Goose ya big stud! Take me to bed or lose me forever." Meg Ryan had a small supporting role in the Tom Cruise vehicle. She plays Maverick's partner's wife. She had very few lines but she simply lit up the screen. The piano scene with Cruise, Anthony Edwards and Kelly McGillis set the early tone to the movie. And people took notice. Before Top Gun, Ryan had been in the second sequel to The Amityville Horror and two small films that no one had ever heard of. After Top Gun, she was working with the likes of John Candy, Dennis Quaid and Sean Connery.
7. Proof Of Life (Hackford, 2000)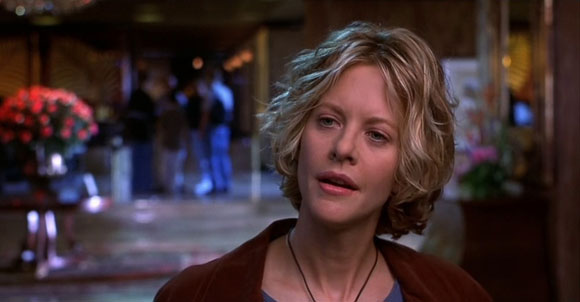 The movie is perhaps most well known as the film that supposedly broke up Ryan's marriage to Quaid. But it is nonetheless an interesting film with two really good performances from Russell Crowe and Ryan. She has a more serious character to play, albeit at times a weepie one, steering well clear of the pretty blonde comedic roles she had become famous for. There were rumours that the love scenes for the film were shot but scrapped due to the bad press. The romance between the characters was also almost squashed out, save for the suggestion of a strong physical attraction between the two. Ryan is allowed to play a different kind of role here. It's not that it's a more mature role but it's certainly a little more complex than some of her rom-coms.
6. When A Man Loves A Woman (Mandoki, 1994)
Meg Ryan plays Alice, a San Francisco junior high school counsellor who drinks all day, every day. Her husband, Michael, an airline pilot played by Andy Garcia, knows she gets loaded on occasion, but has no idea of the extent of her drinking. I like this film for several reasons. One is that is has four incredible performances, not just by the two leads but from Ellen Burstyn and Phillip Seymour Hoffman, who is electric no matter how big or small his part is. Ryan proves she can be more than America's sweetheart; in turn, she's vulnerable, appalling, and formidable. You hate her in some scenes and you cry with her in others. It's a film with a wide array of emotions and Ryan handles them all.
5. City Of Angels (Silberling, 1998)
Like many of Ryan's love stories, this is a love story about people whose different backgrounds present a serious obstacle. Meg Ryan, as always, is delightful and ebullient as Maggie. This is a case of perfect casting – I can only think of a few other actresses who are as good as Ryan in this kind of role. Her range – despair and hope, pain and rapture – places her work in City of Angels alongside that in Proof of Life and Courage Under Fire as proof that she is a capable, well-rounded dramatic talent. Her and Cage play really well off one another. It's a great film that asks a lot of questions and might leave you in tears by the end.
4. Sleepless In Seattle (Ephron, 1993)
Nora Ephron and Meg Ryan had a terrific working relationship. This is the first time Ephron directed her and the results are one of the sweetest romantic comedies of all time. Tom Hanks and Ryan have terrific screen chemistry, even if they are only on screen together for the last five minutes of the film. But credit their chemistry to Ephron's script and direction. While this is one of the all time great rom-coms, it also has some really witty Godfather references. Ephron's script has it that all men know the Godfather and the script is something we can all recite at a moments notice. I got some good chuckles out of the references. But mostly this is about two people falling in love with one another even though they have never met. We root for the two of them to finally meet up and to validate the love they are feeling for one another. Sleepless in Seattle is a terrific vehicle for both Hanks and Ryan.
3. Courage Under Fire (Zwick, 1996)
Here's a film that is littered with strong male performances. You have Denzel Washington who is always strong in every film he does. Then you have a jacked up Lou Diamond Phillips doing his best to shed his La Bamba persona and you have a young and relatively unknown Matt Damon who lost 20 pounds to play a heroine addicted soldier with a secret. And then you have Meg Ryan in a role that is completely against type here. Not only does she play a physically tough soldier who has to make some really harrowing decisions, but she also has a soft side where she's a daughter a wife and a mother. As the leader of a unit that has been shot down in enemy territory, she's tough but fragile, strong yet vulnerable and fierce yet scared. Her range of emotions in here were quite the gauntlet. Crying one minute, barking orders the next. This is one of my favourite Ryan roles outside of her rom-coms.
2. You've Got Mail (Ephron, 1999)
The final film in the Ryan/Ephron trifecta, this isn't quite as good as the film at number one but it is better than Sleepless in Seattle. Part of the reason for that is Ryan and Tom Hanks get to share a lot of screen time. It's also a film that illustrates the power of words. Sleepless in Seattle covered that to an extent but this one goes deeper. As the saying goes, the pen is mightier than the sword. In this case, the computer replaces the pen but it's the same idea. Can two people really fall in love just from words alone? In my experience, yes they can. And You've Got Mail explores this deeply. Ryan and Hanks play book store owners but from very different backgrounds. Hanks owns a franchised monster of a book store that has all but put Ryan's small and quaint 50 year old book store out of business. They have every reason to hate each other and yet a romance blossoms. Hanks and Ryan are magical together in this film and it's one of Ryan's best comedic roles as well.
1. When Harry Met Sally (Reiner, 1989)
This is the role Meg Ryan is most famous for and it's also a role that should have at least gotten her an Oscar nomination. Written by Nora Ephron, directed by Rob Reiner and blessed with a terrific cast that includes the late Carrie Fisher and Bruno Kirby, this is the film that made Ryan a true movie star. Her fake orgasm diner scene is one of the all time great scenes in film history but there is so much more she brought to the film than just that one scene. Her and Billy Crystal are perfectly cast and they play off each other beautifully. Sally Albright is a complex character. She goes from perpetually happy in some scenes and then she has others when she is just sharing her heartache with Harry and it really resonates. There's no denying that part of the charm is the terrific script by Ephron but it's what Ryan does with it that makes it such a memorable role. This is the first of three films in which the two of them worked together, and it is the best of the bunch by far in my opinion.
Written & Compiled by Dan Grant
Your turn? What are your favourite Meg Ryan films? Agree with this list? Disagree? Let us know…