The best British films of 2018 provided compelling and original alternatives to big box office Hollywood movies with commercial successes such as Widows and Three Billboards Outside Ebbing, Missouri, crowd-pleasers like The Festival and arty fare across a number of genres such as Apostle (folk horror), You Were Never Really There (thriller) and Annihilation (sci-fi) leading the way.
It's fitting that in the year when UK box office numbers increased to levels not heard of in decades that British film's output should impress in equal measure. Indeed, commercial successes such as Steve McQueen's Widows and Martin McDonagh's Three Billboards Outside Ebbing, Missouri helped boost the numbers of people eager to watch movies on the big screen.
The best British films of 2018 also include video-on-demand originals like Netflix-produced Apostle, Annihilation and Calibre and Ben Wheatley's Happy New Year, Colin Burstead which debuted on British TV, as well as the less commercially successful Peterloo from director Mike Leigh and Daniel Kokotajlo's Apostasy.
Beast (Michael Pearce)
Beast boasts an arresting beauty – thanks to cinematographer Benjamin Kracun's stunning showcase of a Jersey summer framed around the red-headed curls of Jessie Buckley's Moll dancing in a light breeze – that gives this subtle psychological suspense drama a dreamy aesthetic that harmonises the communal fear of a serial killer on the loose and Moll's compelling coming of age amidst a blossoming romance with the enigmatic rogue Pascal (Johnny Flynn). Elegant, picturesque shorelines and warm sunsets mix with household clutter, muddy faces and mouths filled with soil; a visual metaphor for Moll's fragility as she battles to prevent her own equilibrium from becoming lost to an overpowering sense of anger, frustration and paranoia.
Apostle (Gareth Evans)
A horror film that'll make you squirm, Gareth Evans' dark journey into the heart of an early 20th century Welsh cult is one that's difficult to forget. That's in part thanks to Dan Stevens' terrific performance as a former Christian missionary who attempts to infiltrate the mysterious, island-dwelling community whose leader (played by Michael Sheen) has kidnapped his sister for ransom. Wonderful cinematography and set design complement Apostle's compelling mix of folk horror and survival movie as The Wicker Man meets The Descent.
Ghost Stories (Andy Nyman, Jeremy Dyson)
Ghost Stories follows career debunker Phillip Goodman (Nyman) as he investigates three of ageing paranormal investigator Charles Cameron's unsolved cases. An anthology of scary supernatural tales in the tradition of Amicus' output from the 1960s and 1970s, the film, written and directed by Andy Nyman and Jeremy Dyson based on their successful stage play, finds a sweet-spot that leans towards genuine scares and sustained suspense with some fleeting moments of sparkling wit.
You Were Never Really Here (Lynne Ramsay)
Joaquin Phoenix plays hitman Joe, a troubled war veteran, in Lynne Ramsay's You Were Never Really Here, a film that's difficult to define with elements of revenge, paranoid conspiracy and crime drama. Joe has turned his explosive anger towards saving young girls from sex traffickers and the film follows him as he becomes embroiled in an ugly conspiracy involving US senators after accepting a job to rescue the teenage daughter of a government official. Ramsay isn't interested in overloading the plot, her adaptation of Jonathan Ames book stripping the narrative bare, exposing her focus – hitman Joe – with a sense of intimacy that films of this nature rarely enjoy in American cinema.
Happy New Year, Colin Burstead (Ben Wheatley)
Terrific performances from the ensemble cast who delight with their collective improvisational spirit spark this drama from Kill List writer-director Ben Wheatley (who also directed Sightseers and Free Fire) to life. Neil Maskell's eponymous Colin Burstead invites his extended family to a New Year's Eve party at a rented country house where family dysfunction and pockmarks of history collide in a observant drama that will hold a mirror up to its audience's own uncomfortable familial tensions.
Apostasy (Dan Kokotajlo)
Dan Kokotajlo makes the transition from talented short filmmaker to accomplished feature filmmaker with Apostasy, a rare and intimate drama centred around a tightly-woven community of Jehovah's Witnesses. Drawing from his own experiences having once being a member of the religion, Kokotajlo provides unique insight into the complex nature of faith and family, his lens revealing the insidious nature of blind faith and the fallout of fundamentalism, quietly and potently asking questions of religious institution without heavy-handed pigeonholing.
Calibre (Matt Palmer)
Calibre, the 2018 recipient of the Edinburgh International Film Festival's Best British Film award, is impressive for the caustic, tightly wound tension it subjects us to from the outset. Indeed, as an example in the art of creating and sustaining a palpable sense of unease, as if the very ground on which these characters walk upon is loose and crumbling, Matt Palmer's film is a cinematic masterclass.
Widows (Steve McQueen)
Steve McQueen directs this stylish heist film based on the British TV drama series of the same name from 1983. Assembling a stellar cast – including Viola Davis, Michelle Rodriguez and Elizabeth Debicki as co-conspirators who attempt to steal $5 million to pay back a crime boss after their gangster husbands are killed on a botched job, the filmmaker behind Shame, 12 Years A Slave and Hunger proves he's quite adept at pure entertainment. There's enough depth to the characters here to overcome the familiarity of the tropes Widows presents, while its surprises work well, the performances are uniformly compelling, and the camerawork adds sparkle to convention.
Three Billboards Outside Ebbing, Missouri (Martin McDonagh)
In writer-director Martin McDonagh's film Three Billboards Outside Ebbing, Missouri the brilliant Frances McDormand plays a determined mother who calls attention to her daughter's unsolved murder. At the heart of this smartly written drama is the performance of an actress who consistently astonishes, and here she finds an inner strength that manifests itself at times in understandable rage as she fights to learn the truth about her daughter's rape and murder. Despite the events that have befallen her, McDonagh's characteristic subversive approach manoeuvres away from pandering to tragedy. Not many actors could make this character work but McDormand does.
Annihilation (Alex Garland)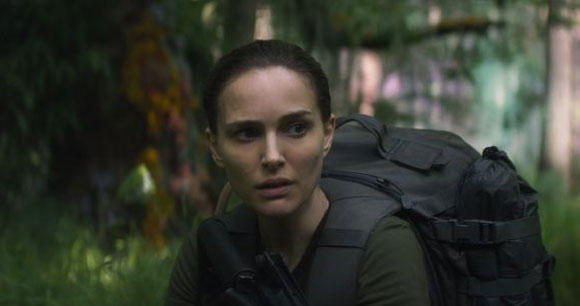 Here's the tough "second album" for writer-director Alex Garland after stunning audiences with his dazzling sci-fi debut feature, Ex Machina. A mindbender of a plot that turned some audiences away – and caused some critics to moan it made no sense – Annihilation oozes tension, atmosphere and striking production design. These are qualities that are hard to dismiss when you also consider Natalie Portman's deft, softly spoken protagonist who carries the film with a subtle but tangible screen presence. A heady mix of ambiguity and hardcore science-fiction, Annihilation may take some digesting but is destined for cult-like status as those who first dismissed it return to find its unique strengths.
Other good British films of 2018 that are worth checking out…
The Festival (Iain Morris)
Best known for co-creating The InBetweeners with Damon Beesley, Iain Morris' likable comedy The Festival finds plenty of laughs in an off-kilter but finely tuned rendition of the ups and the downs of this summer institution. Formulaic and somewhat derivative, Morris does however pleasingly capture the authenticity of the setting which is the backdrop to his more outlandish – and sometimes hilarious – set pieces involving the expected cocktail of drink, drugs and sex.
Ray & Liz (Richard Billingham)
An uncompromising, bleak and brutal study of a family coming apart at the seams, photographer and artist Richard Billingham's directorial debut, a film inspired by his own childhood growing up in an inner-city Birmingham council flat during the Thatcher era, displays a fragmented story that, through vignettes, presents the grim and sometimes awkwardly funny life of a family dealing with poverty and dysfunction over many years.
Peterloo (Mike Leigh)
A passion project for writer-director Mike Leigh, Peterloo wasn't as big a hit with critics compared to previous films. But the filmmaker always distinguishes himself through a unique way of constructing drama out of improvisation and working with actors to painstakingly develop characters. In Peterloo, he brings to vivid life the events surrounding the infamous 1819 massacre when a peaceful pro-democracy rally in Manchester turned into a notoriously bloody fight for life when government forces stormed into a crowd of 60,000 people.
Author's Note:
Eligibility for this list of best British films of 2018 required an official "general audience" release date in the UK between January 1 and December 31, 2018. British films – in this case – are determined by the country of origin of the production companies involved and in some cases, such as with Three Billboards, Widows and Annihilation, include co-productions with international investors. Documentaries weren't included so films like Ian Bonhote's McQueen misses out. Also, while officially a 2017 film, Three Billboards Outside Ebbing, Missouri qualifies as it was released in the UK for the first time in January 2018 while Yorgos Lanthimos' The Favourite – listed as a 2018 film officially – was not released in the UK until January 2019.
Over to you: what would you say were the best British films of 2018?