Despite being tall and athletic with a compelling screen presence – and enjoying a career that briefly touched upon superstardom – Roy Scheider (1932-2008) eventually became one of Hollywood's most unconventional leading men. Mark Fraser looks at 10 of his memorable performances.
10. Chicago 10 (Brett Morgen, 2008)
Scheider provides the voice of Judge Julian Hoffman in this animated take on the trial of the Chicago Seven, a group of activists which, amongst other charges, was tried for conspiracy to incite a riot during the troubled 1968 Democratic Convention in Chicago. Interestingly, his distinctive elocution had been utilised before as the sparsely-employed off-screen narrator in Paul Schrader's 1985 biopic Mishima: A Life in Four Chapters. Furthermore, it has also appeared in a number of other productions, including a couple of Family Guy episodes.
9. Naked Lunch (David Cronenberg, 1991)
Possibly one of the most bizarre – and funniest – moments in Scheider's 47 year screen career*, in which he appears as Dr Benway, who is described by William Burroughs (author of the original book on which the film is based) as "a manipulator and co-ordinator of symbol systems, an expert on all phases of interrogation, brainwashing and control." Despite the omnipotent implications of such dubious talents, his appearance in the movie is kept to a minimum. (*Although Scheider died in 2008, his last film – Iron Cross – was not released until 2011.)
8. Romeo Is Bleeding (Peter Medak, 1993)
Mean-as-mustard mobster Don Falcone (Scheider) doesn't mess around – particularly when the contracts he issues aren't properly carried out. The trouble is – as discovered by corrupt New York police detective Jack Grimaldi (Gary Oldman), whose toe is cut off after he fails, on Falcone's orders, to kill sexy Russian assassin Mona Demarkov (Lena Olin) – the target is all too cunning. Not surprisingly, the gangster is also outwitted by his prey and buried alive as a result. A most ignominious end for a ruthless bastard.
7. Marathon Man (John Schlesinger, 1976)
As Henry "Doc" Levy, the older brother of the titular character Thomas (or "Babe", played by Dustin Hoffman), Scheider is a formidable secret US Government agent, as seen when he successfully fends off an assassin's brutal attack (and shows off his muscular physique) in a Paris hotel room. He is fatally caught out in New York, though, by the evil Nazi war criminal Dr Christian Szell (Laurence Olivier), who underhandedly knifes him by surprise.
6. The Seven-Ups (Philip D'Antoni, 1973)
Regarded by some as the unofficial sequel to The French Connection (see below), this was Scheider's first leading role. In it he plays Buddy Manucci, a member of a New York detective division that can use, with impunity, any means available to catch its crooks. A tough, low key performance in an under-rated crime film, which boasts one of the grittiest car chases in American cinema.
5. The French Connection (William Friedkin, 1971)
In this urban thriller Scheider also plays a cop called Buddy (Russo) working as an undercover detective in New York. This time, though, he is an effective second fiddle to Gene Hackman's bombastic Jimmy "Popeye" Doyle, who leads the charge in the busting of a major international heroin deal. His portrayal of the competently loyal sidekick garnered Scheider an Oscar nomination (his first) for Best Supporting Actor.
4. Blue Thunder (John Badham, 1983)
Vietnam War veteran and helicopter pilot Frank Murphy (Scheider) – who now works for the Los Angeles Police Department – gets to fly the prototypical state-of-the art titular chopper, which is decked out with all sorts of military-style doo-dads. He also stumbles across a conspiracy involving the machine, some political murders and other assorted skulduggery, forcing him into a head-on confrontation with past nemesis Colonel Cochrane (Malcolm McDowell). Scheider is right in his element with this one.
3. Jaws (Steven Spielberg, 1975)
Although Scheider had garnered some attention from both audiences and critics by the mid-1970s, it was this summer blockbuster, the highest grossing film of its day, which cemented his place as a leading man – a position he would enjoy for the next decade-and-a-half.
2. Sorcerer (William Friedkin, 1977)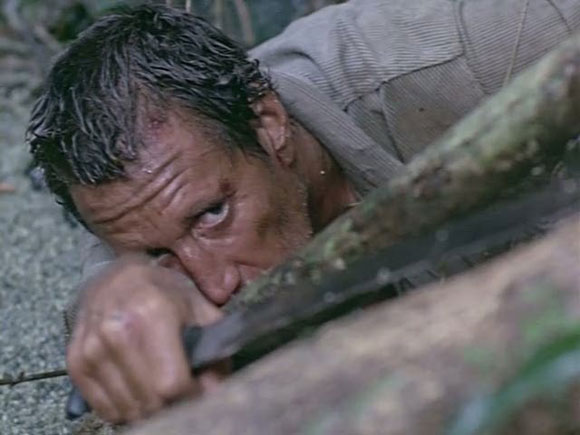 It's fair to say that Scheider, in this American take on Georges Arnaud's 1950 French novel La Salaire de la peur (The Wages of Fear) by William Friedkin and writer Walon Green, briefly inherited the existential anti-hero crown from Humphrey Bogart. The director, in the past, has said he originally wanted Steve McQueen for the part of on-the-lam New Jersey gangster Jackie Scanlon, suggesting – a tad unfairly one should add – that it was the lack of a superstar which helped the movie tank so badly when it was first released back in 1977. True, Scheider may not have had McQueen's box office clout, but he shouldn't be expected to take any of the blame for Sorcerer's shortcomings because, at the end of the day, he's absolutely terrific in it.
1. All That Jazz (Bob Fosse, 1979)
There's only one word to describe Scheider's performance as the on-the-brink-of-death amphetamine swallowing, chain smoking, womanising, Broadway choreographer/film director workaholic Joe Gideon – brilliant! Although Oscar-nominated for Best Actor (the only time he was ever in the running for this gong), Scheider lost to Hoffman for Kramer vs Kramer.
Written and compiled by Mark Fraser
Over to you: what are your fave Roy Scheider films?
Discover more writing on film by Mark Fraser
"Salvador" Is More Revolt Than Revolution | "The Deer Hunter" Remains An Adult Fairy Tale | "The Train" Still One Hell Of A Ride | "Barry McKenzie Holds His Own" Maintains Its Irreverent Grip | Umberto Lenzi's "Eaten Alive" Is A Hard Act To Swallow | William Friedkin's "Sorcerer" Is A Curiously Mistreated Masterpiece | "To Catch A Thief" Shows Hitchcock Dabbling In Blandness