It might sound easy finding that perfect gift for the film fan at Christmas but as soon as the present-searching begins, you soon discover a multitude of choices that can appear overwhelming. Here are some of Top 10 Films' favourites to help you find that ideal gift.
Make Home Your Cinema
Samsung UE55NU7100 55-Inch 4K Ultra HD Certified HDR Smart TV
Enjoy a beautifully vibrant Ultra HD certified experience with the Samsung NU7100 UHD TV. With true Ultra HD 4K colour and clarity, this 55-inch TV lets you enjoy the latest movies and entertainment in gorgeous detail.
METZ TV series G2A 50G2A52B with LED backlit LCD panel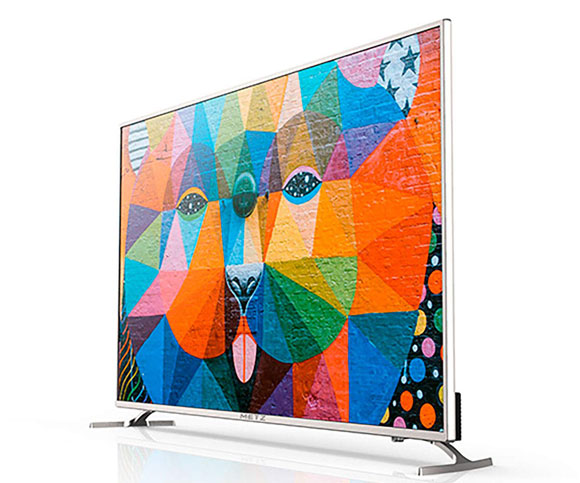 METZ TV series G2A 50G2A52B with LED backlit LCD panel, 50-inch screen with Ultra HD 4K resolution of 3840 x 2160 pixels, supports high dynamic range HDR (HDR10 and HLG), 200Hz SMO, Android TV Smart TV 8.0 compatible with the platforms of Google Play, Netflix, YouTube, Facebook, and Twitter with HbbTV, WiFi and LAN wireless connectivity, voice commands (remote control) Google Assistant, Dolby Digital Plus sound system compatible with DTS TruSurround 16W (2x8W) output power, digital tuners DVB-T2, DVB-S2 and DVB-C, ports and interfaces: 3xHDMI, 2xUSB recorder and media player, CI +, LAN, AV, analog audio and S / PDIF.
Enhance The Sound Of Your Home Cinema
Elevate your home cinema experience with exhilarating DTS Virtual:X™ surround sound. Supporting the latest 4K Ultra HD TVs, the MusicCast BAR 400 with wireless subwoofer features Bluetooth® and HDMI®, as well as built-in music streaming services and MusicCast.
The Big Read
Strangers on a Train (Novel) – Folio Society Edition
A superbly illustrated Folio edition of Patricia Highsmith's Strangers on a Train – the benchmark of the thriller genre since publication in 1950.
Patricia Highsmith, author of the highly popular Ripley novels, is among the 20th century's greatest thriller writers. Her first venture into noir, Strangers on a Train, was published in 1950 and adapted into a major film by Alfred Hitchcock the following year. Taut, sinister and shocking it still represents the benchmark for its genre.
The Folio Society edition of Starship Troopers by Robert A. Heinlein, illustrated by Stephen Hickman and introduced by Joe Haldeman, is available exclusively from www.FolioSociety.com
Starship Troopers (Novel) – Folio Society Edition
Legendary science fiction artist Stephen Hickman brings every inch of frenetic action to the page in the first illustrated edition of Robert A. Heinlein's Hugo Award-winning Starship Troopers. Introduced by Joe Haldeman.
Earth is caught in the midst of a deadly conflict with the implacable Arachnids, a swarm of insect-like aliens intent on wiping out all human life. Fresh recruit Juan 'Johnny' Rico signs up impulsively, keen to prove himself in the upper echelons of the Navy. Instead he finds himself assigned to the Mobile Infantry, the frantic and hardcore frontline where all that stands between life and an alien death is a sophisticated armoured suit. Thrown into a training programme that may well kill him before he even gets a crack at the 'bugs', Johnny's destiny lies in war-torn space.
The Folio Society edition of Strangers on a Train by Patricia Highsmith, illustrated by Geoff Grandfield, is available exclusively from www.FolioSociety.com
Stranger Things: Worlds Turned Upside Down: The Official Behind-The-Scenes Companion
When the first season of Stranger Things debuted on Netflix in the summer of 2016, the show struck a chord with viewers worldwide and received broad critical acclaim. The series has gone on to win five Emmy Awards, but its success was driven more than anything by an outpouring of love from fans spanning generations.
Now fans can immerse themselves in the world—or worlds—of Hawkins, Indiana, like never before. Brought to life with exclusive color photos and stunning concept art, Stranger Things: Worlds Turned Upside Down (Century, Hardcover, published October 30) is the official behind-the-scenes companion guide to the first two seasons and beyond.
Available from Amazon.co.uk
The Casual Read
The Best 80s Movies
The Best 80s Movies is the ultimate guide to all things retro, taking you on a nostalgic trip through the 80s. The aim is to review all your favourite films, the ones that have stood the test of time and popularity… and a few that haven't (Ewoks: Caravan of Courage anyone?). As well as in-depth discussions of the best films of the decade, it dissects other significant cinematic aspects of the era, such as the decade's most quotable lines, the stars that made the '80s what it was and the music that we're all still humming. It's the definitive guide to the most fun, most lasting movies of one of the richest decades cinema has ever seen.
Available from various retailers including Carlton Books.
The Definitive Guide To Horror Movies
Packed with photographs of the most terrifying scenes in cinema history, Horror is the definitive guide tracing the story of horror, decade-by-decade. Providing a witty and informative critique of over 300 films and several TV series and the literature that accompanies them, this offers a superb introduction for beginners as well as something new for the die-hard horror fan.
Horror is one of the most popular and influential genres in cinema, a perennial favourite that just won't stay dead. Initial banned or shunned creations are now regarded as movie milestones with cult appeal. This book covers the hidden gems, big-budget duds and foreign contributions of the Horror scene. Whether you're a seasoned, horror expert or a tentative horror explorer, this is the ultimate guide through a century of fear.
Available from various retailers including Carlton Books.
Bohemian Rhapsody: The Inside Story (Companion to Movie)
Bohemian Rhapsody: The Inside Story is the official book of the Twentieth Century Fox and Queen epic movie Bohemian Rhapsody. The author has interviewed key cast and crew members to reveal how Freddie Mercury and Queen's incredible story was brought to the big screen. Many of Queen's pivotal moments were recreated for the film – including Live Aid and other key performances – and are described and shown in this authorised book of the 2018 movie.
Available from various retailers including Carlton Books.
Gizmos and Gadgets
Soundasleep Bluetooth Pillow
Soundasleep has launched a new pillow and app guaranteed to give even the most restless of sleepers a good night's sleep.
The high-tech Bluetooth pillow is more than just a pillow. It's the perfect combination of sound system and luxury pillow and has benefits for all – for those into mindfulness, learning, podcasts, music or audio books, or couples wanting to combat snoring.
Download the free soundasleep app to gain access to a variety of features including a sleep tracker, smart alarm and snore management function, plus a range of sounds and music to fall asleep to. Monitor your intake of alcohol, caffeine, exercise and stress to establish the impact on your sleeping patterns.
The Bluetooth speaker is built into the pillow and can be connected to a smartphone or audio player, so you can doze off listening to your favourite sounds, podcasts, music or audio books.
Compatible with thousands of apps, soundasleep can play sounds from a variety of entertainment including Spotify, BBC Sport and Apple Music. Plus the brand new pillow supports Amazon Alexa.
Perfect to help get the kids to sleep, the app works alongside a variety of educational and learning apps, as well as family entertainment. Children will love dozing off listening to their favourite bedtime stories or pop music via Spotify, Milkshake or BBC iPlayer.
The quilted microfibre cover has a luxury soft and silky finish, making the pillow both useful and comfortable.
The perfect gift for music lovers, families, snorers, insomniacs, pregnant women, or those simply looking to improve their sleep, the soundasleep costs £50 and is available online at https://soundasleeppillow.co.uk/.
KiiPix Polaroid Printer
We've got to be real with you: instant cameras seem like a great idea but in reality, they're unlikely to see much use. Why? They're heavy, a pain to carry around with you everywhere and the batteries will die when you need them most – not to mention that the photos they produce aren't that good. The pictures you mindlessly shoot on your phone are much better for a tiny fraction of the effort.
Enter KiiPix, by far the easiest way to get retro-style printed versions of your smartphone snaps. Never waste pricey film on shoddy photos again! That sh*t is expensive.
Simply open the camera, place your smartphone on the top with the photo you'd like to print on screen, press the shutter button, rotate the dial and you've got a physical copy of your photo to keep forever! It really couldn't be simpler.
When everyone else looks up from messing around with their fickle film cameras, they'll be amazed when they spot your effortless faux-analog prowess. How do you get a perfect shot every time?! That's for you to know and them to find out.
XPLORA 3S Watch/Phone for Kids
The award-winning Xplora 3S is a smartphone designed as a watch. With the all new waterproof 3S, you and your child can easily communicate by calling, or you can send text messages. You can locate your child, and set up safety zones. Xplora provides the safety needed by both the child and the adult.