If you're a UK subscriber to Sky Cinema this year, there are plenty of great Christmas movies to keep you entertained over the festive period. Here's our must-see choices…
Sky Cinema once again has many of the festive favourites audiences will be looking to indulge in at Christmas. Here are our favourites…
Die Hard
Die Hard. A Christmas movie. One of the best Christmas movies. It's a fixture of the festive period for most families (after the kids have gone to bed) and for good reason. This yuletide action-thriller delights in that way heroic against-all-odds adventures do: we root for John McClane and even though we know he wins in the end we can't help feel the tension that this time maybe he'll run out of table at the wrong moment, or Holly might not be wearing her life-saving watch, or Tony decides against taking the machine gun on his security detail that, ultimately, makes McClane go "Ho Ho Ho" in sadistic delight.
The Polar Express
Fast becoming a genuine Christmas classic, this film, now 14 years old, mixes groundbreaking motion-capture with the characteristic spirit of Tom Hanks in six different roles. It's about a boy who wants to believe in the true spirit of Christmas. On Christmas Eve, he is is whisked away on the Polar Express and taken on a magical journey to the North Pole. The film's awesome animated photography, gorgeous score, and a genuine sense of imagination (that's a staple of much of director Robert Zemeckis' career – think Death Becomes Her, Back To The Future, Forrest Gump, Who Framed Roger Rabbit) make it a technical marvel while its adventurous journey and wholesome moral values will delight viewers of all ages.
Daddy's Home 2
A fun alternative to traditional favourites, Daddy's Home 2 tries to capture what National Lampoon's Christmas Vacation did with the festive film by making a sequel to a non-Christmas commercial success in the hope it'll capture the imagination of audiences during the "holidays". It's doubtful Daddy's Home 2 will ever be known as a Christmas classic but for those who enjoyed the amusing power struggle between two very different fathers (played with delightful energy by both Will Ferrell and Mark Wahlberg) will find enjoyment in this second helping featuring their own dads (played by Mel Gibson and John Lithgow). Daddy's Home 2 switches the bickering from its two original stars to their elders with a bit of generation gap comedy that'll resonate (maybe painfully) with everyone experiencing a family Christmas this year. It's not original, it's not groundbreaking, but it does amuse and benefits from plenty yuletide cheer.
Home Alone 2
It's not as good as the first but retreads the same ground to such a extent it ticks all the right boxes once again. While the overly sentimental subplot involving the Bird Lady is sleep-inducing, Kevin's escape from the Plaza Hotel is as good as anything in the first film.
National Lampoon's Christmas Vacation
The National Lampoon's Vacation films are hit and miss but this third instalment of the popular family comedy is the franchise's second best effort after the original thanks to Chevy Chase's spirited performance as the hapless Clark Griswold.
Trading Places
Set over Christmas and New Year, John Landis' Trading Places is one of my favourite films. Dan Aykroyd and Eddie Murphy make a wonderful comedy duo, but they are aided by an excellent script that makes light of the corporate shenanigans so prevalent in 1980s New York. It is great seeing Aykroyd dress up as Santa – or should that be a drunk, depressed, anti-social, suicidal and homeless Santa!
It's A Wonderful Life
Happy films don't get more iconic than It's A Wonderful Life, Frank Capra's beautiful illustration of humanity, the value of life and the importance of making the most of it. The film is Hollywood's antidote to low serotonin levels. James Stewart is typically wonderful, exhibiting that everyman charm and tender voice in a moving, life-affirming film. It also boasts one of the happiest endings in cinema history.
The Nightmare Before Christmas (Selick, 1993)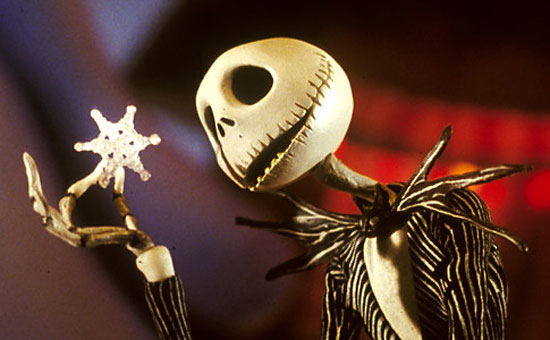 Produced by Tim Burton and directed by Henry Selick, The Nightmare Before Christmas is one of the most original Christmas films you're ever likely to see. It is a terrifically dark, funny and visually stunning film that uses the stop-motion technique in realising its macabre world.
Bad Santa
I didn't think I would ever find myself saying that if there was a role tailor made for Billy Bob Thornton it would be Santa Claus. That Santa is a shopping-centre-robbing drunk with a keen eye for a sarcastic remark and a total disrespect for himself and everyone else is perhaps more illuminating on the matter. Thornton, in a word, dazzles. He's simply superb as Willy T. Stokes, an alcoholic shopping mall Santa who moves around from store to store every year supposedly bringing Christmas joy to children everywhere but secretly plotting, with his accomplice Marcus (Tony Cox), to rob the mall's on Christmas Eve. Glenn Ficarra and John Requa's brilliantly sardonic script is matched by Thornton's acerbic delivery. The support cast, including Bernie Mac and John Ritter, is also top-notch. This is one of the funniest films I've ever seen.
Scrooged
The best film version of Charles Dickens' classic tale ever! Scrooged deserves to top so many lists – best Bill Murray, best film based on Dickens' A Christmas Carol, best use of 12 sharp knives as a Christmas gift, and, perhaps most importantly, best Christmas film of the 1980s.
Murray plays an egotistical, self-centred, conceited television producer who has shunned friends and family in order to progress up the corporate ladder. In keeping with his anti-family ethos, he has everyone working long hours through Christmas in order to produce a special Christmas show. As in Dickens' novella, Murray's character Frank Cross is visited by three ghosts who show him various parts of his life to example the error of his ways.
There are so many things to love about Richard Donner's Scrooged from the obvious – Murray's performance, the imaginative introduction of each ghost, particularly David Johansen's time-travelling, taxi-driving Ghost of Christmas Past, the production design and special effects – to the more subtle such as the clever modernisation of the story and satire in the age of pop culture, junk TV and consumerism and the undercurrent of melancholy cutting through Frank Cross' dismissive sarcasm.