A fun night out gives you the opportunity to let your hair down and catch up with close friends. It's a favourite past-time for many – who doesn't enjoy letting go a little on the weekend?
Fun nights out play such a big role in our live that there are now countless movies based around people getting together, drinking excessively and having a damn good time. What's more, people love watching them.
When you're watching a fun movie in which the characters are partying and having a great time, it can make you want to call up your friends and head out for the night. We've picked five of the best wild-night-out themed films that will convince you to liven up your social life and have a ridiculously good time.
The Hangover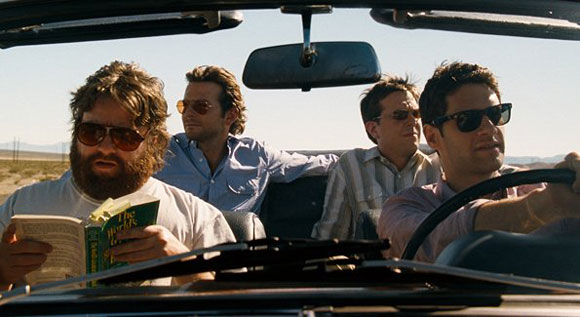 When you think of movies about crazy nights out, The Hangover is probably the first one to come to mind. This hilarious movie starring Bradley Cooper and Zach Galifianakis follows the journey of three drunken pals who wake up from the craziest bachelor party in human history. All of them have absolutely no idea what happened the night before and, to top it off, their friend Doug and bachelor, is mysteriously missing.
Along their journey to find their missing friend and attempting to remember the events of the night before, the remaining bachelor part discover they stole a police car, took Mike Tyson's tiger, and that one of them married a stripper and pulled out his own tooth.
It may have been a chaotic and crazy night, but you can't argue that these guys know how to party. Not every night has to be spent in a stuffy bar. There are plenty of alternative ways to enjoy your night you just have to know where to look – so check out this list of alternative nights out for a few ideas.
The Wolf of Wall Street
With Leonardo DiCaprio playing the leading man, it's no surprise that The Wolf of Wall Street was nominated for several awards, with DiCaprio winning a Golden Globe for Best Actor in the Musical or Comedy category. The movie is a biographical black comedy based on the true story of the wealthy stockbroker, Jordan Belfort. It's not all blazing glory for Jordan, who finds himself engaging in illegal activity, which sees him make $22 million in just three hours.
The real story of Jordan Belfort, however, is slightly less glamourous than depicted in the film. Jordan managed to defraud his clients out of more than $200 million and is a well-known con artist – but that didn't stop people from enjoying the movie inspired by his wealth, fortune and corruption. There's something deliciously entertaining about watching someone live it up in the land of luxury, only to squander it all and face major consequences for their choices. The outrageous decadence and party lifestyles commonplace in this story makes it a great choice for a pre-night out movie.
21 & Over
Remember what it felt like to turn 21 and finally being able to do whatever you want? No parents to tell you what to do and no more bouncers to turn you away from entering a club or bar because you were underage.
This is how the main character of 21 & Over felt when he decided to celebrate his 21st birthday by going out drinking with his friends. The only problem with that is the fact that they have an important medical interview the following morning. As you can imagine, they get up to all sorts, including getting apprehended by police, partaking in questionable party games and throwing each other from balconies straight into a stranger's swimming pool.
21 & Over was written by the same screenwriters of The Hangover and Ghost of Girlfriends Past, so you know you're in for a real treat when you press play. Most reviews are positive and applaud the writers for their exuberant sense of humour. If wild all-nighters are your thing, then this is the movie for you.
Get Him to the Greek
Grab the popcorn and gather your mates for a night of laughs with Get Him to the Greek. This comedy stars Russell Brand and Jonah Hill, following the story of a record company intern who is hired to babysit obnoxious rock-star, Aldous Snow. It's a hilarious film that involves a lot of heavy drinking, drugs and partying in Las Vegas.
The film was a huge box office success, grossing around $61 million in the U.S and $30.3 million overseas. Both Hill and Brand were highly praised for their comical performances, which helped make this movie a favourite amongst party-goers worldwide.
The World's End
You don't need a better excuse to drink than the appending apocalypse, right? The World's End is a hilarious and enjoyable comedy starring Simon Peg, Nick Frost and Paddy Considine. The movie kicks off with five old friends who reunite with the aim to recreate a pub crawl they did twenty years prior. They set off with high hopes and visit their favourite bars in their hometown, drinking the entire time.
The story takes a twist when the team uncovers a possible alien invasion. Before they know it, the fate of humankind lies in their hands. The movie received excellent reviews across the board and offers plenty of comical entertainment to viewers. If you and your friends are planning on hitting more than one bar on your night out, you might want to check out The World's End to find out what not to do!
Are you ready for the night of your life?
In the mood for a crazy night out? Whether you want to head to the casino to kickstart your fortune or to the local pub for some live music and laughs with close friends, sometimes a night out is just what the doctor ordered! Remember to have a good time and avoid stealing Mike Tyson's pet tiger…