According to Chris Farley sometime before his death, Saturday Night Live creator Lorne Michaels told him that what killed John Belushi was that he always had to be the most outrageous person in the room. Farley's life strangely mimicked his idol Belushi, and perhaps what killed them both was the very thing that made them so great. Their excess on-screen was fueled by their excess off it and both died in similar fashion aged 33.
The rise and fall of Chris Farley (which involves being an overweight ninja in Beverly Hills)
[ad#Google text Ad – square no border]
Chris Farley's big break came with Saturday Night Live, where he made his impersonations and characters come to life with many other talented up-and-comers. He was famed for his characterization of motivational speaker Matt Foley and Newt Gingrich, as well as a flabby Chippendales dancer and an unhealthy sports fan. He left SNL in 1995 to pursue a career in film, and had cameo parts alongside other SNL alumni and friends, Adam Sandler, Mike Myers, Dana Carvey and Dan Aykroyd. He was the dumb cop in Airheads, and he was the kinetic bus driver in Billy Madison, while he worked with Myers and Carvey in the Wayne's World films, playing two different parts in each. In Coneheads, Farley had the small part of boyfriend to Aykroyd's alien daughter. He would go on to have starring roles in four films before his career was cut short, working alongside David Spade, and in his final film Almost Heroes (a title that bares a saddening undertone given his early death), with Friends star Matthew Perry.
Tommy Boy marked the pinnacle of Farley's movie career, and while his other efforts showed his talents, they couldn't quite cut it as films with any redeemable features. Black Sheep was great in parts, but director Penelope Spheeris wasn't on Wayne's World form and Fred Wolf's script was a big let down. Little seen Almost Heroes again showed Farley's talent as an actor, but as a film itself, it was better forgotten. Beverly Hills Ninja was the perfect stage for Farley's comic genius to bloom, but once again, like Black Sheep, the film is let down by a weak script and direction.
However, it's a mark of how great Farley was, in that he could turn a script with largely nothing original or remotely funny, into something that entices the audience to keep watching and has them laughing uncontrollably. It's even more remarkable that he alone can turn Beverly Hills Ninja into a watchable, insanely funny piece of entertainment. Every director that worked with him knew to just let him have fun with the character, their job reduced to just keeping the camera rolling. In this film, Farley certainly wasn't going to find much help from director Dennis Dugan. The man at the helm, whose collection of brain-achingly poor films (Problem Child, Saving Silverman, and National Security), showed physical proof he needed talented actors to save his films, and in Beverly Hills Ninja he got just that in Farley. Likewise, the success of Dugan's best film Happy Gilmore and another one of his better outings, Big Daddy, were down to the lead actor, in this case Adam Sandler. Farley gives his best in Beverly Hills Ninja, but while the film doesn't hit the almighty lows of Dugan's celluloid excrement, the late actor's performance is the only thing to make this film recommendable. But, especially for his fans, perhaps that's the only reason there needs to be.
Essentially, Beverly Hills Ninja is a typical fish-out-of-water tale, telling the story of Haru, the Great White Ninja. According to the Ninja's teaching, a white man would grow up to be a 'great' Ninja, under their tutelage. Unfortunately for them, the baby that turns up on their shores grows up to be a stupid, overweight failure, whose naïve nature and carelessness, continually gets him into trouble. The Ninjas, sensing the opportunity to get rid of him, allow Haru to take on the task of helping woman-in-distress, Allison (Nicolette Sheridan). So Haru hops across the pond to Beverly Hills and uncovers a plot to counterfeit money, but as he quickly finds out, life in America is very different from where he has lived his entire life.
Undeniably, Farley is great in this film. His loveable idiotic flaws making any audience warm to his eccentrics. The training sequence where he learns to use the Ninja techniques and weapons is perfect visual humour, while his eye for timing a punch line is always spot on. He doesn't have David Spade (his comedy partner and co-star in Tommy Boy and Black Sheep) to play off in this film, but this hardly hinders him, allowing all the limelight to centre on him. Having Farley's character the clueless hero in a strange world he doesn't understand, couldn't work any better for his style of comedy and Farley duly milks every opportunity to spoof societal conventions. The problems arise from a script that never really knows where it's going, and Dugan's ineffectiveness to combat such a problem. Farley's on the screen almost the entire time, making not a single frame missable or lacking laughs, but Dugan has the film aimlessly moving from scene to scene. Sympathy for Haru comes from Farley's ability to instill an emotional sincerity in his character – Haru tries his hardest and his heart is in the right place. However, we don't actually care whether he succeeds at his mission, and for the most part, Dugan's film seemingly forgets what Haru's quest actually is.
In supporting roles, Robin Shou is bland and Nathaniel Parker is an awfully woeful villain, but Nicolette Sheridan is perfectly acceptable as the female love interest and a young Chris Rock offers one or two laughs in a small part. Ultimately, like any Chris Farley film, an appreciation of such will rely on whether Farley's humour is of interest. Beverly Hills Ninja is great fun, and Farley is perfect in the role, but the director's inadequacies might put off anyone from bothering with this film.
Adam Sandler once said of Farley, "What really hurts is not getting to hang out with him ever again. He really was the only guy I ever met in my life that you were guaranteed to be happy hanging with. Even when he was down he still found a way to make you happy." Clearly, the joy he brought to people off screen, he brought to his fans on it, and like his inspiration John Belushi, who left us Blues Brothers, Farley's comic genius will proudly live on in Tommy Boy. Of course, past their career highs, there's always the likes of Animal House and Beverly Hills Ninja to offer a change, and to remind of the great things that could have been.
"What really hurts is not getting to hang out with him ever again. He really was the only guy I ever met in my life that you were guaranteed to be happy hanging with. Even when he was down he still found a way to make you happy." Adam Sandler
Beverly Hills Ninja (1997) – Farley tries his best but the material is lacking

Tommy Boy – The highlight of Chris Farley's career
Tommy Boy itself is one of the 5 reasons Chris Farley is a comic genius. It brings ex-Saturday Night Live comedy duo Farley and David Spade together for easily their best outing on film. While Farley unfortunately passed away some years ago after a drugs binge, and Spade continues to struggle as his hay day has long since passed, the film stands as a landmark in both their careers as neither have really surpassed it for quality ever since.
Title character 'Tommy' played by Farley, is the only son of his rich father Thomas Callahan played by Brian Dennehy. When returning home from college, Tommy is told by his Dad, that he has a new woman in his life who we find out is the young and beautiful Beverly (Bo Derek). They quickly marry, but not all turns out too well on the wedding day when Thomas has a heart attack and dies. Beverly acquires equal share of the business, and we soon learn this was her only motivation for marrying Tommy's father in the first place. However Tommy stands in her way of selling the family run business and leaving with all the profits, so with his father's long-term business associate Richard (David Spade), they go on the road in an attempt to save the company.
Essentially, the film is a road movie with Farley and Spade putting themselves in any situation they can think of, and playing off each other. Where problems could have potentially risen with scenes feeling too much like they are cobbled together sketches, Bonnie and Terry Turner's script keeps the story flowing and has an emotional depth rooted in the two leads that never allows for this. Farley and Spade look very relaxed on screen and while the written comedy lines are funny, their interplay, timing and chemistry places the level of entertainment on a higher plain. The geeky intelligence and guile of Richard, perfectly opposes Tommy's loud-mouth stupidity with great effect, and you can tell they know it because they continue to use these traits against each other. Farley has a terrific eye for physical comedy and here, whether he's breaking car doors or inadvertently smashing through hedges that have brick walls behind them, he excels. Spade uses his ability to deliver killer irony and put downs with perfect timing, and the combination of their better attributes makes them a superb comedy double act.
As you'd expect, the film works best when the two leads are going at each other's throats, so it's not surprising the pace lags a little when some of the supporting players are going through the motions. Julie Warner as Michelle is a poor love interest, with very little believability in the relationship between Tommy and herself. Her performance is a little bland, and while the odd scenes they have together are sweet with one hilarious stand out, it does feel a little forced with no other need but to give the film an overtly happy conclusion. Bo Derek is also poor, leaving her evil stepmother without an emotional core, and not bringing anything resembling the idea that she could or even would go to the lengths she does to make money. However, this comedy hardly loses too many brownie points for the odd bad performance and some badly written roles. Rob Lowe as Beverly's supposed son, is a perfect baddie, making sure things are still interesting when Farley and Spade aren't on screen. Dan Aykroyd, appearing in a short cameo, is also excellent, making a small role funnier with just a contortion of his eyebrow!
This superb comedy is the perfect Friday night chill-out film, brimming with quotable lines and mad physical comedy, and it can without a doubt, be watched over and over again.
Tommy Boy – Farley's best film. He makes a great comedy double act with friend and co-actor David Spade.

Black Sheep and what might have been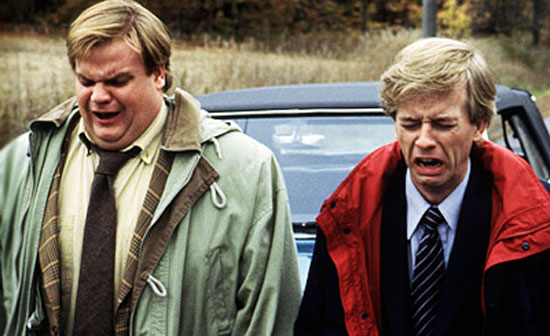 Black Sheep re-unites Saturday Night Live comedy-duo Chris Farley and David Spade for more mishaps and mayhem. Like their earlier collaboration Tommy Boy, Spade's character is again thrust into 'looking-after' duties of Farley's failing, accident prone creation. Here, Farley plays Mike Donnelly, the younger brother of Al (Tim Matheson) who happens to be running for Washington State Governor. Mike just wants to help but unfortunately his attempts at helping his brother's campaign only lead them both into ever-deepening trouble. When Mike gets wrongly accused of a fire at a local youth center, Al tells assistant Steve Dobbs (Spade) to escort Mike to a secluded country house in the hope his campaign can go on without any further problems.
After the success of Tommy Boy it's not surprising that its two stars would return for another collaboration, but what is surprising is that the follow-up is virtually the same movie made again. Maybe their grandparents hammered the saying 'if it isn't broken, don't fix it' just a little too deeply into their heads, because despite a different premise, it is the same story of boy-useless turned hero. So having said that, while their earlier film is the far superior, Black Sheep is still very enjoyable, extremely funny no-brain entertainment. It works because it knows what made the first film a success – Farley and Spade's on-screen comedic chemistry. The downside of this is that jokes are re-used, or over-used and unfortunately this time they miss more than they hit. However, as Farley has proven in his cut-short career, when his gags hit the funny bone they're achingly hilarious.
One of the first things to note is that the screenplay, which was written by Fred Wolf, was his first feature length film script since being a co-writer on Saturday Night Live. Obviously, the void between writing comedy sketches and writing ninety-minute film scripts is immense, and it is here where the movie ultimately fails. Wolf struggles to maintain a cohesive plot while losing the supporting characters to cut-out caricatures. Our only sympathy lies with Farley, mainly due to his bubbly, soft natured way of playing the character more than anything the script offers. What becomes painfully obvious is that many of the scenes feel like individual comedy sketches that aren't a part of the whole, which shows up the writer's immaturity, but this is also a fault of the director. Penelope Spheeris' best work came in the form of Wayne's World and she hasn't done anything of real note before or since. She relies on the quality of comedy in the script, and the performances of the actors to hide her inadequacies. Here, where she is compensated by one, she is let down by the other.
Why would I recommend this film? Well, Chris Farley was a great comedian and he never made enough films in a starring role, his most prominent being Tommy Boy, Beverly Hills Ninja and Black Sheep. While this film doesn't live up to the quality set by his first film, his original physical humour is still on show and with comedy partner David Spade, they both still work off each other to brilliant comedic effect. The supporting cast do just turn up and read their lines, with the exception of Gary Busey, who for no real reason plays an ex-military soldier who still believes he's in battle. Gritting his teeth and red-faced, the type-cast one just about offers enough over-the-top psychosis to support the leading two's humour, and gives the movie's comedy a slightly different slant.
Black Sheep – Farley makes Black Sheep worth seeing