[ad#Google text Ad – square no border]
As Top10Films.co.uk reaches its first birthday I thought I'd look at my own cinema firsts. I grew up in a world dominated by television, and cinema was an inevitable attraction every time I'd plant myself in front of our small TV set after school.
I have fond memories of watching Jaws during the summer holidays with my Grandma. I wouldn't dare watch it alone of course! And I have frightening memories of sleepless nights when I began to watch the horror films my Mum used to keep in a cupboard that I couldn't reach until I was about ten years old. As soon as I could get in, there was no stopping me – The Omen, An American Werewolf In London, Hellraiser, Candyman…I was addicted to scaring myself silly.
Apart from horror – a genre that tangibly brought cinema to life – I remember endlessly watching Wizard of Oz, Sound of Music, and Grease. I would never say musicals are a favoured type of film for me but as a kid I used to watch a lot of them. Perhaps it was because back in those days we watched films as a family.
That's certainly something that changes as you grew older – films become less of a family experience and more of a personal one. I got a television and VHS player (later a DVD player) in my bedroom and started to experience all manner of cinema all on my lonesome.
I think it's cyclical though. You go through a period in teenager life where you regress to the confines of your bedroom and plaster it in pop culture posters of heroes and heroines, cocooning yourself in the world you want to be part of. Later, when you've finally had that first kiss, moved in with the girlfriend (or boyfriend), got married, had kids, you're back in the family room watching singing animated animals with sons and daughters.
It's all part of growing up. And, of course, the magic of cinema. Here's my top 10 cinema firsts:
1. First Film (The Sound of Music)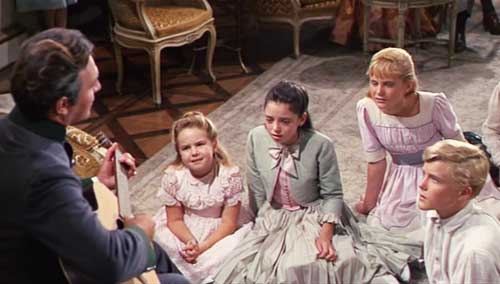 There are several films that could have been my first. In trying to work out what film I saw first I decided it was probably one showing on television and therefore had to have been released in cinemas a few years before. It probably wasn't black and white and would have been one that my mum or grandma would have watched with me. Therefore, I can only guess that my first film was The Sound of Music, one of my grandma's favourites. To say my future film tastes were influenced by the film would be stretching the truth – horror, science-fiction, comedy – not usually associated with The Sound of Music. But I remember being endeared to the story, the songs, the sense of adventure and life, and the happy ending. I did love that movie back in those days, and I still love the film today.
2. First visit to the cinema (An American Tail, Summer 1987)
My first visit to the cinema is still one that I remember with vivid, almost magical memories. It was in the summer of 1987, it was in Huddersfield, West Yorkshire, and I would have been four years old. The film was the animated adventure An American Tail and to this day I remember the little hero's name Fievel Mousekewitz because for some reason I thought it was the coolest name back in those days.
The cinema has since been turned into a nightclub and bar but I do recall queuing down the street to get into the screening. There were only two screens back in the days before the UK had heard of a multiplex. When we got inside it was all magic – the ticket booth, the smell of popcorn, the huge film posters. I have never seen anything like it. And when we got inside and the film started I had never "heard" anything like it – surround sound! It was a wonderful experience and one that set in stone my love of cinema for ever more.
3. First film purchase (The Wizard of Oz on VHS)
Its testament to the greatness of The Wizard of Oz that as a kid who wouldn't have watched a black and white movie had you strapped me to a chair and pinned my eyes open, I still loved this tale of imagination and adventure. That it turns to colour is a big part of what kept me glued to the screen. I can only imagine my mum telling me that "it'll become colour in just a minute, wait and see". But The Wizard of Oz was both fun and frightening – the Wicked Witch is probably my first introduction to a horror character and the first that gave me a few nightmares.
4. First crush (Kelly LeBrock in Weird Science)
Who couldn't fall in love with this beautiful older brunette who lived to please the every whim and sordid fantasy of two teenage boys. Unfortunately, when I first saw the film, and had I had a similar miracle woman befriend me, I would have lived out such fantasies as playing football with her in the back garden, street games with the other kids in the neighbourhood, and probably watching movies. A kiss was about as far as it got when it came to the opposite sex. Other than that, girls were these annoying entities that played with dolls and plaited each other's hair. They didn't get up to any of the cool stuff us guys did like falling out of trees and getting concussion biking into the curb.
5. First film I saw with friends (Nine Months)
Yep, the first film I saw with friends instead of being chaperoned by my mum was the Hugh Grant/Julianne Moore film about pregnancy Nine Months. I was 12 at the time and saw the film with my next door neighbour. I remember his older sister had just got her first car and drove us to the cinema. I enjoyed the film and even though it gets critically trashed it'll always hold a special place in my heart. Jeff Goldblum is as good as ever.
6. First sex scene (Basic Instinct)
Growing older has its benefits! I don't recall seeing much sex on-screen during my early childhood. Of course, if I had I wouldn't know what was going on. I did catch a few horror films that weren't made for impressionable young eyes but the sex was kept to a minimum. For example, the shower scene in An American Werewolf In London: I think I just thought they were taking a shower together, after all, you get naked to take a shower so it was all above board! That there's some kissing ("ewww!") in bed afterwards was just…well…kissing!
The film that really showed me how it was done (or not done depending on the way you look at it) was Paul Verhoeven's Basic Instinct. Think I saw it around the age of 11 when my best friend at the time borrowed the VHS tape from a film collector (this was the way we used to watch lots of horror films behind our parent's backs). Sharon Stone holds a special place in my heart – she was the first woman I saw naked!
7. First horror film (An American Werewolf In London)
Although I had seen Jaws before I saw John Landis' classic werewolf movie, An American Werewolf In London was the first film that truly scared me. What the film did was give tangible evidence of the power of cinema – I was convinced these nightmarish monsters of the night were real and would come and get me while I slept. It was at once scary but also exhilarating when I look back. I'll never get that feeling again, a bit like that magical belief in Santa coming down the chimney on Christmas Eve.
8. First favourite film (Aliens)
Another film that gave me sleepless night was James Cameron's Aliens. I saw the film as seven year old when it was screened on television. Fell in love with the film immediately. I remember recalling after my first viewing that it seemed to all pass by in a blur – it was one of the most fast-paced, chaotic, and stylish films I had ever seen. I have since seen the film more times than any other and it remains one of my favourite films of all time.
9. First time I walked out of the cinema – (never happened but nearly did during The Perfect Storm)
The only film I've ever considered walking out of because it was boring me into an early grave was Wolfgang Petersen's The Perfect Storm. I spent what seemed like five hours waiting for the big wave that the trailer so proudly promoted. That was the only thing keeping me my seat. By the time the end came I wondered the point of it all was. Terrible film.
10. First film to leave a lasting impression (Jaws)
Jaws was one of the first films that I remember watching over and over again. It was a film everyone in the family loved – an asset of its blockbuster credentials. I don't think I saw the uncut version of the film until my teens as the version we had was recorded off TV but it didn't matter – all the great moments were there, as were the best lines. Today, the film is still one of my favourites. It's a true classic from a director who at the time utilised his raw passion for cinema to make a film that seems timeless.
Written and compiled by Daniel Stephens