James Frecheville, who won acclaim for his wonderfully understated debut in 2010's Animal Kingdom, has been privileged with a number of terrific parts from young lover (Adore) to petty gangster (The Drop) and bona fide villain (I.T.). With his latest film Black 47 released in the UK, the man from Melbourne spoke to Top 10 Films editor Dan Stephens about ambition, inspiration and why he'll never forget working with James Gandolfini.
James Frecheville is busy writing when I catch up with him in his London home. I hesitate to use that cliched British pleasantry about the temperate November morning – decidedly warm for the time of year and a little closer to the seasonal highs the Melbourne-born actor's familiar with – instead opting for that other English-ism, thanking him profusely for his time less than 30 seconds after saying "Hello".
But the man who got his break alongside Ben Mendelsohn, Joel Edgerton and Guy Pearce in David Michod's multi award-winning crime drama Animal Kingdom exudes a quiet calm that has obviously served him well throughout his career (and puts you instantly at ease). It marinates well with a natural, understandable confidence that showcases a twentysomething screen performer who's not only dedicated to his craft but in tune with its subtleties. Of course, this comes as no surprise given that his entry into the profession exhibits the very definition of being "thrown in at the deep end".
Animal Kingdom, with its grim, unforgiving atmosphere and volatile violence, would be a tough start for most young actors. But by the time he was on set, having beaten 500 other hopefuls to the part of "J" Cody via an open casting, Frecheville had to endure, what he calls, a "baptism of fire" during a production where no one was about to hold the 18-year-old's hand.
Frecheville's character, a newcomer to matriarch Janine "Smurf" Cody's crime family, is given a hard time by his uncles who are keen to dilute his innocence but somewhat suspicious of his immaturity. It means he has a very difficult relationship with the on-the-run Pope (played brilliantly by Mendelsohn) who's not afraid to make anyone – family or not – disappear if it threatens his freedom. The disconnect between "J" and the rest of the family was encouraged on set by Michod, a dynamic that clearly enhanced the tension – and the squabbling powerplay – between the principle participants.
His fellow actors "picked on me" and "gave me shit in a very laconic Australian way", he says. "There was one take where one of the actors, on my close-up, was emulating a pair of woman's legs with his fingers and sort of lashing all over it with his tongue. I laughed, and the director was like, 'What was that?'. I was just like, 'Luke was making me do it,' and he's just like, 'Well, don't do it again'. That was the lesson. It doesn't matter what the other person's doing, if you screw up when the camera's on you, that's your fault, that's no one else's fault."
It played into Frecheville's hands though. Not only was he a raw talent working on his first film, he was playing a character similarly entering an unfamiliar world. "I think because I'd never done anything, those dynamics helped establish the relationships of a young man that's in a new environment that's very uncertain and just has to sit down and shut up and pay attention."
He looks at that time as the beginning of what he calls his "apprenticeship", his use of the word hinting at a grounded nature that recognises the learning curve he says he's still on. "If you come in green to any sort of situation, you are really receptive to taking on board lots and lots of different bits of information. Witnessing everyone else's different styles and processes meant I was really spoilt.
"I just watched and learned; the subtleties of film acting. Less can be more. Don't overthink what you're doing if you understand the structure in which it's taking place. You're not going to need to exert yourself emotionally or energetically if it's a massive, massive wide shot, unless it was something physical like sprinting across one end of the frame to the other."
The Inevitability of Hollywood (and "mooning" Naomi Watts)
Animal Kingdom's critical success, as well as numerous individual awards for its ensemble including Frecheville who earned nominations for Best Actor from the Australian Film Institute and Film Critics Circle of Australia, meant this "baptism of fire" genuinely changed his life. He concedes the career roadmap he had begun to consider had suddenly been accelerated greatly.
"I finished shooting the film and then had to go back and finish my final year of school. That kept me pretty humbled because I had homework and it was just real life until the film came out. But we went to Sundance in 2010 and I took some trips to America and made new friends and had a few adventures, and the ball just started rolling.
"I wasn't expecting it to happen like that, I just thought I should maybe get an agent then start meeting some casting people and just getting my face out there a little bit. It just happened and I just ran with it. I think there was a bit of Dunning-Kruger effect going on where I thought there was a bit of a roadmap about how it was all going to go from there." Frecheville pauses, recalls he would have been auditioning for Animal Kingdom exactly a decade ago, then says, "which is crazy to think about. It fundamentally changed my life."
International representation, countless audition tapes, travel and, when school was over, "cigarettes and beers at lame nightclubs like everybody else" followed. It wasn't long before Hollywood came calling. Frecheville appeared in The First Time, an independent romantic comedy shot in Los Angeles. It was a fun film, he recalls, partly because he was playing an "absolute bellend".
That led to Anne Fontaine's Adore (also known as Adoration) alongside Naomi Watts and Robin Wright; a film that presented a new kind of challenge, namely, appearing naked in love scenes with his co-star.
"The latter half of 2011 I spent getting fit because I had this looming deadline of sex scenes with Naomi Watts and I thought, 'Bloody hell, if I don't really tidy myself up this isn't going to be a good look'. So I just went hell for leather, had a personal trainer, was doing intermittent fasting before it was trendy. I just went for it then got absolutely fit as a fiddle, and to this day I've never been fitter."
That helped limit the nerves when the clothes came off and the cameras began to roll. But there's still a bit of "Dutch courage" needed when your costume is your birthday suit. Indeed, there was the odd uncomfortable moment.
"I remember one day there was a funny rehearsal where the director wanted me on my knees with my pants sort of around my knees. I had to hump the stand-in in front of the whole crew with Naomi getting a full moon from me, while playing Words with Friends on the couch."
But it's just another day in the office for Frecheville who admits "you've got to get to over yourself". My mind drifts to my own overt self-consciousness and as the words "intimidating", "sex scene", "naked" and "Naomi Watts" come out of my mouth, I realise I already know the actor's answer because to exceed as a performer, be it on stage, screen or in the street, you have to be able to overcome such insecurity. For the best actors, it is, at least in appearance, entirely natural.
"It's easier to engage in when everything's sort of going on," replies Frecheville. "Good sex scenes are all very discreet and it's a closed set. It's uncomfortable but that's your job. I signed up to do the film, I didn't go, 'Oh no, no, I'm not comfortable with this, I'm not doing this'."
Lessons Learned and James Gandolfini
What's striking about James Frecheville is a very well-articulated understanding of his profession. Yes, he has that decaffeinated, softly-spoken, relaxed manner that's obviously served him well. But he also possesses a switched-on focus that's tellingly revealed when recalling his experiences with some of cinema's veteran stars. He speaks of himself as an "apprentice" and it's clear he's keen to learn from every project.
He remembers, for instance, Joel Edgerton's professionalism on Animal Kingdom during which the actor was preparing for his role as a wrestler in the brilliant Warrior. Indeed, because the role of "J" in the film had very little dialogue, Frecheville found himself becoming uncharacteristically verbose between takes. It became particular evident when he started shooting scenes with Guy Pearce.
"I kind of regret chewing off Guy Pearce's ear as much as I did. But so what, you know, I was very young and you've got to learn how to do it right. I got into too much jovial banter with all of these guys playing my uncles and all the bollocks that they'd be up to, so when Guy came on board it was a different energy but I hadn't clocked that. I'd just be yapping, I was a yap. Like I said, I learnt from that experience."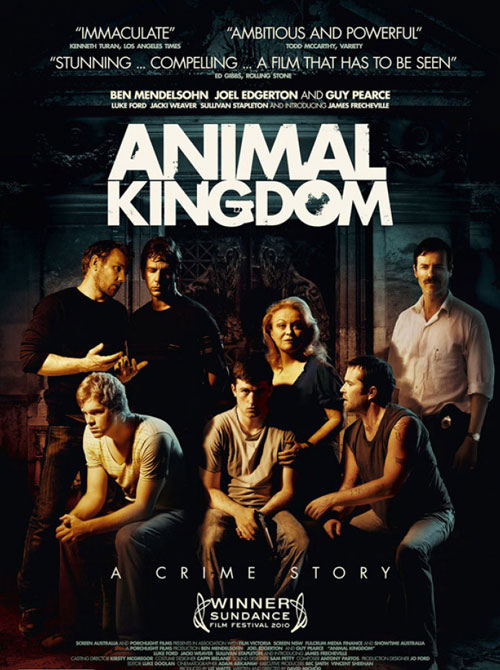 Similarly, he was quick to note Tom Hardy's locked-in work ethic on The Drop; his approach to the character – coupled with an imposing personality – dictating the dynamic on and off set. It's another indication of how what happens after "cut" and before the next call of "action" can reinforce character and dramatic tension when the camera's roll.
"Reality is created and agreed upon. If you know that you're playing a nasty character that's doing nasty behaviour you might want to separate yourself, or if you're playing someone that's sort of dominant personality, maybe you've got a bit of argy-bargy going on [when the cameras aren't rolling]."
He gives me an example. "If you're playing a character that's heavily antagonistic towards another character that's heavily antagonistic towards you, then maybe you have a bit of fun with it, but you know where the boundaries are. That's on you to establish during the rehearsals or in a very preliminary, veiled conversation between each other.
"Everybody's a bit different. For me it's just about fluidity of managing energy levels because you should have done all your homework beforehand. Sometimes you find things on the day, but for the most part it's all just about being really efficient with the time."
I begin to wonder if it's more challenging with actors who boast big personalities; those whose acclaim – and celebrity – feeds their ego. I'm told an anecdote about dummy guns on set with Tom Hardy and consider the young Aussie, still a comparative fledgling, may have had some nerves shooting those scenes.
The actor agrees that in general it's a natural reaction but as he gets older, it happens less. "They're people" like everybody else, he tells me, and they're "fallible" just like everyone else.
"If you try to put people on pedestals before you're working with them, then you're either going to be let down or you're not going to be functioning at your optimum way of working. It's just a distraction if someone's there to work and you're there to ogle at them and ask them dumb questions about their amazing life as a great actor, that's just idiotic."
So, of course, I ask about working with James Gandolfini and his amazing life as a great actor. That's okay, though, as Frecheville has such wonderful memories of the late Sopranos star whose last film, released posthumously, was The Drop.
He was a "very, very kind person", a real "man of the people" and a "fantastic guy to work with". Gandolfini exhibited the way it should be done – true professionalism, an understanding of what you're there to do, and how you do it well with time for a bit of fun between takes.
He laughs as he remembers a lottery Gandolfini set up where the winner took home the per diems he was saving each day. All you had to do was describe a sex manoeuvre he'd made-up known as the "Bearded Chechen"; a name inspired by one of the nondescript characters in The Drop's screenplay.
"It was hilarious because he just pulled together three or four hundred dollars, and everyone had a chance to have a go at naming this silly sex move. I had actually lost my iPhone the night before, and I drew for first place. Both entries are too rude to sort of repeat anywhere, so I'll keep that sacred and unholy but it was just hilarious. We had lunch break – lunch being at three o'clock in the morning on a night shoot – and Jim read out all these entries and everyone was just sitting around laughing their heads off."
I detect a little melancholy in Frecheville's voice which is understandable given he was one of the last people to work with Gandolfini before his death aged 51. That's something "I'll always treasure because we really did have a fun time doing our scenes and hanging out on a trailer-loaded car. It was another fantastic apprenticeship; picking up things osmotically the whole way through."
With characteristic humbleness, the actor reiterates how "spoilt" he has been to have worked with such heavyweights within an industry he clearly loves. You just learn how to do it, and for the most part that's just like you do your homework. You know exactly what you're doing when you're on set, because there's no tolerance for timewasting, especially when you're young and new and expendable. It's very easy for people not to get invited back."
Professionalism the Danny Glover Way
When it comes to experiences with Hollywood's heavyweights, I ask if there are any others that stand out. One springs to mind and it concerns Danny Glover during the filming of Laurie Weltz's 2015 film About Scout.
The cast and crew were filming in Bakersfield, California with Glover playing Red Freston, a man employed to track down Frecheville's Sam Prescott after he goes on the run with a girl also searching for someone. The on-location scene, which was taking place not far from China Lake military base, called for a "walk and talk with Danny".
A military aircraft was doing manoeuvres in the sky at great speed. It was something that caught not only Frecheville's eye but some of the crew as well. Between takes, the actor's attention temporarily diverted to a bright blue sky where a speck on the horizon was darting about, he noticed the aircraft begin to take a dramatic ascent. With no time to stand and admire the "show", the actor heard, "rolling…sound…speed" and they were back into the scene, exchanging dialogue in this dusty, Californian desert setting.
"Then in the middle of the scene while Danny's got this dialogue, the sonic boom hits us on the ground, and it was loud enough to make everybody completely jump out of their skin, myself included. Except Danny. Danny didn't flinch. Danny didn't bloody flinch, and I thought, 'My God,' because it was too loud for anyone to not hear, you know what I mean?
"Everybody hollered and screamed just at the shock of hearing something so loud and so unexpected. Danny, just unblinking, just took his dialogue back to where it was after giving a few seconds to let it settle, and then just kept rolling with the scene. I thought, that is just the most unbelievable professionalism I've ever seen in my life. It was just a real joy, and I still think about it all the time just because it was hilarious."
It's a treasured moment and one that reminds the Melbournite of his first "apprenticeship" while shooting Animal Kingdom. "If you screw up on your take then that's on you, doesn't matter what else is going on around you. That was a big lesson I try to keep in mind, that you've just got to be in a state of hyper-focus and if something happens that's really disruptive, you just take pause and then rewind your dialogue back to ten seconds before you were disrupted and you keep going."
Leading Roles and Black '47
To be the beating heart of Animal Kingdom at such a young age is indicative of Frecheville's talent as an actor. People might track the film down nowadays following Joel Edgerton's ascent up the Hollywood ranks or it might capture attention as another classy independent film in the career of Guy Pearce, but David Michod's film works so well because of its unique perspective under the hood of organised crime.
The intimacy of its POV – underlined by the corruption of innocence – comes through "J" Cody's wide-eyed acceptance of a violent, self-consuming world. It is this coming of age paradox that both distinguishes the film and Frecheville's performance in it, the actor displaying softly spoken, straight-faced virtue that's creaking under the weight of such a nefarious environment. It is an environment we – the audience – would ordinarily choose to distance ourselves from but it is one we have to endure, because "J" has to endure it, and we, like him, begin to get consumed, little by little, by the immorality at play.
A "baptism of fire", as Frecheville puts it, is putting it lightly. This was a role most debuting actors can only dream about. And it shows not only how an understated performance within an ensemble of vociferous fictional personalities can stand out but that Frecheville had "leading man" potential from day one.
This year sees him star in Black '47 alongside Hugo Weaving and Stephen Rea as well as Freddie Fox, Jim Broadbent and Sarah Greene. Directed by Lance Daly, the film is set during the Great Famine in Ireland when an English army deserter, played by Frecheville, returns to his home in Connemara to find his family and hopefully take them to a new life in America.
It was a role the Melbournite was eager to get after a Skype audition with the director. On getting the role he knew he needed time to prep, in part so that he could do his own stunts (knife fighting and horse riding were part of the job description) as well as, most importantly, nailing the thick, regional Irish accent.
"Luckily, I had some really great teachers to help steer me in the right direction, but there was a certain luxury in that the guy had learnt English as a second language in the east with the army. His back story was that he left home to fight with the army when he was maybe 13 or 14." So there was leeway to soften it slightly. "Often the director would encourage me to pare it back a little bit, because a Connemara accent can be quite thick and unintelligible sometimes."
Given that Frecheville admits some of his preparation for the role meant paying for training himself, I'm again struck by his dedication. I ask about his process for getting into character.
"It's kind of hard to articulate because it is quite personal, but I tend to try to build from the inside out and the outside in simultaneously. I think the thing I found with this role that I'd never found before was just really getting the physicality and that aspect of the personality down; the way that someone might look over a hill, or ride a horse.
"So a lot of this character was found when I was learning how to ride horses. I was trying to focus on being ambidextrous, because I envisioned that this character was a lot more capable than I've ever known myself to be, so I had to work really hard making it look like I'd been handling guns and blades for a long, long time."
I find myself envying the variety of experience afforded to actors, compounded by Frecheville telling me his latest project took place in Brazil (for the upcoming film, The Seven Sorrows of Mary). But he's a modest personality; someone who isn't about to take things for granted, or wallow in the spoils of previous success.
He laughs when he recalls the previous night when, while out with friends at a fireworks display, he received a call from his agent telling him he hadn't got a job he'd been hoping for. The rejection was delivered just as the fireworks began lighting up the night sky. "I had a bit of a chuckle to myself."
It is still, evidently, a learning curve. Like life, every day is a new chapter; a new lesson. "I'm not really a professional, I'm still an apprentice. I've been at it for ten years now on paper, and 20 years in total if you include the youth theatre, and you still learn new things every time that you work. So I just want to become a bit more of a workhorse. That's what I want to focus on moving forward; working more in different parameters so I can keep getting better."