New films coming to Now TV in November include The Darkest Hour, Lady Bird, and Three Billboard Outside Ebbing, Missouri. The Greatest Showman and The Avengers: Infinity War arrive in December.
The Darkest Hour – 9 November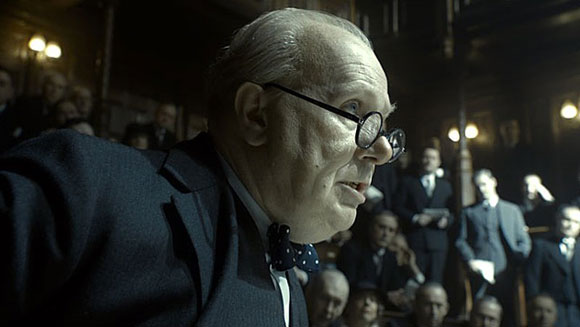 With the German Army now just across the Channel, newly-appointed Prime Minister Winston Churchill (Gary Oldman) must decide between negotiating a peace treaty with Hitler…or standing firm. With the King, the public and his own political party all questioning his wisdom, the hard-drinking Churchill must survive his own darkest hour and rally the country behind him.
Three Billboards Outside Ebbing, Missouri – 2 November
Writer-director Martin McDonagh (In Bruges) is back on searing form with this viciously funny crime tale starring Frances McDormand as Mildred Hayes, a hard-nosed mother seeking justice for her murdered daughter. With no arrests after seven months, Mildred puts up three roadside signs to goad Ebbing police chief (Woody Harrelson) into action. But the law – and especially Sam Rockwell's hot-headed deputy – don't take kindly to the provocation.
Lady Bird – 30 November
Greta Gerwig writes and directs this mother-daughter gem, with Saoirse Ronan as the titular Sacramento teen desperate to move on from her strict Catholic high school and start a new and far more exciting life elsewhere. Obstacles include an increasingly lax attitude to schoolwork and her family's lack of funds, with worried mum Marion (Laurie Metcalf) working double shifts just to keep the bills paid. Dad Larry (Tracy Letts) is out of work and Berkeley grad brother Miguel (Jordan Rodrigues) is bagging groceries, but such real-world problems aren't really on Lady Bird's radar, especially when there are boys to chase after.
Game Night – 16 November
Six suburban nerds – including wannabe parents and competitive gamers Max (Jason Bateman) and Annie (Rachel McAdams) – get together for a weekly snack-and-beer game night. When Max's successful brother Brooks (Kyle Chandler) walks up he stages his own night… but it doesn't turn out quite as expected. A high gag count and neat chemistry between Bateman and McAdams make this a winner.
Coming in December
The Greatest Showman and Avengers: Infinity War.