Powerhouse Films, the independent DVD and Blu-ray distributor, has released Amicus Productions' twisted oddity, The Mind of Mr Soames on Blu-ray for the first time in the UK.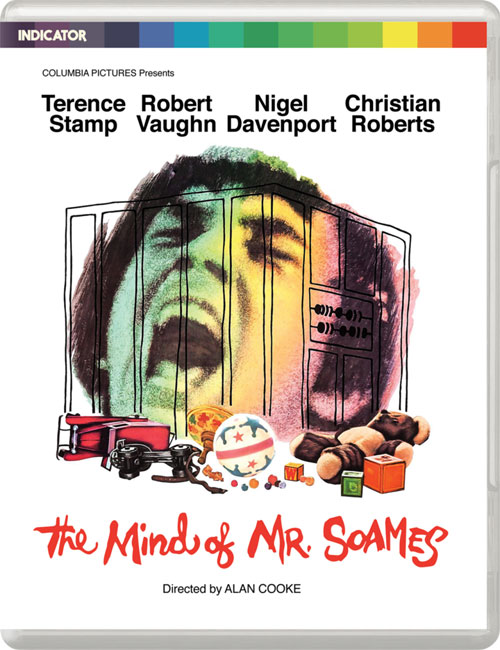 Alan Cooke's 1970 cult oddity, The Mind of Mr Soames enjoys its Blu-ray debut courtesy of Powerhouse Films.
Described by Leah Wimpenny on Top 10 Films as being "seriously weird" but "fantastically so", this Amicus film is based on the best-selling novel by Charles Eric Maine and concerns the revival of a comatose 30-year-old man. Having being in a state of coma since birth, this "grown up" is introduced to the world for the first time; his mind that of a newborn baby.
Described as a contemporary re-working of the Frankenstein story, Terrence Stamp portrays the eponymous Mr Soames in what is one of the actor's finest early-career performances. A sort of mash-up between heartfelt institutional drama and Drop Dead Fred, Soames is awakened by two idealistic doctors live on TV before he becomes a living curiosity, exploited by those around him.
Lauded for its cast (which includes Robert Vaughn, Nigel Davenport, Christian Roberts, Donal Donnelly and Vickery Turner) and praised for the cinematography of Billy Williams (whose work can be seen in Women in Love, The Wind and the Lion, and Gandhi), The Mind of Mr Soames is a prescient depiction of reality TV and invasive media.
Powerhouse Films' limited edition Blu-ray provides the film with remastered picture and original mono sound. Additional features include an audio commentary with Kevin Lyons, editor of The Encyclopedia of Fantastic Film and Television, and Jonathan Rigby, author of English Gothic: Classic Horror Cinema 1897–2015.
The Blu-ray also boasts The Mind of Mr Stamp, a new and exclusive interview with Terence Stamp in which he discusses his early career and the time he spent away from acting. Another new exclusive comes in the form of Memories of Mr Soames, which sees actor Christian Roberts, cinematographer Billy Williams, researcher John Comfort, and sound mixer John Aldred recall their experience of working on the film.
As well as the original theatrical trailer, image gallery, and new and improved English subtitles for the deaf and hard of hearing, the Blu-ray presentation includes an exclusive 36-page booklet with a new essay by Laura Mayne, contemporary interviews with Stamp, Nigel Davenport and Robert Vaughn, profiles of cinematographer Billy Williams and writer David McIlwain, contemporary critical responses, and film credits.
You can read out review of The Mind of Mr Soames here.
The Mind of Mr Soames was released on limited edition region free Blu-ray on September 24.