James Bond was good with the ladies, good with fast cars, and good for maintaining world peace. He was also pretty adept at winning in the casino and these scenes highlight some of his best moments.
The casino has always played a big part in the world of James Bond. Ian Fleming, the writer who created 007, presented the British secret agent with the same attitude he himself took to every casino he entered: to be relaxed and confident, never timid. Bond was always cool, regardless of the stakes. The casino was a small-scale, less deadly extension of his number one task of taking on the opponent and saving the world.
Without the casino, there would be no Bond. Although John Pearson, a Fleming biographer, plays down the novelist's experience of a high stakes card game in Estoril during his time as a British naval intelligence officer as a precursor to the eponymous hero's creation, it makes sense, given the character's penchant for roulette, blackjack and poker in the books and movies that it had some impact.
The books suggest that the secret agent's favoured game is chemin-de-fer, a traditional, or even old fashioned version of baccarat. In the movies we see him play several other casino games including Texas Hold'em in Casino Royale and, in a sort of alternative take on the casino, a strange computer game in unofficial Bond film Never Say Never Again.
Casino Royale
The Game: Texas Hold'em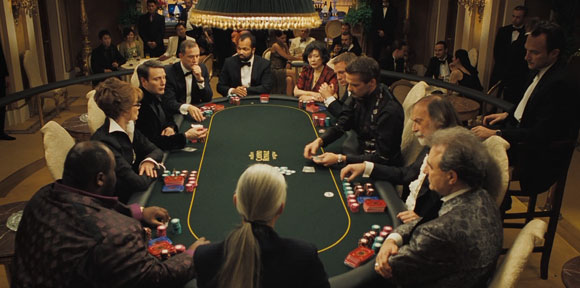 Casino Royale was somewhat of a reboot for the character; a grittier, tougher style embodied in its brilliant, high stakes Texas Hold'em game. It was a sort of reinvention of the James Bond franchise for the Jason Bourne generation with a new actor in the eponymous role. Using Ian Fleming's early-career Bond novel as its blueprint, the Daniel Craig era drops the tongue-in-cheek approach of Connery, Moore and Brosnan for a much more serious take on the character.
Any film with "casino" in its title better have a good casino scene and the film doesn't disappoint. Bond is in Monte Carlo where he joins a poker tournament and appears to get in over his head when the stakes start reaching multi-millions. The scene is primed for tension-filled card playing while, amidst the action on the table, Bond takes a break to kick some butt and even be resuscitated after a poisoning incident. But this is James Bond, and not even a near-death experience is going to stop him winning the game. All seems lost until long-time friend Felix Leiter stakes him back into the game, allowing him to find a straight flush and win the millions.
Dr. No
The Game: Chemin-de-fer
Dr. No represents cinema audience's first introduction to James Bond so it is fitting that we get to enjoy his favourite casino game – chemin-de-fer. Testament to the film's enduring qualities is its status as one of the best films of the franchise despite being the series' debut. Sean Connery might not be as affectionately charismatic as his more confident performances in later films, but Dr. No has everything you could wish for from a Bond movie.
One of the great things about the casino game in Terence Young's film is that Bond quips that immortal line: "Bond… James Bond" while tackling the form of baccarat known as chemin-de-fer. Appropriately for 007 – and his love of female companionship – his introduction is to one of the great "Bond girls" in Sylvia Trench after she observes his prowess in the game. Hugely influential on the character's representation in film – as well as in other forms of media and entertainment like online slots machine games such as The Big Deal on misterbet – this interpretation of the secret agent would impact the way Bond would be seen by audiences for years to come.
Diamonds Are Forever
The Game: Craps
Casinos play a bigger part than just giving Bond the chance to gamble with his life and his money. It's in this mecca of gaming that Bond finds his target, meets an accomplice, smiles for the first time at the femme fatale. In Diamonds Are Forever, it's Connery again as Bond (after having a film away from the franchise to let George Lazaenby have a go in On Her Majesty's Secret Service) who roams the tables of the Whyte House casino and Circus Circus casino during the film. Between craps and roulette, he manages to save the world again.
The film, known for introducing more humour to the character, sees Bond begin his adventure in Las Vegas. So, it's inevitable he'll enjoy some time playing in the casino. Here, 007 takes to the craps table, wins himself $65,000 and gains the attentions of Bond Girl Plenty O'Toole.
When Bond's winnings are totalled up across the franchise, he's amassed over $66m. Okay, he won tens of millions in Casino Royale alone but take that figure away and he's still coming out with more than $50,000 per movie from the casino.
The casino is a thrill for the British secret agent because he loves a game of chance. He'll take every opportunity, even when he's not near a craps or poker table. Remember Roger Moore and Kamal Khan's iconic game of backgammon in Octopussy, Pierce Brosnan's acquisition of a diamond in Die Another Day, and Sean Connery's wager of a gold bar in a golf game against villain Goldfinger.