Luca Guadagnino's remake of Dario Argento's Suspiria, staring Fifty Shades of Grey's Dakata Johnson, arrives in UK cinemas on November 16.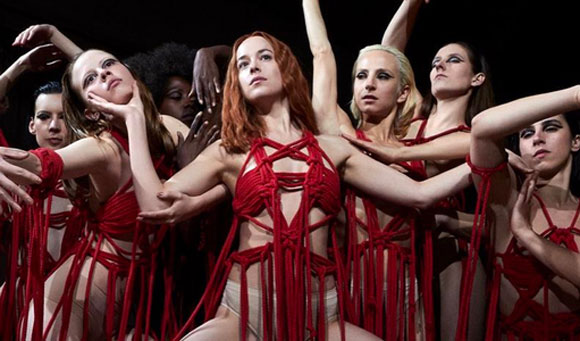 Starring Dakota Johnson, Tilda Swinton, Mia Goth, original star Jessica Harper, and Chloë Grace Moretz, 2018's Suspiria arrives in UK cinemas on November 16. Set in 1977 Berlin, the film sees a young dancer from America enrolling at a prestigious dance academy that happens to be plagued by unusual occurrences.
Described as an "homage" to the 1977 original film rather than a direct remake, Luca Guadagnino's film was shot between late 2016 and early 2017 with a score composed by Radiohead singer Thom Yorke and dance sequences choreographed by Damien Jalet.
"A darkness swirls at the centre of a world-renowned dance company, one that will engulf the troupe's artistic director (Tilda Swinton), an ambitious young dancer (Dakota Johnson), and a grieving psychotherapist. Some will succumb to the nightmare. Others will finally wake up." That's the synopsis of Guadagnino's interpretation of Argento's brash giallo masterpiece.
But despite its starry cast, and allure of sex, dance and the macabre, 2018's Suspiria has endured a mixed reaction upon its screenings at film festivals earlier this year. Robbie Collin of The Telegraph might have called the film a "slow burner" that surpasses the original in his five-star review but he's in a minority. David Rooney of The Hollywood Reporter didn't like the pacing at all, saying the film was "unnecessarily drawn out" with "too many discursive shifts to build much tension".
Peter Bradshaw of The Guardian liked bits of it but was largely critical. He said, "The spark of pure diabolical craziness of Argento has gone, together with his brash streak of black comedy."
Michael Leader, writing in Sight and Sound, isn't so sure of the remake either. He says, "There was always the expectation that a spin on Suspiria from the director of A Bigger Splash, Call Me By Your Name and I Am Love would be in some way indulgent, but Guadagnino commits the most indulgent of sins: his overstuffed, underwhelming Suspiria, be it a remake, homage or original vision, simply isn't ever as freaky, fascinating or frightening as its inspiration."
Suspiria is in UK cinemas from November 16.