Poker has its place in film, flashy and tense as it can be. But beyond the five card flop comes a more varied game – roulette. Red or black, win or lose, it's a roll of the dice that can be found throughout the star-studded history of modern cinema.
1. Diamonds Are Forever (1971)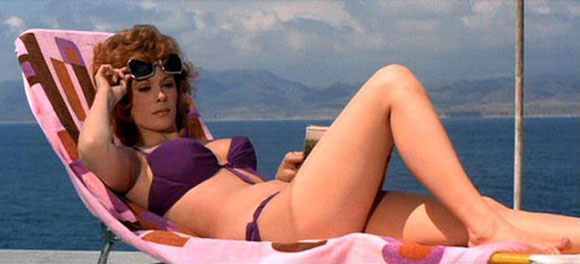 Nothing quite says roulette like the man himself; Bond with a suit on, Bond at the table. Casinos have always been this particular international man of mystery's second home. It's at the casino that he meets his femme fatal. It's at the casino that he scouts his target, often joining them in victory or defeat, and Diamonds are Forever is no exception to the trend. Sean Connery roaming the table floors of the Whyte House casino is the centrepiece of the film. Later still he visits the Circus Circus casino. Between craps and roulette, the plot of fake diamonds thickens, romance develops and many a bet is won.
2. The Deer Hunter (1978)
Roulette is all about the spin of the wheel – especially when you're playing with a revolver instead of a board. The Deer Hunter features three American soldiers in the midst of the Vietnam war. Captured and imprisoned, they play Russian Roulette for the entertainment of the guards. It's only through convincing their captors to let them play with three bullets that they manage to escape, turning the weapon on their enemies and fleeing into the jungle.
3. Run Lola Run (1998)
Lola must deliver one hundred thousand Deutsche Mark to her boyfriend Manni in the next twenty minutes – should she fail, he will be murdered. Run Lola Run is a film of three plots, each examining the outcomes and opportunities of chance, in a Sliding Doors before Sliding Doors was released. In the first version, Lola fails to retrieve the money and she and Manni rob a supermarket together. In the second, she asks her father for help. Despite his position as a bank manager things turn sour between them. Rather than leave empty handed Lola robs the bank and escapes, only to see her boyfriend hit by a passing truck.
It's the third series of events that the film ends on, and the third with the happiest ending. Lola doesn't go to the bank or supermarket. Lola goes to the casino. Betting a one hundred mark chip on the number twenty-two, she wins. Lola bets on twenty-two again. With a cry, she claims her winnings. You have to wonder if she'd save more time today – online roulette games for fun at home could have cut out the middleman! Though there'd be themed Vikings instead of croupiers and suits, since some online casinos offer themed games too.
4. Casablanca (1942)
In the Moroccan corner of Casablanca, Rick Blaine (Humphrey Bogart) runs a successful club casino. Wartime Africa is tense, the city is in the hands of a German/French occupation and a wanted member of the Czech resistance hides among their midst. The most valuable thing available to a man like that, and to anyone else in Casablanca besides? Free travel papers. Rick watches as a patron of his club attempts to win the money to buy them at his own roulette table, advising him on where to place his bet.
5. Croupier (1998)
Jack Manfred lands a job as a croupier to make ends meet – amongst a den of gamblers and cheats he turns his trade at the roulette and poker tables until one day, taken aside by a regular, he's asked to be an inside man. There's a robbery in the works and Jack is to be a part of it. With his home relationship deteriorating and a book in the works yet unfinished, Jack's roulette hosting soon becomes a part of a much grander plan. And takes its place among roulette cinema history!
There you have them, the five most iconic roulette scenes in silver screen history – that is, up to now. Have we left out your favourite? Let us know in the comments.