It's 30 years since Michael Lehmann's high school black comedy Heathers arrived in cinemas as a sort of retort to John Hughes' monopoly of the genre. To celebrate, Top 10 Films editor Dan Stephens sat down with the director to discuss how the film became a cult hit and why it continues to resonate today.
Michael Lehmann's rebellious, cynical Heathers is the antithesis of John Hughes' sentimental attachment to high school life. Taking nothing away from The Breakfast Club director's impressive run of audience-pleasing hits in the 1980s, some of which remain seminal classics of the genre, Lehmann and writer Daniel Waters present a much darker picture of adolescence in search of its rebellious voice.
Inherently dark, this pitch black comedy sees Christian Slater lead Winona Ryder away from the "Heathers", a popular clique known by their mutual name. As the pair plot a purge of the popular kids, their pranks to turn the tables become increasingly twisted. The film, released in 1989, is a wonderfully dark look at high school politics, oppression and the battle for acceptance and popularity.
It presents a view of teenage behaviour that, in Lehmann's own words, is closer to the true nature of high school life than Hughes' efforts, showcasing the often cruel nature of those adolescent interpersonal relationships. But that isn't to say Lehmann feels there isn't a place for the likes of Pretty In Pink, Sixteen Candles and Weird Science, or indeed that he and screenwriter Waters don't appreciate those movies, but that there was a gap in the market for the harsher realities of finding yourself amidst the politics, cliques, peer pressures and hormonal headrush of growing up.
"The funny thing is it's not as if [Daniel Waters] and I didn't like John Hughes' films or that we thought that they were bad or that they needed to be knocked down or that they were wrong or anything like that. If anything we were big fans of the films and we felt that they presented a kind of happy nostalgic sanitised, somewhat sentimental view of high school, even when they dealt with, you know, difficult issues of growing up.
"Even the more bittersweet ones still were basically kind of happy – happy views of what it's like to be an adolescent, and we felt like, wait a minute, it's a much darker time than that. It could stand for a treatment that had a little bit of a genuine realistic edge to it."
And that authenticity is why Heathers remains potent three decades after its was released. "I believe the movie addresses, in an originally satiric way, aspects of adolescent life and high school experiences that remain true today. So in spite of all the changes in the world in the last 30 years, going through high school is still very similar now to the way it was back then; the nature of cliques and social interactions in high school, that sort of stuff. I think when you combine that with a funny nostalgic view of life in the '80s, it's a very good cocktail."
Yet, in spite of its themes remaining relevant for an audience today, I put to Lehmann that it'd be difficult to make it now, perhaps because Heathers' fictional sadism has become a very real reality in so many American high schools.
"The tricky part of trying to make it today would be how to manoeuvre your way through the fact that there is all this real violence and shootings in high schools in the United States. That's the elephant in the room when it comes to talking about this now. So I'm not even sure how you would approach this sort of material in the face of that."
But modern technology and social media would also change things, not least their impact on the way teenagers interact today. "I'm not sure that it would make it impossible to make Heathers today. You'd just have to work it in You'd have to find ways to be able to show that as being part of teenage life. It's really interesting because it's so hard in cinema to depict people on their phones, on their computers, that sort of thing. It's not very cinematic. In a way we had a little bit of an advantage back then in that people would actually talk to each other, and deal directly with one another more than they do now."
Having a great cast, including two leads who would go on to long and successful Hollywood careers, was obviously beneficial. Indeed, there are many who feel Winona Ryder's performance in Heathers in one of her very best. Lisa O'Connor said on this site , that the film proved to be a high point in the career of the actress. She writes: "Directors do well to give Winona Ryder a diary-writing facet to her roles. She does 'thoughtful and reflective' well; and she has one of the most listenable voices for narration ever. As Veronica in Heathers, she keeps a diary which she scribbles in a highly-strung state of teenage anxiety, giving rise to some quotable lines, delivered with memorable melodrama, such as: "My teen angst bullshit has a body count," and "Are we going to Hell or prom?"
Lehmann knew he was on to something when he cast Ryder. He was quietly pleased that others turned the role down. Jennifer Connelly, via her parents, was one of them. She was a young actress approached early in proceedings. She had recently appeared in Labyrinth alongside David Bowie. But she wasn't 18 at the time of Heathers' production and so her parents had to approve the script. Due to the dark nature of the content, Lehmann doesn't think they ever showed it to her. That was perhaps why Justine Bateman, Jason Bateman's sister, turned down the role too.
There were few actresses who really understood the part as well as Ryder, says Lehmann. "Winona got hold of the script and she just loved it, and she pushed really hard." The actress's persistence was necessary as, like Bateman's agent, Ryder's management were against her accepting the role. Remembers the director: "Her agents were very opposed to her being in the movie, so it was always a struggle to get people on that film."
Thankfully, the director's decision to cast Ryder was the right one. Her remembers her exhibiting all the qualities of a movie star even at such a young age (she had already done a handful of movies including Lucas and Beetlejuice but was still a very raw talent.)
"She really had a great presence on screen. She was super smart, and her career was going well, so I was not surprised at all to see she was doing big movies and was legitimately a kind of a star; never really a box office draw star but a full on movie star."
Christian Slater was also an actor who Lehmann so lots of potential in. "The question with Christian was always would he find his own voice and he did really well for quite a while. I felt like he had a lot of talent and he did well with it." The director laughs now when he remembers his two teenage protagonists are currently playing parents in very popular television shows (Stranger Things and Mr Robot).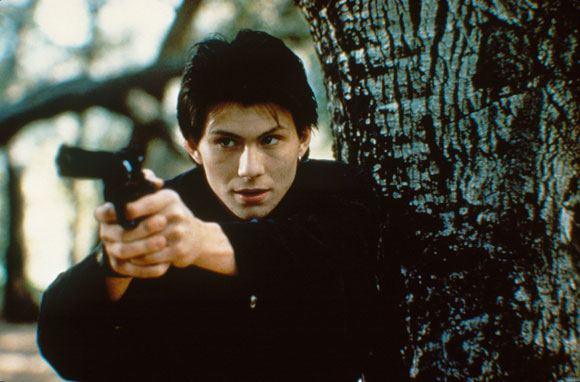 Despite the critical acclaim and a 1990 Independent Spirit Award for Best First Feature, Lehmann says he didn't realise Heathers had made much of an impact until three or four years later when people were still talking about. He soon realised the film, which had flopped at the box office, was enjoying a new life courtesy of the VHS boom.
"I suppose it makes perfect sense anyway. The only reason we were able to get the movie made is that New World Pictures was financing its movies based on potential video sales. The video world was just blowing up at that time. The actual box office was still an important barometer of a movie's success, but it was just around that time that you also realised that a movie could become successful and get seen a lot and even make money for the people who made it based on video rentals."
There's no question it still strikes a chord, even with new audiences. Steve Rose agrees, writing in The Guardian after watching Heathers' stage musical adaptation, that he witnessed hordes of young adults and teenagers, mainly female, dressed in the outfits befitting the Heathers' clique ("shoulder-padded blazers, knee-high socks, tartan, primary colours and, of course, scrunchies").
You know a film's special when it transcends the screen in such a way. For Lehmann, it was his first directorial effort and a great lesson in the world of filmmaking. It's also a moment in his career that he looks back on with great memories. "I had a great time making it. It was a very good experience. And now with a long career, I also recognise that they don't always go so easily. The machine doesn't run smoothly and people don't get along as well. You don't always have a script that's good. So I look back very fondly on it."
Heathers was re-released in cinemas to celebrate its 30th anniversary on August 8. A brand new Blu-ray was released by Arrow on September 10.