Oh, the nerves of a first date. Will there be chemistry or will you never see each other again? A movie date is a great way to alleviate some of that tension but picking the right film to watch can be tricky. The following ten will help romanticise the evening – some in obvious ways, some in not-so obvious ways.
There are many locations which are suitable for a first date, but one of the most enduring is a night at the movies. After meeting on a dating site, what better way to get a relationship off to a positive start than sitting in plush seating – especially the reclining chairs that are being introduced in many modern cinemas – nestling together in the darkness, then whispering sweet nothings as the action unfolds (not during the crash, bang, wallop bits of course, that would be silly – miming your affection on a first date isn't likely to end well).
Whether you invite your date for a trip to your local multiplex or arthouse theatre, or you opt for the more private option of buying a takeaway and tapping into your Netflix account, what is far more important is your movie choice. Here are the top 10 romantic movies for a first date.
Roman Holiday
Audrey Hepburn and Gregory Peck make the perfect couple in this romantic comedy. A young princess goes undercover to embrace the joys of Rome. You and your partner can relish every moment as she takes full advantage of the eternal city.
Casablanca
Another timeless black-and-white classic, the protagonists here are Humphrey Bogart and Ingrid Bergman. The dialogue fizzes and the sexual chemistry, while never 'in your face,' is always simmering.
Jurassic Park
Jurassic Park! You heard me right! What better way to get the first date off to a flyer than to relive your childhood fear of monsters with this Spielberg blockbuster? The CGI effects are tremendous, and there are enough genuinely terrifying moments to ensure your date will throw their arms around you for comfort.
Some Like It Hot
This film has it all. Marilyn Monroe oozing sex appeal. Tony Curtis and Jack Lemmon delivering bravura performances as musicians resorting to cross-dressing to escape mobsters. Scene after comic scene of hilarious mishaps. This is not only one of the great comedies of all time but, unsurprisingly, one of the most popular Billy Wilder films.
Her
A quirky science fiction film might seem another unusual vehicle for romance, yet Joachim Phoenix gives an emotional performance as a man who falls for a computer program named Samantha. Not as offbeat as it sounds, this movie will have you and your date feeling the impact of his unrequited love.
Alien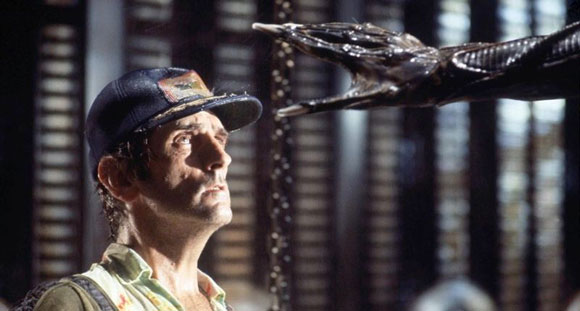 The feminist theorists would have you believe this is all about sex with its phallic imagery and bodily intrusion. Well, what better way to get you in the mood then! A gory sci-fi thriller is definitely not an obvious choice for a first date flick. But as you brace yourself in anticipation for the next jump scare, what better excuse could there be to snuggle together in the darkness?
Before Sunrise
An American and a French girl cross paths, purely by chance. Yet they proceed to fall for each other, all the time knowing they only have these stolen moments together before they must part. So it was filmed before there was such a thing as Skype for people to stay in touch, but leave that thought aside and relish watching their love affair approach its deadline.
Anchorman
Will Ferrell. Paul Rudd. Steve Carrell. Christina Applegate. Another ideal film for your first date is this OTT comedy with that stellar line-up. Belly-laughing together is one surefire way of bringing you closer in the early stages of any relationship.
Groundhog Day
This masterpiece pairs Bill Murray, deadpan comedian, and Andi McDowell, one of the best actors at making a Southern US accent sound charming and seductive. The premise of the film, about events repeating themselves, is also inspiring. You'll want to relive the moment again and again.
Amelie
Who can do romance better than the French? The titular Amelie spends her whole time trying to set up other people, like some latter-day Cupid. The setting, a whimsical version of Paris, is perfect. Upon its release, it was a critical and box office smash, earning over $170 million, despite only costing $10 million to produce. What better backdrop to your first date?