Neal Damiano takes a look at the genius of Brian De Palma, counting down his greatest films including twisty thriller Dressed To Kill, underrated Raising Cain and stylised, compelling crime drama Scarface.
We've lavished praise upon Brian De Palma before. In fact, he's a filmmaker who has featured many times on Top 10 Films. He's not immune to criticism as Mark Fraser detailed in his look at Mission: Impossible as part of 10 Modern Hollywood Films That Showed Plenty Of Promise But Ultimately Failed To Deliver but De Palma has most often found favour (even being praised by Dressed To Kill actor – and now director – Keith Gordon in his exclusive interview with us).
Indeed, we've praised his greatest work and reconsidered his underrated films like the often maligned Raising Cain. We've discussed his work as a great cinematographer alongside Stephen H. Burum and Vilmos Zsigmond, his approach to tough female characters, his ability to bring novels to the screen, his skill within different genres and even how he allowed Kevin Costner's co-stars to outshine him in The Untouchables.
In this article, inspired in part by Quentin Tarantino's adoration of Brian De Palma, Neal Damiano takes a look at the films that represent the finest work of this acclaimed filmmaker. Spanning multiple decades from 1976's Obsession and Carrie to 2012's Passion, this list represents a diverse and divisive selection of films that continue to enjoy a love-hate relationship with fans and critics.
10. Casualties Of War (1989)
An underrated Vietnam film possibly because it came after Platoon. It deserved much better. It's a very demanding war film with a unique tone and pace. It stars Michael J. Fox and Sean Penn, both giving phenomenal performances. Penn plays a real bastard of a Sergeant, who orders his men to viciously rape a Vietnamese girl nearly to death. Fox plays Erickson, a soldier who decides to take the moral high ground and refuses to take such orders making him the black sheep of the platoon. The whole film is a flashback of Erickson's time in the army. The battle of will between Penn and Fox is fascinating to watch unfold. It's also one of the first modern war films to deal with PTSD so vividly.
9. The Untouchables (1987)
Although it was a big budget story with little to no accuracy somehow Brian De Palma managed to pull it off. Along with being a commercial success, the film was a hit with critics as well. The Untouchables had very tasteful direction and memorable action scenes especially the shootout where Ness ends up in an all out battle with Capone's cronies at the Chicago train station. However, the film tended to tone down the bloody violence found in most of De Palma's films. Equipped with an all star cast including Kevin Costner, Robert De Niro, Andy Garcia, and Sean Connery it doesn't fail to hold one's attention. It also has many mememorable quotes including Connery's famous line: "Just like a wop to bring a knife to a gun fight". The Untouchables served up an entertaining gangster film and it remains one of De Palma's biggest box office hits.
8. Passion (2012)
Passion sees De Palma celebrate the erotic thriller genre. Two successful businesswomen with the same lover scheme and plot to sabotage the other. It's a very stylised film and I found it very intriguing. The women engage in distorted warfare in and out of the office. De Palma dives into his usual themes here as perception, obsession, and revenge converge. But there is something so intriguing in Passion: maybe it's De Palma's visual style or the gritty personalities of the characters. Suffice to say, it had me fascinated from beginning to end.
7. Obsession (1976)
This is the film that dubbed De Palma the American Alfred Hitchcock as it shares similarities to Vertigo. Obsession is a triumph of moody atmosphere. De Palma's technical savvy really shines through the camera angles he utilises, especially in the famous 360-degree graveyard scene. The story touches on themes of incest which actually forced De Palma to do several rewrites to balance its melodramatic severity. Released a year after completion, Obsession would land significant box office numbers but mixed reviews from critics. Some have been calling it the first real De Palma film. Does it compare to the source influence? Absolutely not. Vertigo triumphs, but there's a certain joy in watching a filmmaker shoot for the stars without giving a damn what the outcome will be. This may be De Palma's best twist.
6. Dressed To Kill (1980)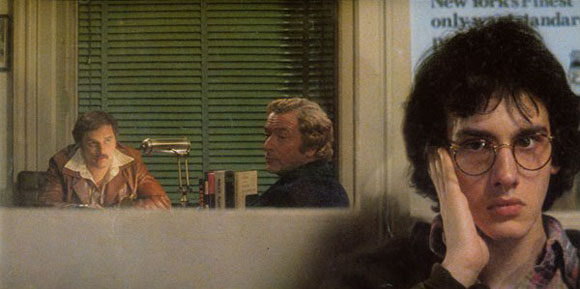 Voyeurism, murder, deception, Michael Caine in a dress; Dressed To Kill is the one where you really get to explore what makes De Palma tick as a filmmaker. Highly influenced by Alfred Hitchcock, De Palma draws from the master director's ability to mould suspense around a compelling narrative. This is his unapologetic erotic thriller. In my opinion, it's a very refined and well produced film, that is, arguably, in the great tradition of grindhouse. Again, people mention Hitchcock but there is a distinct influence of Dario Argento here tapping at the vein. You can see it in the visuals and it plays out like a dirty soap opera mixed with gritty crime. It is quite an entertaining and graphic film especially when poor Angie Dickinson famously getting sliced with a straight razor.
Discover More: Read our exclusive interview with actor Keith Gordon who talks about his work on Dressed To Kill
5. Scarface (1983)
In my opinion Scarface is De Palma's most iconic film. It is definitely the most quotable with so many lines that stick in your mind along with indelible images that further highlight De Palma's visual prowess. And Al Pacino's performance as Tony Montana is brutally raw and unforgiving. The constant thing that remains in this movie is the superb acting. It goes to show a further dimension to De Palma's skill: casting. Upon release it did not fare well with critics but to me the film remains big, dynamic, and memorable.
4. Raising Cain (1992)
Raising Cain presents a fantastic exercise in style, underlining De Palma's strengths as a visual storyteller. What an intense film; in my opinion this is De Palma's greatest psycho thriller. Heavily influenced by Michael Powell's masterpiece Peeping Tom and Hitchcock's Psycho. The film stars John Lithgow who is obsessed with protecting his daughter. The film lays heavy on dream sequences, flashbacks, and voice-overs which can be irritable to some. If you can remain aboard it is one crazy and magnificent ride in psychological damage. In my opinion, it's Lithgow's greatest performance to; he's beyond scary.
3. Carrie (1976)
We all know the story of Carrie. A telekinetic girl plots her revenge on the popular clique in high school. It's De Palma's first major hit and still remains one of his greatest efforts to date and a turning point in horror. Based on the best selling Stephen King novel and designed to target the teenage market, Carrie is a great example of De Palma's talent for intense visual storytelling. This is the film that shows his daring camera moves and slow motion techniques. Brilliantly scary, it manages to deal with the inner madness of every teenager through high school without resorting to cliche. Carrie remains one of the most frightening films ever made.
2. Carlito's Way (1993)
What a unique gangster film! A character centred film about redemption. Carlito's Way has its slow moments, especially the sappy relationship scenes with Penelope Ann Miller but the film compels through Carlito's story – where he was and where he is now. Wanting so desperately to change from a life of crime, he's constantly tempted with the belly of the underground. Absolutely brilliant performances from Al Pacino and Sean Penn (who plays his sleazy train wreck of a lawyer), De Palma's greatest trick here is his ability to make the character so darn likable. You root for him through the whole film. You really want him to win, he deserves this. It's a very poetic ending. A fantastic crime thriller with substance.
1. Blow Out (1981)
The greatest thing about Blow Out is John Travolta's flawless and extraordinary performance. Travolta plays Jack Terry, a low-end sound effects guy who specialises in sounds for trashy slasher films.  While recording he hears a tire blow out and sees a car go off a bridge. He thinks it's an accident but is compelled to dig. He discovers something far more sinister. Now he hears a gunshot on the recording and begins investigate leading to a deadly game to find a killer. De Palma's take on politics and the lengths the process will go too is a fascinating look at investigation and cover up. Blow Out is a masterpiece in storytelling and filmmaking, loaded with quotable lines and inside jokes. And it's Travolta's best work.
Your turn: what are your fave Brian De Palma films?