Eddie Redmayne and Jude Law were on hand at Platform 9 3/4 to surprise fans queuing for the Hogwarts Express, joining them to celebrate the impending release of Fantastic Beasts: The Crimes of Grindelwald.
Wizarding World fans at King's Cross railway station got the shock of their lives when Eddie Redmayne and Jude Law arrived on Platform 9 3/4 to join the festivities and lead the countdown to Fantastic Beasts: The Crimes of Grindelwald's UK theatrical release of November 16.
Meeting fans attending the "Back to Hogwarts" Day, an major annual gathering for the UK's massive population of Harry Potter fans, Redmayne and Law, two of the stars of the highly anticipated sequel to Fantastic Beasts and the Where to Find Them, had their photos taken and signed autographs with fans who couldn't quite believe their eyes.
Fans usually line up for hours at the popular photo point to get a shot of themselves pushing a luggage trolley "through" the brick wall to recreate Harry and others' passage through the magical barrier and onto Platform 9 3/4 but this time the event was a bit different. Usually an assortment of helpful staff members are on hand to add the finishing touches such as the iconic Hogwarts scarf but this year Redmayne and Law took over assistant duties.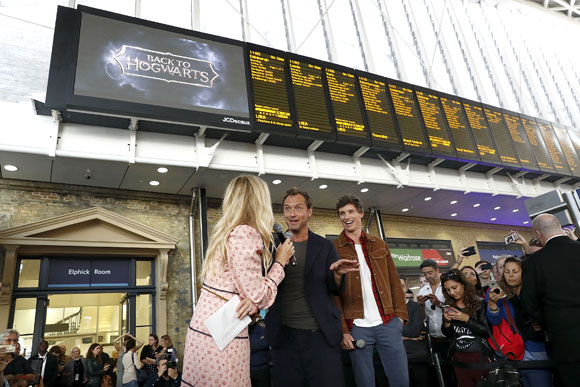 In the sequel to Fantastic Beasts and Where to Find Them, Redmayne reprises his role as Magizoologist Newt Scamander, with Law embodying a young Albus Dumbledore. Directed by David Yates, from a screenplay by J.K. Rowling, the film picks up events after the end of the first adventure when powerful Dark wizard Gellert Grindelwald (Johnny Depp) was captured by MACUSA (Magical Congress of the United States of America), with the help of Newt.
But Grindelwald escapes and begins building a following of like-minded wizards with an agenda to raise pure-bloods to rule over all non-magical beings. In an effort to thwart Grindelwald, Newt and Albus Dumbledore join forces to battle Grindelwald and reunite an increasingly divided wizarding world.
Audiences will get to enjoy the new film – one of five new adventures in the Wizarding World – when it arrives in UK cinemas on November 16.
Images: EDDIE REDMAYNE AND JUDE LAW, STARS OF FANTASTIC BEASTS: THE CRIMES OF GRINDELWALD, SURPRISE FANS AT PLATFORM 9 ¾ DURING "BACK TO HOGWARTS" DAY CELEBRATION