Terminal plays like a neon wet dream with dystopian overtones but is more café noir with outstanding production design. Martin Carr reviews Vaughn Stein's forgettable effort…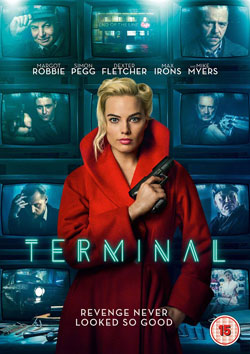 Vaughn Stein might not be a name you know yet but he has been involved in everything from World War Z to Guy Richie's Sherlock Holmes as assistant or second unit director. This has afforded Stein the opportunity to step up and direct Terminal, which plays like a neon wet dream with dystopian overtones. Exec produced in part by marquee draw Margot Robbie (who plays Annie in the film), this is more café noir than femme fatale territory despite outstanding production design.
Cinematographer Christopher Ross takes inspiration from Robert Rodriguez and Frank Miller, making Terminal feel more Sin City homage than Blade Runner indie. Robbie steals a majority of the film as her character feels rounded, fleshed out and oddly developed in relation to everyone else. Max Irons, Dexter Fletcher and Simon Pegg are wasted working hard against the confines of stereotype, thin characterisation and audience familiarity. Mike Myers also sticks out like a sore thumb and belongs in a different movie. Fletcher and Irons feel like they have been transported from a Guy Richie film, while Pegg has nothing to work with except an exceptional beard and physical affectation.
Dialogue also drifts between clichéd drivel and nonsensical waffle neither informing character, providing structure or adding humour. For the most part it is the scenery and cinematography which saves this film as locations are industrial noir, with the contrast of smoke flecked train stations, neon drenched skylines and a palette of primary colours which add richness. Throughout, the regret of not having a compelling story, defined characters or discernible structure wastes locations and a tangible ambience. Stein has said his influences included Brazil, Blade Runner and Orwell's 1984 yet these characters give us none of that. Robbie and Myers carry this film on their screen presence and star power alone, while Fletcher gives us Bacon from Lock Stock and everyone else is hamstrung by minimal screen time.
When things finally wrap up there is a distinct lack of emotional connection combined with indifference. Plot points are revealed without build up, villainous intentions are signposted while twists seem tacked on for affect rather than justifiable consequences based on actions taken.
Directed by: Vaughn Stein
Written by: Vaughn Stein
Starring: David Barron, Molly Hassell, Arianne Fraser, Margot Robbie, Tom Ackerley
Released: 2018 / Genre: Noir Thriler
Country: IRE/UK/Hungary/Hong Kong/USA / IMDB
More reviews: Latest | Archive
Terminal is out now on DVD, Blu-ray, Digital and On-Demand.