In this exclusive interview, writer-director Tricia Lee talks to Top 10 Films editor Dan Stephens about making intimate drama Affection, which was an "official selection" at the 2018 LA Shorts International Film Festival.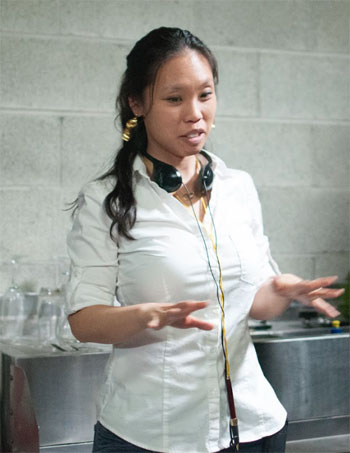 Writer-director Tricia Lee returns to short film after several years making features (such as horror films Blood Hunters and Silent Retreat), unveiling Affection as an official selection at the 2018 LA Shorts International Film Festival in July this year.
Featuring Steve Lund and Steph Song, this raw adult drama sees a woman's sexual conquest become something more than physical attraction as feelings grow stronger despite seemingly fighting against commitment.
Lee, the writer and director of three award winning feature films and 11 shorts, talks to Top 10 Films editor Dan Stephens about what inspired the story, its semi-autobiographical elements, the importance of casting and why, despite having had success in the horror genre, this thematic departure is indicative of her eagerness to explore character regardless of the generic tropes that may stage their story.
DS: Thanks for the opportunity to see the terrific Affection. What inspired its themes: a sense of keeping a romantic relationship at arms length, a preoccupation with what "home" means and seemingly being displaced or wanting to give the impression of such? Is it something that derives from your own personal life?
TL: Although this film is not quite autobiographical, there is a lot of me in it. I do own 3 condos that I rented out on AirBNB and moved around in between them when they were empty. After I broke up with a long-term boyfriend, I kept men at more than an arm's length and created all these rules to make sure I didn't feel anything, just like the character Laina. When I write, it always comes from a personal place.
DS: What was it about this couple's new relationship (and the idea of a "no strings" sexual relationship) that made it an ideal way to dramatise the themes/ideas you wanted to present in Affection?
TL: I love digging deep into characters, relationships and that vulnerable stuff that people don't usually talk about out loud. I wanted to make a short film to enter the HBO Visionaries competition and the theme this year was "home". I started from there and I wanted to take an out-of-the-box approach to the theme. I own 3 condos. I thought, what if this newly divorced woman had one night stands in each condo? What are other ways we can keep people at a distance? What kind of no-stings-attached rules can she set up to protect herself from falling for someone and getting hurt again? I also wanted to explore a theme about love and affection. Can't love just be that I affect you in some way and you affect me? So, this film is my unique take on "home is where the heart is".
DS: Was it a conscious decision to move away from the horror genre where audiences will probably know your work?
TL: People always ask me, what kind of films do you like to make. And rather than replying with a specific genre, I like to tell them I make character-driven films. While this film seems like a complete depature from the features I have made in the past, you will see that the thread that ties all my work together are indelible characters, strong female protagonists, vulnerability and emotion.
DS: Was it a challenge to work outside the genre that you've had previous success with? Was it pleasing to do something different?
TL: Any film is a challenge. I don't feel like this genre was more of a challenge than my previous work in horror. In fact, in some ways it was easier because we didn't have to deal with making creature costumes, clean up blood or shoot any action! I loved working in drama. It was a fantastic experience to be able to work with these open an giving actors and explore these characters' humanity.
DS: Is there a crossover in creative technique between horror and the erotic drama? Indeed, what filmmakers do you regard as inspirations and is there a film (or films) that you watched or inspired your direction of Affection?
TL: What an interesting question. I think the connection between horror and erotic drama is the vulnerability of the characters. In a horror film, the audience is connecting with the character when they are scared and fearing for their lives. This vulnerability allows the audience to see through the cracks and root for the character to survive. Similarly, in erotic drama, the characters are very vulnerable. And the audience gets a glimpse into a side of people we don't normally get to see, on a physical and emotional level.
DS: Is it a short film that you think could work as a feature? Could that potentially happen in future with the right backers?
TL: I wrote this with the intention of making a short. This was not meant to be a calling card for a feature. With the material that's there in the short film, it would be a good opening for a feature film, but we would need to create a lot more substance, stakes and goals for this to be a worthy of 90 minutes. Now that you've asked, I will think about it, but currently there are no plans for that.
DS: How important was it to get the right actors? What were you looking for and how did you end up choosing Steve Lund and Steph Song?
TL: Casting the right people is 80% of a director's job. I was looking for commitment. I don't necessarily mean to the schedule, as the shoot was only 2 days. But I was looking for commitment to the characters.
Steph Song is an amazing dedicated and vulnerable actress that I had the honor of working with. I had first seen her work as the lead actress of Blood and Water. I've seen every episode of that show and she was so incredibly natural, I knew she was the right person to play the lead in my film. I was very lucky she quickly accepted and we quickly bonded over the character that has a lot of my own personal vulnerabilities in it.
Steve Lund had an older look than I had originally conceived the character to be but when his agent sent his portfolio to me, I knew immediately that I needed to change the role to fit him. I wrote Steve a personal letter to convince him to be in the film and he wrote me back the sweetest letter, accepting. I later found out that he had written the letter without even reading the script! You would recognise Steve from Bitten, Reign and Schitt's Creek.
DS: Congratulations for LA Shorts International Film Festival selection, what sort of reaction have you had from screenings?
Thanks! It was really exciting to have our world premiere at the LA Shorts International Film Festival and get to watch it with an audience on the big screen for the first time. It's always nerve-wracking, especially the first time!
I received a lot of great feedback from the audience. We even got a laugh that I wasn't expecting! I'm so happy that people felt that the film was raw, real and they really related to the characters. As a filmmaker, success to me is reaching out and touching people with my work. It means a lot to me when people share their thoughts and feelings and when I learned that Affection affected people, that is all I can ask for!
Many thanks to Tricia Lee for taking the time to speak with Top 10 Films. Affection had its world premiere at LA Shorts International Film Festival on July 29, 2018.