Michael Lehmann's Heathers, a box office flop on its release in 1989, gradually built a cult following to become one of the most lauded high school films of the 1980s and still one of the genre's finest. Marking its 30th anniversary with a re-release in cinemas boasting a 4K restoration, Top 10 Films takes a look at why the film continues to resonate with audiences today.
There's no question Michael Lehmann's Heathers still resonates amongst audiences 30 years on from its original release. Interestingly, it's not just those of us old enough to have seen the film in cinemas when released in 1989 but newcomers too. Indeed, Steve Rose wrote in The Guardian after watching Heathers' stage musical adaptation and witnessing hordes of young adults and teenagers, mainly female, dressed in the outfits befitting the Heathers' clique ("shoulder-padded blazers, knee-high socks, tartan, primary colours and, of course, scrunchies") that the film still strikes a nerve.
Defiantly dark, Lehmann's pitch black comedy sees Christian Slater lead Winona Ryder away from the "Heathers", a popular clique known by their mutual name. As the pair plot a rebellion against the popular kids, their pranks to turn the tables become increasingly twisted. The film, released in 1989, is a wonderfully dark look at high school politics, oppression and the battle for acceptance and popularity.
Neal Damiano, in his top 10 cult films article, describes the film as "a sarcastic but truthful take on high school life" and "one of the greatest dark comedies ever made". He adds that it's an "anti-teen classic" that made a real impact on the genre.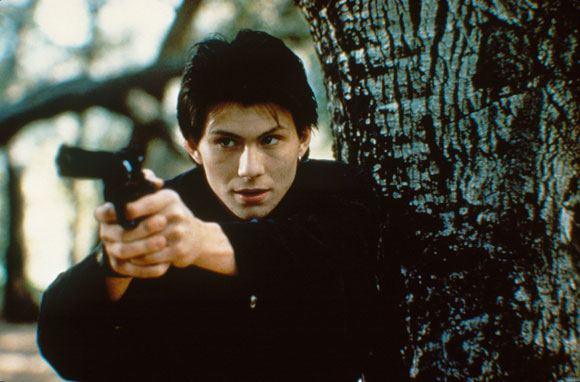 Indeed, Lisa O'Connor in her list of the best Winona Ryder performances, said Heathers proved to be a high point in the career of the actress. She writes: "Directors do well to give Winona Ryder a diary-writing facet to her roles. She does 'thoughtful and reflective' well; and she has one of the most listenable voices for narration ever. As Veronica in Heathers, she keeps a diary which she scribbles in a highly-strung state of teenage anxiety, giving rise to some quotable lines, delivered with memorable melodrama, such as: "My teen angst bullshit has a body count," and "Are we going to Hell or prom?"
Equally, Dan Grant, who took a look at the best American High School Films From The 1980s Excluding John Hughes considered Heathers to be some of the best work of actor Christian Slater's career. He describes Heathers as being quite different to many of the teen films of the decade, calling it "darker, meaner and a little twisted."
It's a film that ultimately retaliates against the monopoly John Hughes had on the teen/high school genre. As director Lehmann says in his interview with The Guardian, he likes Hughes' films but he and writer Daniel Waters "didn't think they really represented the truly cruel nature of interpersonal behaviour in high school." Adds Lehmann: "We didn't think things were as fun as everybody else did."
The video rental boom of the early 1990s helped the film conjure a sort of underground popularity. "I think about five or six years later, people would come up to me and say they'd seen and liked the movie, but they couldn't have possibly seen it in theatres. I realised that people were watching it on video but weirdly it didn't play on television the way some of these films do so I guess it was word of mouth on video rentals."
And while it didn't make much money at the box office, Heathers has been lauded by critics. Lehmann and producer Denise Di Novi won the 1990 Independent Spirit Award for Best First Feature. Writer Daniel Waters also won the 1990 Edgar Award for his screenplay. Entertainment Weekly looked at the best high school movies of all time and placed Heathers in fifth place, while Empire magazine's Top 500 Greatest Movies Of All Time placed Lehmann's film at 412.
HEATHERS 30th Anniversary will be re-released back in cinemas from August 8 and comes to Digital & On Demand from August 20.