Casinos are a popular setting for film directors because of their ability to bring an eclectic collection of characters together under one roof. They can be visually and aurally stimulating for audiences, but can also provide the context for some incredibly tense and poignant moments. Here are the ten finest films that are either set in casinos or feature classic casino elements.
10. Atlantic City (Malle, 1980), 9. The Hangover (Phillips, 2009), 8. The Gambler (Reisz, 1974), 7. The Cooler (Kramer, 2003), 6. Rain Man (Levinson, 1998)
5. Hard Eight (Anderson, 1996)
That's Paul Thomas Anderson as director, not Wes Anderson. Wes Anderson would probably have given a very different interpretation of this neo-noir crime drama. With a cast list that is more illustrious now than it would have been in 1996 (John C. Reilly, Samuel L. Jackson and Gwyneth Paltrow all star), Hard Eight combines nuanced performances with intelligent direction to portray the life of a gambler.
4. Croupier (Hodges, 1999)
This film probably wouldn't get made today, if only because croupiers are becoming increasingly less relevant. More people are using online casinos such as casino.com to play classic casino games like blackjack and roulette, but back in 1999 people had to actually leave the house and go to a physical casino. The film uses interior monologues in classic noir detective fashion to give an insight into Clive Owen's character. With its faithful depiction of life in a casino, Croupier is a realistic and thrilling film that is often overlooked in the discussion of great casino films.
3. Ocean's Eleven (Soderbergh, 2001)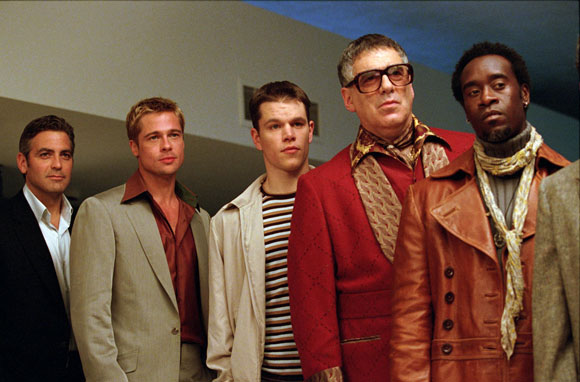 Soderbergh's star-studded heist film has the distinction of being the best movie about casinos that doesn't have the word 'casino' in its title. A remake of the 1960 Rat Pack film and the progenitor of two more films to complete a trilogy, its ensemble cast sparkles effortlessly when balancing humour and high stakes. George Clooney, Julia Roberts, Brad Pitt and Matt Damon provided the dream set of talents for a 2001 casting director, with the film's legacy living on in the recently-released Ocean's 8.
2. Casino (Scorsese, 1995)
In a radical casting decision, somebody decided that Robert De Niro and Joe Pesci should play gangsters. Of course, De Niro and Pesci had made that type of role their own in another Scorsese classic, Goodfellas. However, it is Sharon Stone who steals the show in Casino, nominated for Best Actress at the Oscars. This film marked De Niro and Scorsese's eighth collaboration, and the narrative does play out in a way that you might expect. That doesn't make it any less gripping, however.
1. Casino Royale (Campbell, 2006)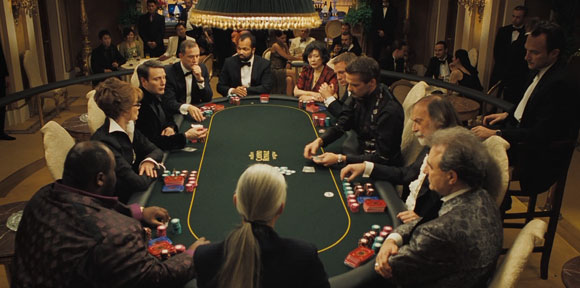 While Casino may tread familiar ground albeit expertly, Casino Royale wins the top spot for its shock value. Nobody knew what to expect from Daniel Craig's James Bond, but he strolled into the role with the appropriate arrogance and suaveness of a classic Bond. This film reinvigorated the series, with Bond embroiled in a tense poker match against Mads Mikkelsen's ominous Le Chiffre. Frequently ranked among the top Bond films, Casino Royale lives up to its name by being one of the most action-acked and intense movies around the theme of casinos.