1980s nostalgia and teen protagonists have been all the rage lately with the Stranger Things craze leading to Stephen King's It finally getting its long gestating revamp. But is new film Summer of 84 nostalgia overload?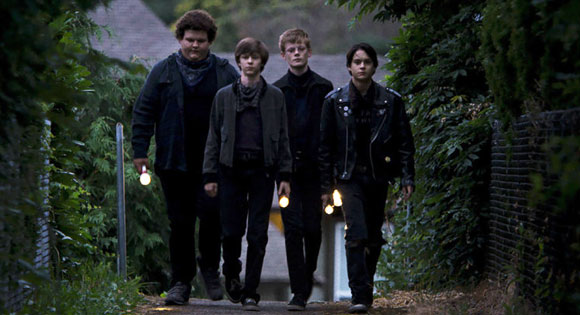 Summer of 84, which releases in the States in August, has been described as Stranger Things meets The Goonies thanks to its eighties-set suburban mystery and band of teenage stereotypes. Strategically unveiled to fill the nostalgia gap left by Stranger Things' off-air status prior to Season 3 and It: Chapter Two's current "in development" stage, Summer of 84, directed by the filmmaking troupe of François Simard, Anouk Whissell and Yoann-Karl Whissell, who made the similarly retro Turbo Kid in 2015, seeks to capture a fervent market while the competitors are on hiatus.
The film concerns neighbourhood conspiracy theorist Davey Armstrong (Graham Verchere) who begins to suspect his police officer neighbour Wayne Mackey (Mad Men's Rich Sommer) might be the serial killer mercilessly taking lives and taunting local news. He and his three best friends Eats (Judah Lewis), Woody (Caleb Emery), and Farraday (Cory Gruter-Andrew), begin an investigation that soon turns life-changing.
It all sounds great. But perhaps it's vacuous, uninspired exploitation and dull cliche? Ethan Anderton of Slash Film thought so, saying in his review: "Unfortunately, it mostly coasts by on nostalgia alone and doesn't bring much of anything new to the table." He adds: "Summer of 84 is wholly predictable and if it wasn't for the lively young cast and hypnotising, perfectly 80s synth soundtrack, it would be downright awful."
Bryan Bishop was less critical in his review for The Verge but said: "If this movie had come out three years ago, it probably would have been embraced as a fun time. Nostalgia is enjoyable, and the movie does nod to some classic horror-comedies. But unfortunately, we do live in a post-Stranger Things world, and given the striking similarities — in setting, conceit, aesthetic, and score — it's impossible to avoid comparing the two works." He added that Summer of 84 was a "well-intentioned throwback" but that he couldn't help but feel it was "a rehash of a rehash, a story covering ground that's already been reimagined in a much more effective way."
Matt Goldberg of Collider damned it ("Take all the worst aspects of Stranger Things, amplify them, and you still wouldn't have a movie as unrelenting terrible as Summer of 84") and Brian Tallerico, writing for RogerEbert.com, had few nice things to say about it, concluding: "You'll have to really miss the mid-'80s to make it through [Summer of 84]".
But there's light at the end of the tunnel Summer of 84 finds itself in. The general critics might be quick to dismiss it as cliched cash-in but the genre fans have been widely praising it. That suggests audiences who loved Stranger Things will get a kick out of Summer of 84.
Jonathan Barkan of Dread Central said: "Taking cues from films like The Burbs, Goonies, and The Monster Squad while also coming during the time of "Stranger Things" and its popularity, Summer of 84 delights in creating an atmosphere of child-like carefree innocence in which these young boys can essentially stalk a police officer, no matter how desperately they try to convince each other, and us, that any wrong step could lead to dire consequences."
Fred Topel of Bloody Disgusting concurred: "Summer of 84 hit the sweet spot for me so I hope it finds an audience. I need someone to talk about it obsessively with."
Similarly, Heather Wixson, writing for the Daily Dead, praised the film's approach, highlighting the strengths of the filmmaking team. She said: "Even though the story does take a bit too long to get things moving, that's really just me nitpicking at the greatness that is Summer of 84, as [the directors have] demonstrated once again that they excel at tapping into the hardships that accompany that transition into adulthood, and the weight of those responsibilities."
And Anthony Ray Bench of Film Threat even said it's unfair to suggest Summer of 84 is a copycat, saying it has its own ideas: "This isn't a Stranger Things/IT knock-off, it really does do its own thing and has its own tone…and then that tone goes to some ridiculously dark places."
Perhaps even more intriguing is J.R. Kinnard's opinion of the denouement in his review for PopMatters. He says: "It's the type of outrageous ending that divides audiences and builds cult followings. Summer of 84 is a trashy classic that will absolutely rock midnight movie houses."
Summer of 84 arrives in US cinemas in August and will premiere in the UK at FrightFest London on August 23.