Stranger Things fans who can't wait for Season 3 can satisfy their thirst for throwback thrills, eighties fashion, 40-year-old pop tunes and teenage angst as Summer of 84 hits cinemas in the U.S. in August.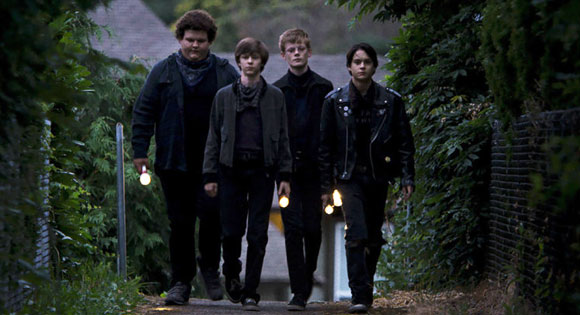 Stranger Things season 3 is happening. But you'll have to hold on for a little while longer. It's currently scheduled for sometime in 2019. But don't get too downhearted. There's a little indie flick on the way that could satisfy your thirst for throwback horror, teenage heroes and all things 1980s.
Summer of 84, from the directing team of François Simard, Anouk Whissell and Yoann-Karl Whissell who brought us 2015's entertaining horror-comedy Turbo Kid, will arrive in U.S. cinemas on August 3 with hopefully a UK release shortly after.
Described by The Verge as The Burbs meets Monster Squad, Summer of 84 promises to capture the nostalgic vibe of Stranger Things alongside the acclaimed Netflix series' nods to Stephen King, classic cult horror and eighties pop culture.
It also arrives at an opportune time, beating the super-successful It: Chapter One's sequel while satisfying a thirst for teenage protagonists and horror conventions from Stranger Things fans awaiting season 3.
What's Summer of 84 about?
Teen Davey (Graham Verchere) is bored. His school friends Eats (Judah Lewis), Woody (Caleb Emery), and Farraday (Cory Gruter-Andrew), are also twiddling their thumbs as another summer off school looks to be an uneventful one. But Davey has got it into his head that neighbour Wayne Mackey (Rich Sommer who you may remember from Mad Men) is the serial killer sending chilling messages to the local paper. Roping his friends into the investigation, the children seek to prove their theory bit every bit of evidence they find seems to lead them down another blind alley. Perhaps Mackey isn't the killer after all? Or is he?
Why should I be excited about Summer of 84?
Because the early word from those that saw it at Sundance in January has been very positive. JoBlo's Movie Emporium called the ending "an inspired wrap-up" and scored it 8/10 [6],
Bloody Disgusting's Fred Topel said it "hit the sweet spot for me" and made him want to "talk about it excessively" while Film Threat noted its "brilliantly dark chilling finale." Daily Dead said it would be nitpicking to criticise Summer of 84 too much because that would detract from its "greatness" while Pop Matters' JR Kinnard called it "a trashy classic that will absolutely rock midnight movie houses."
If I like Stranger Things, will I like Summer of 84?
Yes, if you liked Stranger Things, there's a good chance you'll like Summer of 84 too. They share similarities such as the school-age protagonists, the 1980s settings, the retro aesthetic, and combination of mystery, horror and subtle comedy elements. Summer of 84 will also appeal to those who like their 1980s coming of age movies, suburbia setting and cheesiness. If you like films such as The Burbs, Explorers, It: Chapter One, E.T., and The Goonies, Summer of 84 might well be for you.