The Old Dark House may feel like a stage play performed by actors long passed, but as both cinematic document and time capsule of populist sentiment it remains invaluable.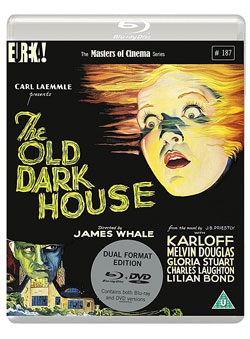 This one is for the film historians, academic lecturers and restoration specialists who believe in cinema as a means to educate and enlighten. Made in 1932 by James Whale and adapted from a J.B.Priestly novel it taps into the haunted mansion archetype whilst addressing class differences. Trapped by the Femm family these isolated travellers must hold out against a house filled with secrets, cursed by madness and defined by dysfunction.
At its best The Old Dark House feels like a theatrical production filmed from the auditorium. Whale uses the vast soundstages which make up this haunted mansion with expert precision, invoking atmosphere, creeping terror and an ancient sense of inevitable decay. Considering the era his choice of camera positioning, close up cuts and lingering long shots adds much to this piece of antiquated cinema. Famed character actor Charles Laughton makes the most impact in his role as Sir William Porterhouse, while Gloria Stuart is both scream queen, glamour puss and theatrical ingénue.
Boris Karloff who helped make James Whale famous as he transformed into the original Frankenstein plays a dumb butler here. Karloff and Whale work together to create an eerie introduction for Morgan who glares through a small opening, focusing one eye at full frame both menacing and unaware.
Much of what is to be gleaned from The Old Dark House comes from sub-text and asks its audience to look beneath the surface of these depictions of class division and industrialisation. Cut off from the outside world and trapped within a microcosm of English pre-occupations, this feels strangely at odds with cinema traditions. More mouthpiece for social concerns than cinematic gothic mansion archetype, Whale uses his platform as a jumping off point for broader discussions.
There is a wry undercurrent of sarcasm and knowing nods to artifice weaved in amongst the dialogue, while one key shot from behind their vast fireplace underlines that still further. Sitting squarely between the fallout of a first war and blithely unaware of an impending second, this film also weighs in on the plight of returning war veterans. These may only be alluded to in chuck-away lines of conversation, but nonetheless they add texture, coherence and reality to a film very much out of time.
As an example of a unique visionary forever immortalised by Sir Ian McKellen in Gods and Monsters, Whale illustrates here why film historians still discuss his work. Survivor of the first war, commercially viable only through his connection with Frankenstein and subsequent films of that era, Whale saw cinema for what it was. Socially powerful and politically influential this represented a silver screen soapbox to get opinions out into a wider world. For this reason The Old Dark House may feel like a stage play performed by actors long passed, but as both cinematic document and time capsule of populist sentiment it remains invaluable.
Directed by: James Whale
Written by: R. C. Sherriff, Benn W. Levy
Starring: Boris Karloff, Melvyn Douglas, Charles Laughton, Gloria Stuart, Raymond Massey
Released: 1932 / Genre: War
Country: USA / IMDB
More reviews: Latest | Archive
Eureka Entertainment released The Old Dark House in selected UK cinemas on April 27, 2018, showcasing a new 4K restoration. The film was then released on May 21, 2018, as part of a dual format Blu-ray and DVD box set via Eureka's The Masters of Cinema Series.