Respectable: The Mary Millington Story charts the rise and fall of one of Britain's pioneering glamour models through the eyes of those whose lives she crossed. It's the tragic tale of a seemingly cursed form of celebrity in an unforgiving, suspicious and outwardly conservative 1970s Britain.
Simon Sheridan's revealing documentary Respectable: The Mary Millington Story tells the true life tale of the eponymous British sex icon, tracing her rise to fame and riches, including alleged liaisons with celebrities and power figures, prior to a fall from grace and tragic suicide.
Essentially a rags to riches tale, what makes Millington's story so potent is how her battle to legalise the adult media industry in the UK is one that has been won posthumously. She was a pioneer. Her liberal, seemingly self-assured attitude towards pornography in the days of the "dirty" top shelf magazine and seedy backstreet theatre, pre-empted the age of the internet and open-all-hours access.
Respectable: The Mary Millington Story brings together an assortment of speakers, most former colleagues, lovers or both, including erstwhile softcore magazine mogul David Sullivan, who talk about their memories of the woman once described as one of the "two hottest British sex film stars of the seventies." The other was Fiona Richmond.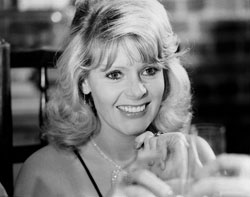 Her husband, interestingly, chose to take no part in the film. This is perhaps somewhat suggestive of Millington's difficult relationship with him (those that knew her speak of little love between the pair and allege both had regular affairs despite being married until her death). But it does leave a hole in the film's story that only grows greater when you learn her husband was the last person to see her alive.
Sullivan is the most engaging and interesting contributor. He gave Millington her big mainstream break by featuring her in his top shelf magazines such as Whitehouse and Private. It was at this time that Sullivan rebranded her as Mary Millington (she had previously appeared under other titles including her married surname Maxted).
It was this name that greeted audiences when the publishing mogul tried his hand at film production and cast her in softcore trash like director George Harrison Marks' 1977 effort Come Play With Me (which famously played at the same cinema for four straight years) and Willy Rae's equally horrendous 1978 film The Playbirds.
Sheridan's film is not without its flaws. Its content doesn't merit its running time and some mid-film padding leaves you wondering why Respectable wasn't cut by 15 minutes. The filmmaker perhaps resorts to showing a little too much of Millington in various stages of undress, in both softcore and hardcore varieties, instead of more interesting conversation with those that knew her.
Her final few months, distinguished by both manic depression and kleptomania, are perhaps tellingly ambiguous in the way the film discusses them but say more about the contributors' seeming inability or unwillingness to help an obviously very troubled woman. Unwittingly damned, the men introduced as Millington's "lovers", those who exploited her, underline the sadness evoked from the film's final few moments.
Not helped by her late husband's decision to take no part in Respectable, the man who was the last to see her alive might have been able to offer some valuable insight. But as it stands, the focus is oddly removed from her, tragically aligned to the men who took so much from her but gave so little, and the women, many contemporaries of Millington, envious of her riches and notoriety.

Directed by: Simon Sheridan
Written by: Simon Sheridan
Starring: Mary Millington, Dexter Fletcher, David Sullivan, Dudley Sutton
Released: 2016 / Genre: Documentary
Country: UK / IMDB
More reviews: Latest | Archive
Top 10 Films reviewed Respectable: The Mary Millington Story on DVD courtesy of Simply Media. The film was released on DVD in the UK, May 2, 2016.