Voice-over narration in film is a technique in which a voice, that is heard off-screen, complements on-screen action by commonly supplementing plot or enhancing character. Here we take a look at 10 great examples…
Usually uttered by a character from within the film, the voice-over typically aims to further the plot and story development. It can be used as a way to recount past events or complement mood. Voice-over narration in film, particularly with the fictional narrative, isn't common but there are perhaps a surprising number of examples where it is used in popular, commercially successful mainstream cinema. Indeed, voice-over narration isn't considered by some as "fair game". One of the films that makes this list even saw critics claim that narration (by a dead man) breaks the rules of filmmaking. The director fired back: "Who wrote the rules? There are no rules."
Here's the top 10 uses of voice-over narration in film…
10. The Big Short (2015)
Ryan Gosling plays the narrator in this Oscar nominated 2015 film. The Big Short, to put it mildly, is confusing to those of us who are not well versed in the sleazy and labyrinthine world of high finance, housing bubble bursts and sub prime mortgages. The voice over narration is used to perfection; a much needed narrative technique used in conjunction with others to help keep the audience up to speed.
There are fourth wall-breaking monologues, Margot Robbie in a bubble bath explaining economics as well as Selena Gomez and a celebrity chef using cooking metaphors and gambling to explain the economic crisis. The filmmakers use any and all tricks to explain a complicated mess of financial chicanery in order to help the audience understand. Personally, I knew very little about the world in The Big Short, but the voice over narration and other forms of narrative kept me engaged throughout.
9. Molly's Game (2017)
The newest film on the list came out just a few months prior to the writing of this piece but it absolutely deserves a place on this top 10. Molly Bloom, as played by Jessica Chastain, is a former Olympic skier who broke her leg in about 100 places thus ending her Olympic career. She eventually got a job in Hollywood as a book keeper to a young, cocky billionaire.
She would eventually run the most exclusive high stakes poker game in the country. It attracted A-list actors, sports stars, billionaires and the Russian mob. Aaron Sorkin wrote the screenplay and uses the voice-over in almost every scene. And he does it with incredible efficiency. We learn what Molly has to learn, all on the fly. Telling the story beautifully and convincingly is Chastain. She keeps us informed and what she learns, the audience learns.
8. Trainspotting (1996)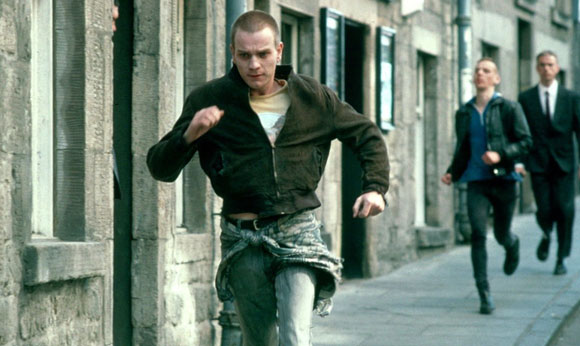 Ewan McGregor narrates the film and by doing so he takes us into his world of heroine addiction. "Take the best orgasm you ever had, multiply it by a thousand and it's still nowhere near it." This is the world that Mark Renton and his friends live in. They live to get high and to them, there's no better feeling in the universe. McGregor, with his thick Scottish accent, takes us through his daily exploits of getting high.
He eventually tries to kick the habit and through his narration, we start to empathize with him and root for him to kick said habit. McGregor also injects some comedy into the performance, establishing an infectious, likeable personality that is enhanced by his narration; this goes a long way to getting the audience on his side.
7. A Christmas Story (1983)
Jean Shepherd is the author of the book on which the film is based. He also provides the narration as the adult version of Ralphie. He tells us the tale of his younger self trying to get his parents to buy him a Red Ryder BB gun.
Along the way, we get a glimpse of a different time in America. We hear his thoughts on being beaten up by the school bully, his chicanery towards his parents to get him to buy the BB gun and generally what it is like growing up in small town America in the 1940s. A Christmas Story might as well be a Norman Rockwell painting if it came to life and it is accentuated by Jean Shepherd's perfect narration. "You'll shoot your eye out, kid."
6. American Beauty (1999)
American Beauty takes its cue from the film at number 3 on this list. The first voice of the movie you hear is Kevin Spacey's. While seemingly floating through the clouds, you find out that he is dead and the story we are about to sit through for the next two hours is his recounting of his final year on Earth. Lester Burnham tells us that for the last twenty years of his life, he felt like he was in a coma, and then he wakes up and starts living his life.
This awakening will ironically be the cause of his death, but along the way, we get to witness his reckoning. Through his narration, through his eyes, we witness the breakdown of the American family. We get to see how job and status and money have created a disconnect between Lester and his family, especially his wife. He decides that he has nothing left to lose and so he completely changes his life. The narration in this film drives the story while maintaining the audience's perspective within Lester's point of view.
5. Stand By Me (1986)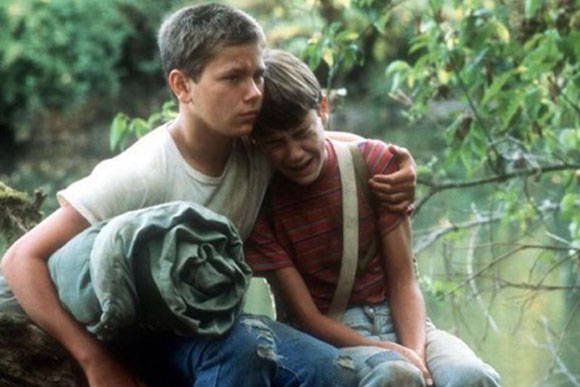 As narrated by Richard Dreyfuss, Stand By Me is the story being told by an adult Gordie Lachance as he recalls his youthful days growing up in the fictional Stephen King town of Castle Rock. After the untimely death of his friend, Chris Chambers, adult Gordie recalls a story about how he, Chris and two other friends trekked along the train tracks in search of a dead body.
Along the way way we get to know the four kids; we laugh with them, we cry with them; we share their fears, their hopes, their anxiety about the future. We get to hear stories about the local junk yard dog named Chopper as he is told to "sick balls". The narration gives a bittersweet look into the lives of these kids and the movie ends, with what I consider the best last words of a movie, "I never had friends like I did when I was twelve. Jesus, does anyone?"
4. Rounders (1998)
"Here's the thing, if you can't spot the sucker at the table in the fist hour, then YOU are the sucker." And so this brings us into the underground and high stakes world of poker. Matt Damon plays Mike McDermott, a law student who has the talent to be one of the greatest poker players. By day he learns about property law and how to cross-examine a witness and at night he visits the Russian closed-door poker rooms run by KGB (played by John Malkovich).
In 2018, many of us have heard of Doyle Brunson, Texas no limit poker, the nut straight and the World Series of poker. In 1998, things were different and poker had not exploded the way it has in the last 20 years. Matt Damon has to edify his audience about the nuances of poker while keeping all of us entertained at the same time. Rounders was a niche movie when it came out but has since gone on to be considered the film that introduced the world to high stakes poker.
Damon takes us on his journey as he tells us how to read another player's tells (things they do unconsciously that might give away the strength or weakness of their hand), what hands are the best ones to play and so much more. Everyone wanted to be a poker player after Rounders. Damon's voice-over brought us into a world that was foreign to most of us and he taught us how to play the game.
3. Sunset Boulevard (1950)
In one of his rare publicised conversations, legendary Hollywood filmmaker Billy Wilder declared: "The thing about voice-overs – you have to be very careful there that you don't show what they're already seeing. Add to what they're seeing."
With Sunset Boulevard, Wilder inventively uses a dead man's narration as the voice-over to his film. As previously mentioned, some critics accused Wilder of cheating by using narration from a dead man in which Wilder responded with the quote about there being no rules.
The film opens with scriptwriter Joe Gillis (William Holden) floating in the pool of a Hollywood home with two bullet wounds in his back and one in his stomach, while announcing in voice-over "before you hear it all distorted and blown out of proportion, before those Hollywood columnists get their hands on it, maybe you'd like to hear the facts, the whole truth."
By showing us Gillis' death at the beginning, Wilder builds the audience's appetite to find out who did it and why. This classic influenced countless scriptwriters in realising how far the voice-over technique can be taken, and the relationship between the narrator and death is one that has been explored many times since.
2. The Shawshank Redemption (1994)
Morgan Freeman's voice was once described as "buttery caramel for the ears" and his legendary status as the best voice in Hollywood might have started with this film. In it he plays life long convict Ellis Boyd Redding, or Red for short. He's a prisoner at the notorious prison Shawshank. He tells the story of meeting Andy Dufresne (Tim Robbins), a banker who was convicted of murdering his wife.
As it turns out Andy is actually innocent and perhaps the only one in the prison who is. As Red tells us the story over a period of two decades, we get to know Andy, Red and the other prisoners as they try to get through life in the prison. We go along on the journey with Red and with Freeman's calm and soothing voice, we get to know and respect the people he shares the yard with. And when horrible things happen, Red takes us on the journey as well. He also tells us that you either get busy living or you get busy dying. Words to live by.
1. Goodfellas (1990)
"As far back as I can remember, I always wanted to be a gangster". So are Henry Hill's words as told to us by Ray Liotta. He narrates the film and the voice-over is used to further the plot and sometimes the fourth wall is broken so that Henry can tell us what we are seeing from his point of view and what is going to happen next.
Nicolas Pileggi wrote the book based on his experiences of the real mafia. Liotta's voice brings us along for the ride. Throughout the movie we get a glimpse on the inside. In many ways, Goodfellas takes us deeper into the mob than even The Godfather did. We get a first hand account of what Henry is seeing, feeling and experiencing.
It's a horrifying film about murder, torture, betrayal and deceit. Liotta gives us his thoughts and regales us with his recollection of what it was like on the inside. He tells us that "if you are part of a crew, no one ever tells you they are going to kill you. There aren't any arguments or curses like there are in the movies. Your murderers come at you with smiles, they come as your friends."
Scorsese is a master of utilising voice-over to immerse his audience in the shoes of the protagonist. We get to see what's behind the curtain and some of it is glitz and glamour and money and parties. But the rest of it, as told to us by Hill, is blood and murder. Ray Liotta is responsible for giving us the best voice-over narration in film.
Honourable mentions to: The Princess Bride, Forrest Gump, and The Wolf of Wall Street
Written & Compiled by Dan Grant
Your turn? What are your fave examples of voice-over narration in film? Agree with this list? Disagree? Let us know…