We all need to find ways to get in touch with our spiritual side in order to feel grounded and to remind ourselves of how to live and interact with others.
You might do this by noting your thoughts and actions down on a daily basis and reading back over them now and again. Or maybe you like consulting psychics to explore what's happened in your life and examine how your spiritual side has had an influence on your choices. Unless you stop to think about it, you might not consider that watching movies could be a spiritual experience, but take a look at the 10 films below that have a surprising level of spiritual messaging about them.
Eat Pray Love
An adaptation of Elizabeth Gilbert's memoir following her divorce is the backdrop for this movie. Gilbert (Julia Roberts) takes a year out to travel and have some me-time. She decides to visit three destinations – Italy, Indonesia and India – as part of her quest to recover her sense of independence and self-worth.
Boyhood
Filming over a 12 year period, using the same child actors, Richard Linklater's aim was to capture how we evolve as individuals. As the actors grew, so did the film. While this film doesn't have an exciting plot and climax, it gives us a peep into a family's life and how the children grow and piece their understanding of life together.
Groundhog Day
Bill Murray's Groundhog Day taps into spirituality at two levels. In the same way that we might consult a psychic reader at TheCircle for insights into our future, so the people of Punxsutawney, Philadelphia consult a groundhog named Phil every 2nd of February about whether there'll be an early spring or another six weeks of winter. This is a real tradition that takes place every year and forms the basis of the film's plot.
Murray's character is a TV weatherman called Phil Connors who goes to cover the event. He gets caught in a time loop where every day is Groundhog Day. The TV weatherman starts out thinking he'll use the time glitch to trick his director into sleeping with him. But, as the film progresses, we see a spiritual development in Connors as he realises that he can be a better person to the people around him, and still "get the girl"!
Scrooged
Based on the Charles Dickens' novella A Christmas Carol, Scrooged is another film where Bill Murray's character explores different aspects of his spiritual side. He's a cynical and greedy TV exec who may be successful but essentially he's isolated and alone. Three spirits visit him in the run-up to Christmas and remind him of what's important in life.
Avatar
If ever a film was about being accepting of other people and diversity, then Avatar is it. It's a celebration of diversity through the exploration of the world of the "Navis". There, nature, community and simplicity are honoured. The invasion and destruction of this peaceful society by armed forces sent from Earth gives any viewer time to contemplate how we treat others.
The Mission
When Jesuit priest Father Gabriel (Jeremy Irons) goes to the Guarani lands in South America, his aim is to convert those he finds to Christianity. He builds a mission aided by Rodrigo Mendoza (Robert De Niro), a reformed slave trader who's looking for redemption. However, when the land passes from Spanish to Portuguese control, the new government wants to use the natives for slave labour. Gabriel and Mendoza need to work together to defend the natives and the mission, but have opposing views on how to achieve this.
The Golden Child
In The Golden Child, Eddie Murphy plays Chandler Jarrell, a social worker who also sees himself as a "finder of lost children". Part comedy, part fantasy adventure, and definitely a battle of good versus evil, the plot sees Chandler being sought out by a Tibetan priestess to find a god-like creature – the Golden Child – in Los Angeles. He has been kidnapped from his home in Tibet by one of the devil's messengers, played by Charles Dance. Jarrell goes through a series of ordeals to find and rescue the Golden Child.
Small Miracles
In this family movie, a 12-year-old boy decides to become a healer and the film's about his journey of discovery. While trying to help others, and be a guide to them, he uncovers a truth he hadn't yet understood – that he needs to have faith in himself in order to help those around him.
Kung Fu Panda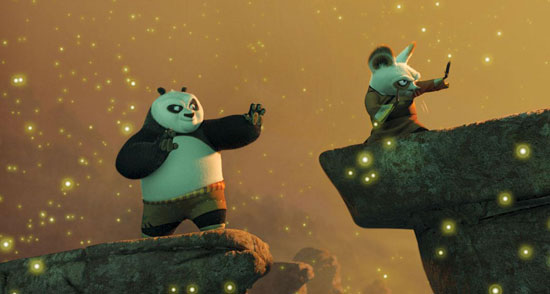 This may be a movie about a fat panda developing kung fu skills, but it goes much deeper than that. Frustrated at working in his father's noodle shop, Po wants instead to be a kung-fu master. As luck would have it, he gets the opportunity when asked to fulfil an ancient prophecy. However, at the end of his quest, the legendary scroll he's been equipped with amazing kung fu skills to find turns out to be blank, rather than give up the secret to "limitless power". Po is disappointed until his father reveals that the magic ingredient in his noodle soup is also "nothing" and then he realises that all you need is belief, nothing more.
Inside Out
This movie's for kids so the messages are very straightforward. However, it still has relevance for the grown-ups who watch it. It's all about how we might understand people's feelings better if they were visible. It's a call for us not to hide our feelings and to see the possibilities open to us if we become a little more open with the people around us.
Find a spiritual movie to watch and re-connect with your emotions.
Over to you: what are your fave films from the ones we've chosen and what would you add?