The late, great Chris Farley was a comic genius in the same league as his contemporaries, particularly John Belushi whose fate Farley strangely – and tragically – shared.
According to Chris Farley sometime before his death, Saturday Night Live creator Lorne Michaels told him that what killed John Belushi was that he always had to be the most outrageous person in the room. Farley's life strangely mimicked his idol Belushi, and perhaps what killed them both was the very thing that made them so great. Their excess on-screen was fueled by their excess off it and both died in similar fashion aged 33.
Tommy Boy – the comedy classic he deserves to be remembered for
Tommy Boy brings ex-Saturday Night Live comedy duo Chris Farley and David Spade together for easily their best outing on film. The film remains a landmark in both their careers. Farley as the eponymous Tommy, the only son of rich businessman Thomas Callahan, returns home from college to find his Dad about to marry money-grabbing beauty Beverly (Bo Derek). At the wedding Thomas has a heart attack and dies. Beverly acquires equal share of the business. However Tommy stands in her way of selling the family-run business and leaving with all the profits, so with his father's long-term business associate Richard (Spade), they go on a sales and marketing road trip in an attempt to save the company.
Essentially, the film is a road movie with Farley and Spade putting themselves in outrageous situations, reacting off each other for comedy value. Bonnie and Terry Turner's script keeps the story flowing and has an emotional depth rooted in the two leads. Farley and Spade look very relaxed on screen and while the written comedy lines are funny, their interplay, timing and chemistry elevates the humour. The geeky intelligence and guile of Richard perfectly opposes Tommy's loud-mouth stupidity with great effect. Farley has a terrific eye for physical comedy and here, whether he's breaking car doors or inadvertently smashing through hedges that have brick walls behind them, he excels. Spade as the straight man uses his ability to deliver killer irony and put downs with perfect timing, and the combination of their better attributes makes them a superb comedy double act.
A comic able to make potentially bad movies hugely entertaining
A mark of how great Farley was is his ability to turn a script with largely nothing original or remotely funny into something that resembles good comedy cinema. It's even more remarkable that he alone can turn Beverly Hills Ninja into a watchable, insanely funny piece of entertainment. Farley is great in this film. His lovable idiotic flaws making any audience warm to his eccentrics. The training sequence where he learns to use the Ninja techniques and weapons is perfect visual humour, while his eye for timing a punch line is always spot on. Having Farley's character the clueless hero in a strange world he doesn't understand works wonderfully. The comic duly milks every opportunity to spoof societal conventions.
A scene-stealing support player
Farley's big break came with Saturday Night Live, where he made his impersonations and characters come to life with many other talented up-and-comers. He was famed for his characterisation of motivational speaker Matt Foley and Newt Gingrich, as well as a flabby Chippendales dancer and an unhealthy sports fan. He left SNL in 1995 to pursue a career in film, and had cameo parts alongside other SNL alumni and friends such as Adam Sandler, Mike Myers, Dana Carvey and Dan Aykroyd.
With Sandler he was the dumb cop in Airheads and the over-caffeinated bus driver in Billy Madison, while he worked with Myers and Carvey in the Wayne's World films, playing two different parts in each. In Coneheads, Farley had the small part of boyfriend to Aykroyd's alien daughter.
He would go on to have starring roles in four films before his career was cut short including his final film Almost Heroes (a title that bares a saddening undertone given his early death), with Friends star Matthew Perry.
A short career makes even mini-successes essential viewing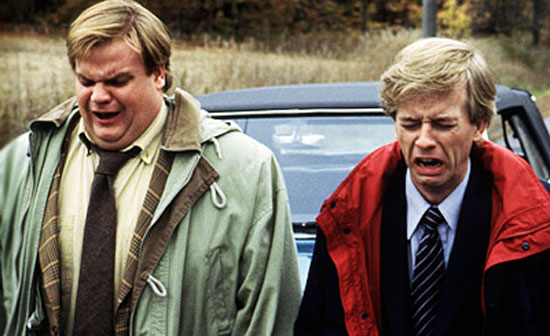 Black Sheep re-unites Saturday Night Live comedy-duo Farley and Spade for more mishaps and mayhem. Like their earlier collaboration Tommy Boy, Spade's character is again thrust into "looking-after" Farley's adult child, accident prone creation.
Black Sheep works because it knows what made Tommy Boy a success – Farley and Spade's on-screen comedic chemistry. Farley was a great comedian but he never got the chance to make enough films in a starring role.. While this film doesn't rival Tommy Boy's qualities, the late comic's original physical humour is still a delight as the spot-on timing between him and Spade.
Brought joy to his fans on-screen and off
Adam Sandler once said of Farley: "What really hurts is not getting to hang out with him ever again. He really was the only guy I ever met in my life that you were guaranteed to be happy hanging with. Even when he was down he still found a way to make you happy." Clearly, the joy he brought to people off screen, he brought to his fans on it, and like his inspiration John Belushi, who left us Blues Brothers, Farley's comic genius will proudly live on in Tommy Boy.
Find out more about Chris Farley in the 2015 documentary film I Am Chris Farley.