Gary Oldman has rightly been in the news recently thanks to his Oscar triumph. But he's also gained notoriety for less savoury reasons such as the reemergence of a provocative Playboy interview as well as allegations of domestic abuse against his wife. But all publicity is "good" publicity isn't it? With Oldman in three upcoming 2018 films, there are producers out there willing him to keep it up.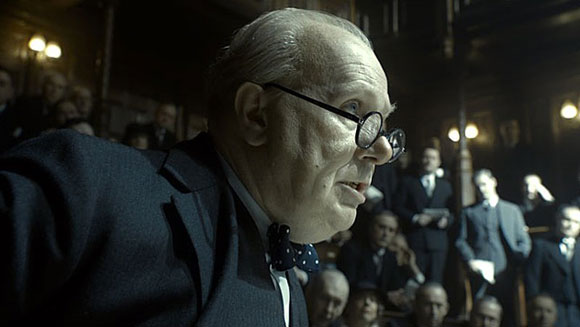 Gary Oldman won this year's Best Actor Academy Award for Darkest Hour. It marks a busy year for the British actor who features in three upcoming 2018 films. Some will be looking forward to his appearance alongside Gerard Butler in Donovan Marsh's Hunter Killer while others fear this action-thriller from the director of Spud will be a bargain basement straight-to-video monstrosity.
Perhaps Michael Goi's horror Mary might go down better with audiences. Known for his work on TV including making episodes of Glee and American Horror Story, Goi's transition to the big screen boasts high expectation even if his earlier effort – an update of 1976's rubbish thriller The Town That Dreaded Sundown – didn't sit too well with audiences or critics.
More interesting is Oldman's appearance – as the voice of an advanced artificial intelligence system – in art director Federico D'Alessandro's Tau, which marks the talented creator's move from the art department and into the director's seat.
D'Alessandro's work has seen him involved in some audience favourites over the last few years including Marvel hits like Ant-Man and Iron Man 3. He's assembled a cast for his feature film directorial debut that features Oldman alongside stars Maika Monroe (who made her breakout performance in The Guest before starring in It Follows and Independence Day: Resurgence) and Ed Skrein.
The film tells the story of a once street-smart grifter, Julia (Monroe), held captive to be exploited in a fatal experiment. Standing in her way is Oldman's TAU, the advanced artificial intelligence developed in secret by Alex (Skrein), its masochistic and enigmatic captor. The resourceful Julia must race against time to bridge the boundaries between man and machine, connect to TAU and win her freedom before she suffers the same fate as the six other subjects who came before her.
If any of these films are to break into a list of Gary Oldman's best films then Tau seems the most likely. The film will debut on Netflix after the video-on-demand provider acquired the global rights to its distribution.
It's unlikely Oldman's 2018 films will rival Darkest Hour for critical praise or financial and awards success but it's great to see such a talented performer appearing on our screens again and again and again this year.