The high-octane world of finance has proven to be a fascinating source of drama for filmmakers, particularly at times of economic flux. Here are 10 great feature films focused on the subject.
The multifaceted and often high octane nature of the financial industry has made it a fantastic candidate for the transition to the big screen over the years. Whether it's showcasing the cunningness and ingenuity of some of the best minds in the business, or simply portraying a story of revenge and redemption, some of Hollywood's best work has looked at the various incarnations of the financial world. With that being said, below is a rundown of some of the most engrossing efforts which have stood the test of time and continue to make it onto our "must see" list.
American Psycho (2000)
Christian Bale's performance in Mary Harron's 2000 black comedy horror was so captivating that it's easy to forget that the film is set against a financial backdrop. Bale plays an investment banker with a dark, troubling secret and American Psycho perfectly highlights the all too familiar disconnect between that the financial elite can experience between their own lives and actual reality.
There Will Be Blood (2007)
Recently retired acting chameleon Daniel Day-Lewis won an Oscar for his role in There Will Be Blood, which was loosely based on Upton Sinclair's novel, Oil!. For a lesson in how to trade oil and accurately navigate the cutthroat nature of the industry, it's worth keeping an eye on Daniel Plainview, played by Day-Lewis. The character may be one of the most morally bankrupt that you're ever likely to come across but he certainly knows how to get the job done. However, oil trading options in reality are more diverse than Plainviews' questionable actions, with oil futures, CFDs and spread betting all available, even online.
The Big Short (2015)
As one of the more recent films on this list, The Big Short does a commendable job of breaking down sophisticated and complex financial concepts such as synthetic CDOs and mortgage-backed bonds. It certainly doesn't do the movie any harm that the actresses helping you to understand these terms include Selena Gomez and the alluring Margot Robbie, the latter of which can be seen in a characteristic shot drinking champagne in a bathtub whilst going into depth about financial instruments. Who knows why?
The Wolf Of Wall Street (2013)
Despite the fact that Leonardo DiCaprio eventually won an Oscar for 2015's The Revenant, it still seems hugely unfair that he was overlooked for his performance as Jordan Belfort in The Wolf of Wall Street. The movie centres around the infamous over-the-counter brokerage firm Stratton Oakmont and documents the rise and fall of Belfort, as well as the pump and dump schemes which helped IPO a number of large public companies during the 90s.
Rogue Trader (1999)
The story of Nick Leeson, the man who was single-handedly responsible for the insolvency of the world's second oldest merchant bank, is both tragic and educational. For a cautionary tale in risk management, Rogue Trader is the perfect movie and as you see Leeson hiding huge financial losses on the Nikkei from his superiors, you constantly find yourself wondering how he got away with it for so long. Nevertheless, Rogue Trader will no doubt have you questioning if you really do need that extra pair of shoes you've got your eye on.
Boiler Room (2000)
Boiler Room is a film which highlights the risky nature of the aforementioned pump and dump schemes. Just like Rogue Trader, Boiler Room acts as a cautionary tale of sorts and serves as a reminder to anyone investing in the stock market to do the required research and stick to well known, transparent companies before taking the plunge.
Wall Street (1987)
Oliver Stone's 1987 gritty classic is arguably the quintessential financial film. Despite the age of the movie, it still packs enough financial clout to be a useful recruiting tool for brokers and bankers, some thirty years after it was released in cinemas. Despite the fact that most audiences will already be aware of the pitfalls of insider training, Wall Street manages to do so in its own unique, silky smooth manner.
Margin Call (2011)
Margin Call gives us a fascinating insight into the fragility of our financial system and highlights how a few poor financial decisions could put us on the brink of utter devastation. The movie was filmed within a 24-hour window of chaos relating to the 2008 financial crisis and goes some way in terms of explaining the risk taking by some of the world's largest banks such as recklessly trading complex derivative instruments.
Arbitrage (2012)
Whilst it would be quite accurate to label Richard Gere as the ultimate marmite actor, he does a pretty good job of portraying a troubled hedge fund manager who desperately tries to cover up his own personal misdeeds when selling his trading empire. Despite the fact that Arbitrage approaches the issues at hand in typical, cheesy Hollywood fashion, this film is still well worth a watch in our eyes.
Trading Places (1983)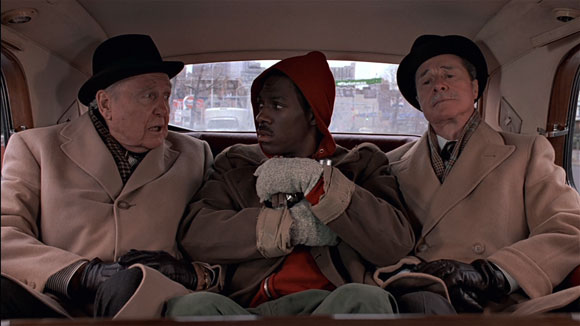 Fans of Eddie Murphy will more than likely already be aware of this modern day reworking of The Prince and Pauper. Of course, any sort of movie featuring Eddie Murphy and Dan Aykroyd is bound to be a pretty lighthearted affair but at the same time, a fantastic supporting cast along with a highly memorable and realistic trading session scene makes Trading Places a must watch, especially if you're into your 80s nostalgia.
Time To Take Stock
The financial arena provides an interesting backdrop for a movie of any sort of genre and no matter how you prefer to be entertained, there's bound to be something out there that takes your fancy. However, it's also worth having your wits about you when watching these films as they provide a valuable and sometimes galling insight into just how messy things can get when large sums of money are at stake.
Over to you: do you have a favourite film focused on finance?
Written and Compiled by Rory Fish