Since 2009 the Academy has allowed up to 10 best picture nominations. That still doesn't mean the best films always get nominated. Down the Hall podcast has ranked this year's 9 best picture nominations and added one notable omission.
You can find the Down The Hall podcast on iTunes, SoundCloud, Tune in and Google Play. Find all our movie night recommendations at downthehallpodcast.com. Let us know what you think of the list and what film you think should have been nominated for best picture .
10. The Post
A film purely designed for the Oscars – directed by Steven Spielberg starring Tom Hanks and Meryl Streep. So why is it so low on the list? It's a solid film that follows the true story of the first female publisher of a major newspaper to tackle a government cover up. It's not a bad film but somewhat unremarkable and not necessarily worthy of the nomination. The most recent comparison to this is 2016 Best Picture Winner Spotlight, which is a far superior film.
9. Call Me By Your Name
A beautiful film set in 1980s Italy depicting a blossoming romance between a 17-year-old boy and an older man hired as his father's research assistant. It's a lovely romantic film that meanders along at a very slow pace but looks exquisite. Armie Hammer and Timothee Chalamet are both very good in this somewhat art house film that is hindered by its pace.
8. Phantom Thread
An obligatory best picture nomination as it the final hoorah from the Academy darling Daniel Day-Lewis. The incredible method actor this time takes on the role of a renowned dressmaker in 1950s London and that is as exciting as that sounds. Of course the leading man gives a sterling performance as his fastidious life is disrupted by a strong-willed young woman. Another slow but worthy film with some interesting sexual politics but very unlikely to actually win.
7. Darkest Hour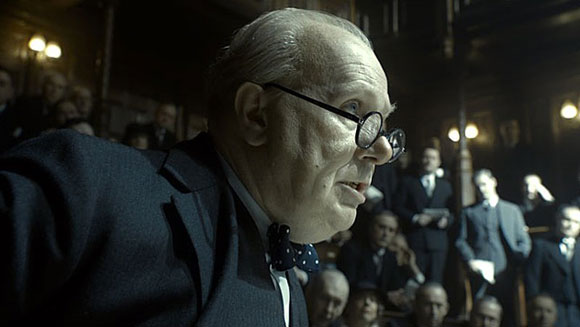 Another film anchored by an amazing central performance, this time Gary Oldman as Winston Churchill, that is better than the film itself. A film about men talking in rooms as Churchill struggles whether to negotiate with Hitler or fight on. An interesting drama lessened by a ludicrous scene in the underground, but it's Gary Oldman's overdue turn to win the Best Actor prize.
6. Lady Bird
Great to see Greta Gerwig get a best director nomination for this coming of age drama full of true-to-life comic elements as a teenage girl played brilliantly by Saoirse Ronan struggles to find her identity. Her relationship with her mother played incredibly well by Laurie Metcalf is the heart of the movie, however some may find the lack of resolution frustrating as this is more a window into their lives rather than a complete plot. While this is a very good film there is nothing that really elevates it above other coming of age films like Edge of Seventeen.
5. The Shape Of Water
This may surprise some to see the Oscar front-runner and film with most Oscar nominations so low on the list. This is an undeniably beautiful and fantastical film as the great Sally Hawkins communicates without a voice with the creature locked in the research laboratory she is cleaning. The relationship between the two is believable despite being mute, but the villain and plot becomes predictably generic. Richard Jenkins is impressive as the repressed neighbour, but the film is perhaps a victim of expectation and hype. Guillermo Del Toro is yet to do anything nearly as good as Pan's Labyrinth.
4. Dunkirk
The other side of Darkest Hour, this is what happened on the beaches of France whilst men in rooms talked across the channel. This however is a cinematic spectacle from the best director of the modern era, Christopher Nolan. A three-strand narrative structure that allows the director to explore his obsession with the concept of time. The visual action especially in the skies is stunning as the emotional impact of the evacuation is told through multiple characters.
3. Get Out
Half of a popular comedy duo, Jordan Peele,surprised everyone as writer and director of this social thriller. A young African-American goes away for the weekend to his white girlfriend's parents secluded estate in the woods. The initial polite ambience quickly melts away into a nightmare. Horror and comedy are two difficult genres to get right but even more difficult when overlapping as a social thriller. The film is a triumph and despite being released early in 2017 its inclusion is a testament to its success. It's a progressive step for the Academy to nominate this film as it notoriously avoids anything to do with horror despite a few notable exceptions. Perhaps, however, it's too big a step for the Academy to choose it ahead of others for Best Picture this year.
2. I, Tonya
Actually not nominated for Best Picture but rounds up the list nicely to 10. To feature so high on the list shows how glaring this omission is as this part heist comedy, part thriller, part sports/family drama is easily one of the best films of the year. This non-conventional 4th wall breaking biopic follows the true story of US Olympic figure skater Tonya Harding as she struggles with her blue collar background and domestic abuse. Margot Robbie is great as the lead but Allison Janney steals the show as her mother and is rightly favourite to win the best supporting actress Oscar. This is the easiest film to recommend on the list, it is impossible not to enjoy. You can also check out the Down The Hall exclusive interview podcast special with the scene stealing Paul Walter Hauser who plays the hilariously delusional Shawn.
1. 3 Billboards Outside Ebbing, Missouri
A five star film, favourite to win and top of the list. This film continues to gather momentum as it has inspired real life protests, most recently to promote gun control in Florida. Martin McDonagh's third film revolves around a flawed mother played by Frances McDormand who embarks on a public mission to call attention to her daughter's lingering unsolved murder through the use of three billboards.
The film finds empathy in all of its characters as the events lead to unexpected developments and arcs especially Sam Rockwell who will win best supporting actor. It is going to be tough to find a film more deserving of the best picture Oscar. A beautifully shot, gripping character study of grief and vengeance carried by raw and immersive performances that find the funny and brutal response to the most primal pain.
What films do you think should have been nominated for best picture?
This top 10 was a collaborative effort between Down The Hall podcast hosts Rodney and Chet with Lyndon. Check out the podcast for their individual arguments for and against including the films above.