We – in a roundabout way – celebrate the work of Kevin Costner by showcasing ten examples of him being upstaged by at least one of his co-stars including Alan Rickman in Robin Hood: Prince of Thieves and Susan Sarandon in Bull Durham.
When I say Kevin Costner can be a bit of a bore I'm being a bit misleading in my feelings towards the actor. Yes, he can come across as a plain-faced stature whose work is elevated by those around him but he's also responsible for some fine films (at times as actor and director). His lack of warmth, of charm, can be somewhat disregarded because of the inherent "everyman" quality he possesses, the lack of classic Hollywood "good looks" and scene-chewing dynamism bringing a recognisable fallibility and imperfection that gives his characters genuine humanity.
While I can't begin to rank him amongst the best actors of his generation, I have enjoyed many Kevin Costner films. In fact, his work in front of the camera has delivered some of my personal favourites such as baseball dramas Bull Durham and Fields of Dreams. Robin Hood: Prince of Thieves is a hugely enjoyable take on the legend, Dances with Wolves is a critically-acclaimed, multi Academy Award winning modern classic, and No Way Out is surely one of the best edge-of-your-seat thrillers of the 1980s.
But one thing remains a sticking point throughout his career – being upstaged by his co-stars. It is the unfortunate result of his assuming approach to the majority of his characters. Costner gets out-acted. That isn't to say he's doing a bad job, just that those around him have found, or are given, something more charismatic to play with.
In this top 10 I check out the best examples of Costner being outshone by a co-star. These are films where, if you were to remember a character or performance, you'd likely pick someone other than Costner. But, just to underline why this isn't a Kevin Costner career-bashing exercise, let's begin by celebrating one film where he outshines all others…
Fandango (Reynolds, 1985)
Outshone by NOBODY
There's a pre-stardom raw energy to Costner's turn in Kevin Reynolds' 1985 coming-of-age comedy Fandango. This youthful naivety is rarely seen in Costner's career which, within two years, saw him appear as government agent Eliot Ness in Brian De Palma's The Untouchables. Indeed, there are few funnier films featuring Costner and it's worth noting this is one of Quentin Tarantino's favourite films. Steven Spielberg helped finance Fandango after he saw Reynolds' student film from which this is based. Here, four friends enjoy one last road trip before the inevitable anxieties of adulthood and, tragically, the impending Vietnam War draft.
Now, let's take a look at the top 10 times Kevin Costner was outshone by a co-star…
10. Dances With Wolves (Costner, 1990)
Outshone by Mary McDonnell & Graham Greene
Dances with Wolves is without doubt one of Kevin Costner's finest films. It wins extra credit for being directed by the actor who saw the film through its early development into production and release, ultimately winning the acclaim of his peers (it was a multi Academy Award winner), the critics ("As a director, Costner is alive to the sweep of the country and the expansive spirit of the western-movie tradition," said Richard Schickel of Time Magazine), and audiences (having been produced for $22 million it made over $400 million was made at the box office). But Costner's understanding of the craft, love of the landscape and appreciation of classical Hollywood narrative is a bigger joy to see than his own performance. Indeed, Mary McDonnell's turn as Stands With A Fist and Graham Greene's performance as Kicking Bird are more striking, like the awe-inspiring cinematography, but rare is a film as successful – or as good – as this when the actor and director are one and the same.
9. Tin Cup (Shelton, 1996)
Outshone by Rene Russo
Rene Russo manages to outshine Tin Cup's leading man in this golf-themed romantic comedy from White Men Can't Jump director Ron Shelton. Admittedly, Costner is on form under the guidance of the director he worked with on Bull Durham, here playing a down-on-his-luck former golf prodigy who, having failed to make it as a professional, begrudgingly coaches amateurs at his driving range in Texas. Russo's Dr. Molly Griswold comes calling for a lesson which inadvertently draws Costner's Roy McAvoy back to the game. As the bright-eyed, smart and sexy love interest, Russo is also the guiding voice which gets McAvoy back on track. Her reactions to Roy's golf-imitating-life metaphors are also hilarious while her femininity satisfyingly cuts through the grizzled machismo on show.
8. The Bodyguard (Jackson, 1992)
Outshone by Whitney Houston
A hit with audiences, The Bodyguard has however remained a mere annoyance to critics who dismiss it as a dreary, uninspired romance that boasts an equally tired murder plot and villain. Of course, Costner needn't look so bored throughout the film, he must have known it was going to be a commercial smash hit with Whitney Houston playing the love interest and bringing her catalogue of pop hits to the party. Yet, if there is a party, Costner didn't get the memo, instead dressing for a funeral. If there are any sparks between the leads in Mick Jackson's thriller we're probably being misled by the singer's sparkly stage costumes glittering under the spotlights.
7. 3000 Miles To Graceland (Lichtenstein, 2001) Outshone by Kurt Russell
Kurt Russell eats up the screen in every movie he's ever been in so it's not surprising that he hogs the limelight from co-star Costner in Demian Lichtenstein's lively crime-drama 3000 Miles to Graceland. Admittedly, the "Prince of Thieves" has rarely been this nasty on-screen which is refreshing to see; the everyman becoming the bad-man with blood-spattered ferocity.
6. Hidden Figures (Melfi, 2016)
Outshone by Taraji P. Henson, Octavia Spencer, Janelle Monáe
It's a little unfair on Costner as he's ganged up on in Hidden Figures by the marvellous turns of Taraji P. Henson, Octavia Spencer and Janelle Monáe. Here he plays Al Harrison, director of the Space Task Group. It's a typical Costner nice guy, a stoic everyman with a vulnerability behind kind eyes. And while he's perfectly cast he has no answer for the sheer might of the film's three main stars, especially Taraji P. Henson as a mathematician who, as the first black woman assigned to NASA's Space Task Group, becomes instrumental in the USA's attempts to lead the Space Race.
5. No Way Out (Donaldson, 1987)
Outshone by Gene Hackman
While I don't pretend to know Gene Hackman, everything I've read about him, everyone I've seen talking about him, and through his candid interviews, I'd say he's a thoroughly nice guy. But he could play some mean, angry men with the ferocious intensity of an actor immersing the audience in his character's emotional fire. He's as sadistic as they come in No Way Out, killing a woman and using his government position to cover up the murder and frame the love rival who spawned his jealousy. It's a terrific, twisty thriller that keeps you on the edge of your seat. Costner's characteristic everyman is in the wrong place at the wrong time, the stakes deliciously heightened at every plot turn. But Hackman is a scene-stealer and in his small but significant role his on-screen prowess shines through.
4. Field Of Dreams (Robinson, 1989) Outshone by James Earl Jones
Even in Kevin Costner's finest films he manages to get upstaged by his co-stars. He's got his work cut out in Phil Alden Robinson's melancholic but ultimately uplifting fantasy-drama Field of Dreams with the feisty Amy Madigan playing his wife, the great Burt Lancaster turning up briefly as a former big league baseball player, and the inimitable Ray Liotta as a ghost Costner's character interacts with in his corn field. But it is James Earl Jones, playing disaffected author Terence Mann, who outshines Costner here. Whether it's his warm smile or that big, imposing voice, Jones finds a way to ground the film's ethereal fantasy into something tangible and authentic, elevating Costner's character's dramatic arc with a wholly satisfying one of his own.
3. The Untouchables (De Palma, 1987)
Outshone by Robert De Niro & Sean Connery
The beginnings of Costner's Hollywood star were starting to brighten following the release of Brian De Palma's critically acclaimed prohibition-era gangster film. But Costner's efforts, as the government agent tasked with tackling the illegal alcohol trade and bringing down its kingpin, are overshadowed by the sparkling caricature of De Niro's Al Capone and one of Sean Connery's finest turns as Jimmy Malone. Who can forget Connery's denouement or De Niro's pot-bellied bark and bluster.
2. Bull Durham (Shelton, 1988)
Outshone by Susan Sarandon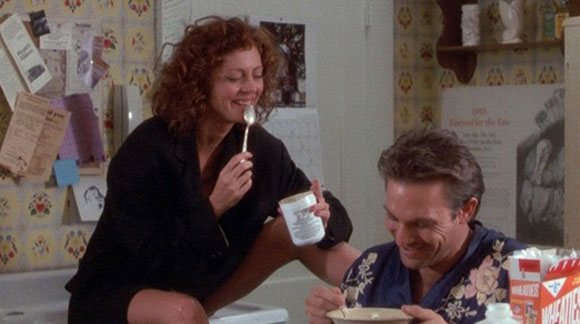 Costner's career is peppered with films about sport. But the best of them all – indeed, one of the greatest American sports movies of all time – is the delightful Bull Durham. This baseball movie follows the exploits of Costner's jaded veteran minor league catcher who is sent to play for the Durham Bulls in order to tutor livewire pitcher Ebby Calvin LaLoosh (Tim Robbins) who some think can make it in the "big leagues". Regret and envy clash with youth and naivety as these two characters bicker their way through a season, Costner's "Crash" Davis finding time, between the animosity, to help LaLoosh refine his technique and his attitude. Yet, despite this being my favourite Costner performance, he's still outshone by the vivacious Susan Sarandon as "baseball groupie" Annie who adds a wonderful sensual vitality, counter balancing Costner's world-weary indignation.
1. Robin Hood: Prince Of Thieves (Reynolds, 1991)
Outshone by Alan Rickman
When Costner has taken the rare opportunity to play an action hero his combination of everyman vulnerability and steely stoicism has proved winning with audiences charmed by an easy-on the-eye likability. But as entertaining as Robin Hood: Prince of Thieves is, and as important Costner's role is within it, he's overshadowed by the brilliant Alan Rickman as the sadistic Sheriff of Nottingham. Blood and spittle gush and splatter as Rickman chews the scenery as Robin Hood's cruel nemesis. Steam seems to rise from his ears as the film's chief antagonist grows increasingly weary of the commoners' heroic saviour. While Robin Hood might gain his revenge and get the girl, it's the Sheriff of Nottingham you're still talking about after the credits have rolled.
Over to you: who are your fave Kevin Costner co-stars?