Cuter than a sparkly, rainbow, unicorn kitten with butterfly wings, the late Shirley Temple must have been the starriest child star that the universe has ever known.
Her career began at around the age of three in Baby Burlesks, where she sang and danced her way through eight short movies featuring equally diminutive starlets. By the age of five, Hollywood had stolen the young Shirley and her trademark chubby tap-dancing legs had started her on a journey through around forty movies. She was the main attraction in them all, which, considering she retired from Hollywood at 22 years old, is phenomenal. Whittling away at such an impressive filmography to reveal her top 10 performances was some challenge but as a fan of her tap-dancing prowess, I will admit that my list has a slight bias … enjoy!
10. Captain January (David Butler, 1936)
Just about making it into the Top 10 is the story of Star (Temple), a foundling whose idyllic life being raised by a lighthouse keeper – Captain January (Guy Kibbee) – in a lighthouse, is thrown into jeopardy by a tyrannical truant officer. Temple is cheeky and endearing but her tour de force is a lengthy song and dance duet with the talented Buddy Ebsen. By the age of eight Shirley Temple's dancing expertise was comparable to many adult stars of the time; yet she was still suitably tiny to elicit a sense of wonder in her audience and this particular number is a prime example. The movie boasts several songs also – one of them a classical piece – and I am always struck by the child-like quality of Temple's singing voice. It would have been easy for Hollywood to formally train the little girl's voice but clearly they were satisfied with her natural ability to sing in tune and produce a pretty sound.
9. The Blue Bird (Walter Lang, 1940)
A black and white movie with a transformation into colour reminiscent of The Wizard of Oz, this fairy tale was a box office flop. By 1940 there must have been a sense of panic across the pond as America's little darling was growing up and this is reflected in the shift in style of Shirley Temple offerings on the silver screen. In this story of redemption, Temple plays a grumpy, spoilt child who lives with her parents and brother in a village in Germany during the Napoleonic Wars. Being cute and lovely suited Temple for the most part in her movies, so it is strangely refreshing to see a new facet to her acting, albeit in a rather two-dimensional character. With just one song and dance the focus seems to be on Temple's acting talent which shows a wider range than most movies and proves that it is possible to dislike a character played by Shirley Temple!
8. Bright Eyes (David Butler, 1934)
This was the first film written especially for Temple, so it is surprising that there is just one musical number with no tap-dancing. But it has become an enduring symbol of the child prodigy with the hurly-burly curls. "On the Good Ship Lollipop" is sung by Temple as she strolls down the centre aisle of a plane, flanked by pilots who playfully attack her with oversized sweet treats. It was such a hit that many people think it is the name of the movie. Temple plays – well – a little girl called Shirley and as she is in possession of the actress' cheery demeanour, one could almost say that she is playing herself. However, her family situation is very different from her own – as is often the way in her movies, she finds herself orphaned and as a result Bright Eyes showcases the potential she was already showing at the age of six, to express a full range of emotion on screen.
7. The Little Princess (Walter Lang, 1939)
Not actually a princess but treated like one at her boarding school, Sara, played by a slightly older Temple (age eleven now) falls on hard times when her father is reported missing whilst fighting in the Second Boer War. Overnight she becomes a maid at her school and a couple of rare outbursts reveal a feistiness in Temple's acting abilities. A dream scene acts as a vehicle for a rare ballet sequence starring Temple but her typical music hall style brings us "Knocked 'Em in the Old Kent Road" which she sings with Arthur Treacher in the local hospital to cheer up the wounded. Sadly, her last success as a child star.
6. The Little Colonel (David Butler, 1935)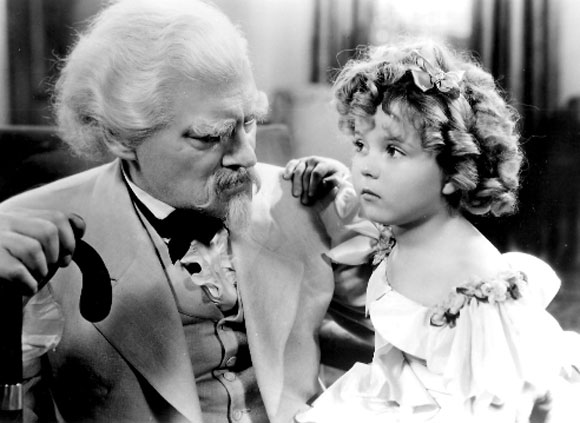 Temple starred in a series of films with "little" or "littlest" in the title and although each character was different, the personality traits were similar and each little person tended to be good-natured with a fiery streak. Set shortly after the American Civil War, this was the first movie that paired Temple with the equally talented Bill 'Bojangles' Robinson and brings us the acclaimed staircase dance. The ease with which these two danced together is comparable to Ginger Rogers and Fred Astaire but all the more impressive, given that they are adult and child. Temple had developed a winsomeness by the age of six which made her – unbelievably – all the more appealing and she used it to her advantage for as long as she was able. This was possibly her naughtiest role, but her tender years, tiny frame and coquetry make her audience forgiving.
5. The Littlest Rebel (David Butler, 1935)
Another pairing with Bojangles Robinson and so plenty of tapping amongst the vast array of musical numbers, this is vintage Shirley Temple. True, her facial expressions whilst dancing are affected, but it is undeniable that this extraordinarily talented child reveled in her mastery over her tapping feet. A backdrop of the American Civil War again, possibly to facilitate the inclusion of Bojangles as the family slave. Mother falls ill early on in the movie and little Virgie (Temple) steps up until Father returns from scouting for the Confederates. When he is imprisoned, Virgie steps up once more and keeps his spirits – and those of arch enemy Sgt Dudley – up by singing "Polly Wolly Doodle" with more cheer than you thought was possible.
4. Dimples (William A. Seiter, 1936)
Just when you thought this couldn't get any cuter … yes, she was nicknamed Dimples in one of her movies. Playing the granddaughter of her Fagin-esque grandfather, who uses singing and dancing street children to pursue his thievery, Temple catches everyone's eye as the best entertainer the streets of New York have seen up until 1850, including that of wealthy widow Caroline Drew. Once more, her dances, polished to perfection, coupled with her youth (no more than eight years old) are mesmerising. Her desire to please everyone makes for a moving performance, evidenced in the touching relationships she has both with her roguish grandfather and the strait-laced but magnanimous Miss Drew.
3. Curly Top (Irving Cummings, 1935)
Oh it just got cuter! Yes, another charming nickname … Curly Top. Being cast as one of Temple's parents was probably not particularly sought-after. One or both invariably shuffled off his or her mortal coil fairly early on; in this instance neither made it to the opening scenes even. Orphaned from the start, sweet but spirited Elizabeth struggles to behave in the dull orphanage where she resides with older sister Mary. Featuring songs such as "Animal Crackers in my Soup", Temple gives us a feast of singing and dancing, much to the consternation of her superiors. But who could resist those curls, those dimples and that engaging personality. Not to mention her musical talents; before long, both girls are taken in by a wealthy bachelor who encourages the very shenanigans that the orphanage tried to quash. Featuring the famous tap dance atop a grand piano, another of Temple's finest offerings.
2. Little Miss Broadway (Irving Cummings, 1938)
Another "little" role and another orphan role; Betsy (Temple) smiles through personal tragedy and again, is snapped up for adoption, all the while remaining grateful for the kindness shown to her. Her new home is a boarding house for theatrical performers, so there are musical numbers aplenty, mostly by Temple, sometimes paired up with the charmingly talented Roger (George Murphy) from next door. The final number is pure Hollywood; a courtroom transformed into the bright lights of Broadway and a glitzy duet between Temple and Murphy. Stylised touches such as Temple's mock shock directly into the camera, as her new "parents" kiss, remind us that these movies are around seventy years old and need to be cherished for their place in history, as well as for bringing us one of my favourite stars!
1. Rebecca Of Sunnybrook Farm (Allan Dwan, 1938)
Finally, my number one Shirley Temple movie. For me, this is definitive Shirley. Musical numbers abound; Bojangles is on board and the tap shoes are on. Rebecca's (Temple) disposition is as sunny as the name of her farm and her talent seems boundless. Again, Rebecca is orphaned but in the care of unscrupulous Uncle Harry. "He has been an awful trial to me," sighs Rebecca when he abandons her into the care of Aunt Miranda. But her insistence that she is "very self-reliant" leads her into her own radio show as Little Miss America, unbeknownst to the old-fashioned Aunt Miranda and her medley of songs of the time (including songs from her other movies) is flawless, endearing and remarkable for a child so young. Mature, sweet and resourceful, Rebecca also acts as cupid for her cousin and her agent in the romantic sub-plot, so she rightly earns her place as the title role in this movie with a feelgood factor of 11 out of 10.
Over to you: what are the best performances of Shirley Temple?