The big selling point of the Skullcandy Crusher wireless headphones is the enhanced bass with haptic feedback. This helps create a totally immersive film-watching experience.
I have been impressed with the Skullcandy brand since I was first introduced to it a few years ago. What I've always liked is the impressive technical credentials of the brand's headphones alongside a sense of style that you only get with headphones (on- and over-ear) that cost far, far more. And, given that its specialism is wireless you'd expect great battery life which is exactly what you get.
In this test, I've taken a closer look at the Skullcandy Crusher Wireless headphones, the brand's premium range of wireless headphones. With a recommended retail price of £139.99 (but found at most leading retailers at around £99.99 currently), the Crushers cost three times as much as Skullcandy's budget Uproars.
The difference? In a nutshell you get over-ear wireless headphones that lock in the sound, enhanced bass performance with Skullcandy's "haptic" bass, and up to 40 hours of battery life.
For those aficionados of music, Skullcandy's story isn't one that begins particularly auspiciously. Better known for budget earbuds and headphones that lacked the punch to really compete even at the lower priced end of the market, the company has found its edge in recent time. Skullcandy has essentially discovered the ideal balance between competitive pricing and quality.
A couple of years ago I said I'd tested a number of wireless Bluetooth-enabled on-ear headphones priced at below £80 and few, if any, sounded better than Skullcandy's Grind Wireless. I can relate that to the Crushers, over-ear headphones that, at the price point of £100, are not bettered.
Design and Comfort
These are a comfier fit than Skullcandy's Grind, that's the first thing to say. The earcups envelop the ears making them more snug on your head and better at reducing external noise interference. They look stylish and if fashionable headphones are a big part of your decision-making, the Crushers provide a good, unpretentious option if faded black is your thing.
Made predominantly of plastic, the Crushers nevertheless don't feel "plasticky" thanks to the quality of material used to make them. They're a sturdy build and will stand the test of time – including the odd hard-floor fall – with fake plastic cushions offering a comfortable fit on your head. There was never a problem watching a two-hour movie and thinking, my ears are getting too sweaty in here or my head needs a break.
The Crushers are also joined in the box by a neat carry bag. A thick, waterproof material gives you a place to keep your headphones safe and clean while the soft fur can double as a handy cleaning tool to wipe away any grease marks, make-up or whatever might land on your headphones. Foldable, they're also relatively easy to carry around in a backpack or handbag despite their fairly robust build.
The right ear cup features the volume buttons plus the central multi-use button. The bass booster is found on the left ear cup which is also where you'll find a microUSB port and a 3.5mm port. I found the buttons well-sized, spaced and located and they're easy to use when the headphones are on your head.
Why the Skullcandy Crusher Wireless headphones are perfect for watching movies
Simply, the answer to why the Skullcandy Crusher Wireless headphones are perfect for watching movies is Skullcandy's bass with haptic feedback. This feature, which can be switched on and off and its level controlled from the earcup control, creates the bone-shaking subwoofer experience of a quality surround sound cinema system. Music lovers may find issue with clarity and the balance of the soundstage but movie-watchers should be thrilled. It gives the Skullcandy Crusher's a push above price-bracket competitors and puts it in competition with the bass performance of over-ear headphones priced over £150.
I watched Fast and Furious 7 during my tests with the headphones and the car chases come alive with the benefit of the haptic drivers. When it comes to the quality of bass when watching a movie with over-ear headphones, I can't remember a time when I've had a better experience. My Bose home theatre might give it a run for its a money but just speaking of Skullcandy alongside Bose gives you some idea what I thought of the bass in the Crusher headphones.
Switch the bass off and you'll quickly understand what the haptic drivers are achieving. That isn't to say the Crushers suddenly become undesirable. Without bass enhancement I think the headphones become a great choice for music listening with a good balance between the frequency range and a decent level of detail. I gave Ed Sheeran's latest album a try and while you can argue the soundstage is somewhat limited, perhaps because we're reducing the capability of the Crusher's performance by switching its bass-enhancement off, it's still a pleasing audio spectacle.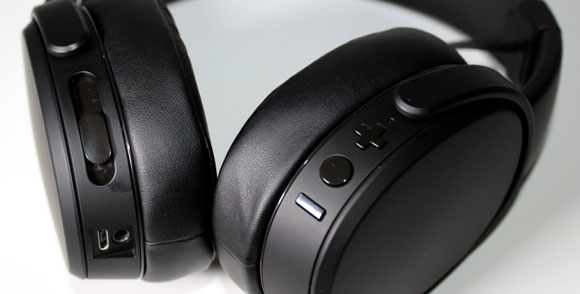 The bass is enhanced via Skullcandy's addition of 34mm drivers that deliver bass-specific audio. By switching on the haptic bass technology, you control the level of bass via a slider that transfers the low-end frequency to the bass-specific drivers. This is where the magic of the Crusher comes to the fore.
The brand advertisers "Bass You Can Feel" which can feel like a gimmick when you see it splashed across the box. But Skullcandy has managed to find a balance between bringing a very powerful and intense bass experience to the user without overpowering, or hindering, the soundstage. The fact you get the choice to find the level that works for you means you're able to individualise the experience. I found that the slider just below the halfway point was ideal for action-packed cinema while a slight increase to midway is good for character-driven drama.
Pushing the bass slider above halfway can be a bit stressful at first – like wearing a pair of subwoofers. Then it becomes a bit of fun but rarely will you need – or be able – to have it higher than halfway. Movies get that extra bit of immersion with the feature turned on but you don't need to overdo it.
"The Skullcandy brand continues to go from strength to strength," says Sean Marsh of Northern Chrous. "It's a competitive market. Consumers, who are getting more and more savvy with what they want out of their technology, have a lot to choose from. Skullcandy's range of wireless headphones are proving to be increasingly popular with music fans who want quality and style at a price they can afford. I suspect movie fans will be similarly satisfied."
A winner for movie fans watching films on the go
Because they have wireless Bluetooth connectivity you have the added bonus of reducing wire-clutter while the 40-hour battery life offers plenty of use before a recharge is needed.
It's worth noting that because they're so powerful I found they're better used in the home environment when watching films, TV or gaming as opposed to headphones ideal for private listening on a public transport commute. However, they fold up so can be taken with you on your travels and they're well-built so you can rest assured they won't fall apart in your bag.
The Skullcandy Crusher is an excellent choice for people watching movies on the go. In a competitive market, travellers watching film and TV on the daily commute might prefer to seek out headphones with better noise-cancelling attributes but the bass performance of the Crushers is second-to-none and makes movie-watching more immersive.