We check out the best Michael Douglas films, an actor whose body of work includes everything from outrageous comedy, action-adventure, character study and buddy cop movie to erotic thriller.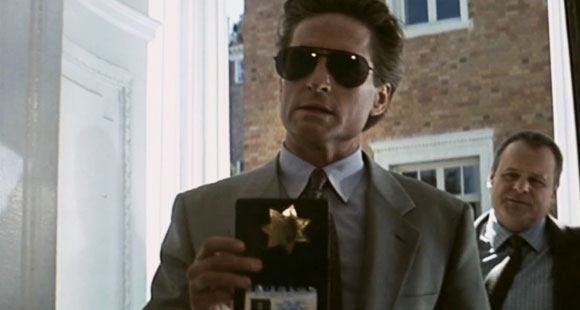 When your father is Kirk Douglas, the star of classics Spartacus, Ace In The Hole and Paths of Glory, it's perhaps unsurprising to find your calling in Hollywood. That's what happened to Michael Douglas whose career was given a helpful nudge by his father who encouraged him to produce movies (initially gaining success with the brilliant One Flew Over The Cuckoo's Nest). After some television roles he produced Romancing The Stone in 1984 with himself in the starring role under the direction of a pre-Back To The Future Robert Zemeckis.
This was the start of a whirlwind of iconic roles for Douglas who had proven himself a capable leading man. A sequel followed Romancing the Stone in 1985 before he released two of the finest films of his career – Wall Street and Fatal Attraction in 1987. He then appeared in The War of the Roses alongside Kathleen Turner (who had starred alongside him in Romancing the Stone and its sequel The Jewel of the Nile) and action-thriller Black Rain under the direction of Ridley Scott.
While some of the most memorable Michael Douglas films come from his work in the 1980s, he saved some of his most striking performances for later years. Entertaining if somewhat forgettable erotic thrillers might remind audiences Douglas liked his sparring partners to be strong-minded, sexually liberated women (see The War of the Roses, Disclosure, Fatal Attraction and Basic Instinct) but the 1990s and 2000s also revealed an actor willing to tackle more diverse roles (the anti-hero of Falling Down and the unsympathetic investment banker of The Game). There's the funniest performance of his career playing Liberace in Behind The Candelabra in 2013 and a wonderfully understated and amusing performance as curmudgeon novelist Grady Tripp in Wonder Boys.
(11). Black Rain (Scott, 1989)
Michael Douglas is bad-ass cop Nick Conklin in this downbeat police thriller from director Ridley Scott. After arresting a yakuza gang member, he and fellow cop Charlie Vincent (Andy García) are tasked with taking their prisoner back to Japan. However, he escapes after they land in Osaka and the pair become determined to track him down, becoming further immersed in Japan's criminal underworld and its war on gangs.
10. Traffic (Soderbergh, 2000)
This ensemble crime-drama features Michael Douglas as conservative Ohio judge Robert Wakefield who, having accepted a role as head of the President's Office of National Drug Control Policy to tackle the war on drugs, finds his daughter has become addicted to cocaine and other recreational narcotics, discovering the "war" isn't simply about tackling the criminal element of the trade. It's a downbeat story, director Steven Soderbergh highlighting the devastating impact of drugs on the family home as well as the debilitating affect on young lives caught up in cocaine's addictive grasp.
9. The Game (Fincher, 1997)
A commercial failure but a film that did nonetheless win acclaim from critics and favour from audiences in the long run as a cult hit, David Fincher's The Game is a characteristically good looking piece of cinema from the director who had previously made crowd-pleasing crime-thriller Seven. Michael Douglas is Gecko-esque as a rich investment banker who seemingly prefers his own company but whose younger brother insists needs an injection of excitement. That leads to the eponymous "game", our immersion in which blurring the lines between reality and make-believe.
8. The War Of The Roses (DeVito, 1989)
Michael Douglas and Kathleen Turner re-team for a third time (after 1984's Romancing the Stone and 1985's The Jewel of the Nile) for this caustic black comedy about the bitter breakdown of a marriage. The two actors work so well together that their bickering is second nature.
7. Romancing The Stone (Zemeckis, 1984)
Michael Douglas channels his best Indiana Jones impression in this rip-roaring action-adventure that doesn't try for a single minute to deny its inspiration. Raiders of the Lost Ark fans will find plenty to enjoy in this tale of ancient riches, damsels in distress, hammy villains and exotic locations.
6. Falling Down (Schumacher, 1993)
A dark humour runs throughout Joel Schumacher's Falling Down which Michael Douglas captures wonderfully. Here he is a man driven to the edge by life's annoyances, his increasingly devastating reaction to the obstacles present in everyday life mirroring, perhaps, the audience's own cynical wish-fulfilment. It's a difficult role for any actor. Douglas's knack of making unsympathetic men strangely likeable is a quality he needs to find in Falling Down. He does so with aplomb.
5. Fatal Attraction (Lynn, 1987)
A husband and father gets more than he bargained for in this taut thriller from director Adrian Lynn. 1987 was a great vintage for brand Michael Douglas with Wall Street and Fatal Attraction arriving in cinemas, making him one of Hollywood's biggest, most bankable stars. His performances in both films are quite different though, the shirt and tie bravura of Wall Street is stripped – almost literally – to reveal a more fragile sense of working man machismo. There's nods to the disintegration of the family unit and the weakness of virile male posturing but Fatal Attraction is great simply because it's a very well-orchestrated, tense thriller sporting a stand out performance from Glenn Close.
4. Solitary Man (Koppelman, 2009)
The writer-director team of Brian Koppelman and David Levien bring us a meditative yet unsentimental window on the midlife crisis of ex-car dealer and once very successful businessman Ben Kalmen. Michael Douglas, as Kalmen, is excellent, delivering one of his finest performances. I particularly liked the re-teaming of Douglas with old friend Danny DeVito (the pair having starred in several films together including Romancing the Stone and The War of the Roses). It is especially poignant given the weathered look and slightly more reserved on-screen relationship the two have here. There's an element of past adventures pulling them together (the warm embrace of nostalgia), while an uncertain future tugs them apart.
3. Behind The Candelabra (Soderbergh, 2013)
I'm not sure it's the sight of Michael Douglas channelling Liberace or the fact impersonating him is inherently hilarious but Behind the Candelabra features the actor's funniest performance. There's a distinct air of caricature – in part because of Liberace's self-styled eccentricity – but Douglas's head-first jump into the character is wonderfully confident and fitting in its scene-chewing vibrancy. With director Steven Soderbergh calling the shots, the film ensures this incarnation of Liberace is not one-note or simply a source for humour. There's pathos and tragedy, heart beneath the plastic surgery and sparkly jewellery, and nods to the trials and tribulations of celebrity.
2. Wonder Boys (Hanson, 2000)
This delightful comedy-drama about a down-on-his-luck novelist (Grady Tripp played by Michael Douglas) features one of the actor's most appealing performances. He's not altogether likeable but Douglas' curmudgeon quality adds a tangible empathy to a character whose personal triumphs are a distant memory. He's now faced by younger, better looking people with the energy and fierce ambition he once had, their literary achievements framing the envy of his present-day life. The film is actually littered with exceptional performances with Frances McDormand and Robert Downey Jr. rounding out the older members of the cast whose experience and knowledge (as university chancellor and literary editor respectively) are mined by Grady's students Tobey Maguire and Katie Holmes.
1. Wall Street (Stone, 1987)
Michael Douglas shows his dark side in Oliver Stone's brilliant drama about Wall Street movers and shakers at the height of the yuppie boom in the mid-1980s. The actor is cold, calculated and gleefully manipulative, initially taking eager up-and-comer Bud Fox (Charlie Sheen) under his wing before becoming his adversary in a ruthless greed-induced financial power battle.
Over to you: what are your fave Michael Douglas films?