The Academy Awards has its favourite genres. Horror is not one of them. But every so often a horror film has achieved success at the Oscars. In fact, one in particular took home the "big five" of Best Picture, Best Actor, Best Actress, Best Director and Best Screenplay.
If the way genre is represented at the Academy Awards was used to rank categories of film then horror would be at the bottom of the pile. Drama has accounted for most nominees and winners over the years with comedy and romance appearing as the Academy's favoured genre ahead of biopics, war and history.
A horror film has to be truly special to rise above genre bias within the Oscar hierarchy. Those films most likely to win Best Picture are often serious dramas, or social problems films, or those inspired by real life events, or based on grand literary classics.
Horror has to resign itself to lining up behind action-adventure, science-fiction, superhero films, foreign language and children's films and even then it's most likely going to get trumped by an independent production displaying the tropes Oscar might like or a comedy with a A-list star performance.
So for the horror films that have achieved Oscar accolades, it goes without saying there must be something very special about them. Here's ten that stand out…
10. Get Out (Peele, 2017)
Nominated for Best Picture and other awards
A film that defies distinction, Jordan Peele's smart, satirical horror-comedy is a great example of the intelligence many movies of the genre possess but are given little credit for. Bringing together themes of race, identity and class into a fun Stepford Wives-style plot that features elements of science-fiction and horror, Get Out is memorable, in part, through its injection of refreshing contemporary social commentary into familiar genre tropes.
9. Aliens (Cameron, 1986)
Winner of Best Visual Effects and Sound Editing
Aliens marked not only success for the horror genre but also, surprisingly, for sequels (not that the Academy was totally adverse to celebrating "parts twos" as The Godfather found out). One of those films that's referred to as action-horror, action-fantasy, science-fiction and even war, Aliens isn't standard fare. That's what makes it so good. It captures the horror of Ridley Scott's original and gives the monster a new stage and a different, more dynamic antagonist in the form of a military unit and its advisor, Sigourney Weaver's Ripley.
8. The Fly (Cronenberg, 1986)
Winner of Best Make-up
Arguably David Cronenberg's most accessible film is unsurprisingly one of the director's most popular. It won for Best Make-up effects thanks to the stellar work of Chris Walas, along with make-up artist Stephan Dupuis. Their transformation of actor Jeff Goldblum from eccentric, good looking 30-something scientist into snot-spewing humanoid man-fly is incredibly compelling in its authenticity and downright gruesomeness.
7. Jaws (Spielberg, 1975)
Winner of Best Sound, Best Film Editing and Best Original Score
Steven Spielberg's summer blockbuster changed the face of Hollywood. Its fitting that it triumphed at the Academy Awards in technical categories but given its roots in horror it's perhaps less surprising it didn't win Best Picture despite being nominated. Rumour has it that Spielberg was particularly perturbed that he failed to be nominated for Best Director. To be honest, I don't blame him.
6. What Ever Happened To Baby Jane? (Aldrich, 1962)
Winner of Best Costume Design
This tour de force between Bette Davis and Joan Crawford – two actresses warring on and off screen – was nominated in multiple categories but won only for Costume Design. Both actresses deserved awards themselves, the film reigniting their careers following both critical and commercial success.
5. The Omen (Donner, 1976)
Winner of Best Score
Jerry Goldsmith's work on Richard Donner's The Omen is a huge reason why this very frightening horror film is so effective. Indeed, he received an additional nomination for Best Original Song for "Ave Satani". It's often intrigued me why – or how – The Omen is so devastating in its ability to get under your skin as the director would later become best known for action and comedy with films like Superman, Lethal Weapon, Scrooged and The Goonies. Taking nothing away from Donner's ability to orchestrate some wonderful horror moments – the unforgettable severed head scene and the claustrophobic zoo attack – but Goldsmith's score is a big part of the film's success.
4. Misery (Reiner, 1990)
Winner of Best Actress
Kathy Bates deservedly won the Best Actress Oscar for her role here as Annie Wilkes, the obsessive fan of writer Paul Sheldon (James Caan) who she kidnaps and keeps locked in a bedroom while he writes her a new novel. From the mind of horror maestro Stephen King, Rob Reiner's incredibly taut thriller features one of the genre's most memorable sequences when Wilkes, believing her captive is getting out of his room, breaks his legs with a sledgehammer. Bates' manic psychosis is tempered by moments of quiet introspection making this character a multi-dimensional and rather fascinating villain.
3. An American Werewolf In London (Landis, 1981)
Winner of Best Make-up and Hairstyling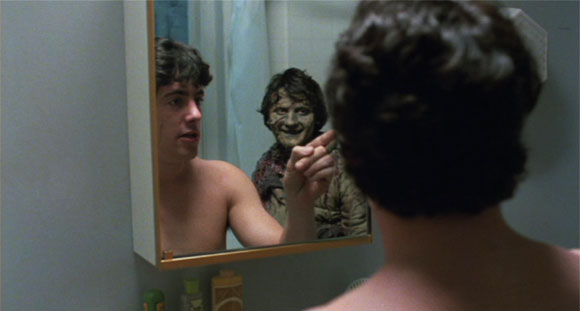 A film worthy of praise for its confident and pioneering use of horror and comedy, John Landis' An American Werewolf in London has a lot going for it. But the make-up effects stand out, not least because this pre-CGI period of filmmaking meant the onus was on the special effects wizards to create some startling graphic horror including what remains the best ever werewolf transformation scene in the history of film. Rick Baker's star-making work to turn a man from human to beast set him on a path of further screen success and laid the foundations to becoming one of Hollywood's finest make-up effects artists.
2. The Exorcist (Friedkin, 1973)
Nominated for Best Picture and winner of Best Screenplay and Sound Editing
Perhaps what's most shocking is that the Academy failed to bestow the Best Actress Oscar upon Linda Blair for her staggering performance in William Friedkin's masterpiece The Exorcist. Still, the film is distinguished by the fact it was the first horror film to achieve a Best Picture nomination and while it didn't win, it did pick up gongs for Best Screenplay and Best Sound Design.
1. The Silence Of The Lambs (Demme, 1991)
Winner of Best Picture, Best Director, Best Actor, Best Actress, Best Screenplay
The most successful horror film in Oscar history, The Silence of the Lambs is based on Thomas Harris' crime thriller about an incarcerated cannibalistic psychiatrist helping an FBI trainee capture a serial killer. Jonathan Demme's screen adaptation brings together the suspense of a police procedural in the midst of a mysterious killing rampage with the legacy story of a former murderer whose relationship blossoms through his interaction with a young, idealistic female federal agent desperate to crack the case. There are hints of horror here, not least the moment Sir Anthony Hopkins as Dr Lecter masterminds his bloody escape from prison. Still, the only horror film to have won Best Picture.
Over to you: what are your fave horror films to have triumphed at the Oscars?
Discover More:
Top 10 Best Supporting Actors Who Were Completely Snubbed By The Academy Awards
Top 10 Oscar-Winning Directors Who Should Have Won Years Earlier
11 Academy Award Best Actor Nominees Who Should Have Won The Oscar
Top 10 Times The Oscars Picked The Right Best Picture
Top 10 Films To Be Snubbed For Best Picture At The Oscars
16 Stunningly Photographed American Films That Were Completely Snubbed By The Academy Awards
This top 10 list was written as part of the 31 Days Of Oscar Blogathon organised by Paula's Cinema Club, Once Upon A Screen and Outspoken and Freckled.