Gary Oldman has delivered some fine performances over the last 30-plus years both as lead and support cast. Here we check out some of his lesser known films to reveal an actor whose talent is not often matched.
Gary Oldman is an incredible actor. Everyone – and I mean everyone – knows this. Critics, audiences, the guy who saw Rosencrantz & Guildenstern Are Dead and the millions that gasped in awe at The Dark Knight. Earning praise from his peers and accolades from the critics over the years, the Academy Award for Best Actor eluded him until 2018 when he won Oscar glory for his portrayal of Winston Churchill in Darkest Hour.
We've already looked at Gary Oldman's best films, now we check out those you might not have seen. In fact, here's 10 must see Oldman films you might never have heard of…
10. Remembrance (Gregg, UK, 1982)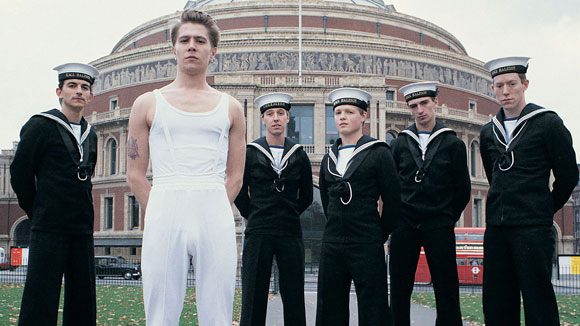 Gary Oldman's first feature film is neither polished nor wholly accomplished despite its subtle qualities, particularly the slice of gritty, blood and guts British realism newly formed public broadcaster Channel 4 wanted to convey in this, one of its earliest film commissions.
What Remembrance does do is introduce us to an actor with the talent, and courage, to immerse himself so completely in character you'd be forgiven for thinking you're watching documentary cinema. Just think about Oldman's turn in Sid and Nancy, for example.
The film takes place over 24 hours as a group of Royal Navy ratings have one last drunken night on the town before setting sail for six months. The film is notable for Oldman's fleeting performance, early career turns from the likes of Timothy Spall and John Altman, and experimental composer Brian Eno's music.
9. We Think The World Of You (Gregg, UK/USA, 1988)
We Think the World of You wouldn't be the first time a Gary Oldman character would tackle themes of sexuality, identity and personal ambition. Here he is Johnny in a sexually suppressive 1950s. He's a young man, married and bisexual, who is sent to prison and, as a result, must give up his beloved dog to be cared for by his parents and older former lover Frank (Alan Bates).
The tragi-comic relationships between the characters are centred around the dog, a sort of custody battle ensuing between Johnny's parents, his wife and his former lover. Its playful spirit reminds Frank of a life he once knew with Johnny while igniting tensions between him and Johnny's family as a result of the dog being abused by the imprisoned man's father.
8. Prick Up Your Ears (Frears, UK, 1987)
Written by Alan Bennett, based on the biography by John Lahr, director Stephen Frears film, told in flashback, chronicles the life and bloody death of head-turning playwright and author Joe Orton (played by Oldman).
Renowned film critic Roger Ebert was one of Oldman's biggest supporters throughout his career. You'll find Ebert often praising Oldman's performances, more noteworthy perhaps in works the critic wasn't otherwise fond of. He liked Prick Up Your Ears though.
Praising the work of the actor and his co-star Alfred Molina, Ebert said: "The great performances in the movie are, of course, at its centre. Gary Oldman plays Orton, and Alfred Molina plays Halliwell, and these are two of the best performances of the year."
7. Rosencrantz & Guildenstern Are Dead (Stoppard, USA/UK, 1990)
Three great actors are on show here as Oldman joins Tim Roth (again) and Richard Dreyfuss. This self-referential comedy-drama features two minor characters from Shakespeare's Hamlet musing over their existence. It's an original and highly amusing tale that, while being Dreyfuss' "show", is complemented by the talents of Oldman (as Rosencrantz) and Roth (as Guildenstern).
If you're not familiar with the film it's because it has its problems. Adapted from the writer-director's own play, there's a distinct sense the material was never meant for the silver screen. The sparkling dialogue is there but it dramatically fails in its transition from stage to screen.
That said, Oldman is characteristically brilliant. Indeed, British movie magazine Total Film named Oldman's Rosencrantz one of the actor's best performances noting his "blitz of brilliant comedy timing and pitch perfect line delivery."
6. Interstate 60 (Gale, USA, 2002)
You might have heard about this one particularly because we featured it as one of Gary Oldman's best films in our top 10 list. But not many people have seen Back to the Future writer Bob Gale's entertaining directorial effort Interstate 60.
I think the film's characteristic weirdness (and charm) is summed up in Gary Oldman's ginger-haired, bicycle-riding genie who sentences perennial nice-guy Michael J. Fox to death after he makes one, morally misjudged, wish.
Then again, the fact he matter-of-factly states he has no penis and smokes a ceramic monkey head that excretes magical green smoke, probably sums it up better, but in this Eerie Indiana meets Dawson's Creek road-movie, nothing can be taken for granted and everything is an illusion waiting to be uncovered.
5. Basquiat (Schnabel, USA, 1996)
Oldman only has a small part in Basquiat, a biopic about the life of Jean Michel Basquiat. He plays Albert Milo, a loose portrayal of fellow artist and the film's director Julian Schnabel. The fact he stands out in a cast that includes lead Jeffrey Wright as Basquiat himself and co-stars David Bowie as Andy Warhol, Benicio del Toro and Dennis Hopper is another indication of Oldman's talent to distinguish himself amongst a top class ensemble.
4. State Of Grace (Joanou, USA, 1990)
Released in 1990 – the same year as fellow gangster film Goodfellas – State of Grace may have fallen into obscurity in the shadow of Martin Scorsese's classic. But it doesn't deserve to be known as a poor man's version of that gangster epic. Featuring some great New York locations, Phil Joanou's film was inspired by the real-life stories of Hell's Kitchen gang The Westies.
Oldman plays Jackie Flannery, a petty Irish gangster under the wing of mob boss Frankie (an electrifying Ed Harris). Sean Penn's undercover cop Terry Noonan – a childhood friend of Jackie – returns to Hell's Kitchen after a decade away to purposely immerse himself in the criminal underworld.
The cast is exceptional but Oldman stands out. As Roger Ebert said in his review: "Oldman's performance in the movie is the best thing about it… the twisted vision of the character, who lives in a world of evil and betrayal and has somehow thought himself around to the notion that he is doing the right thing."
3. Nil By Mouth (Oldman, UK/France, 1997)
I said Gary Oldman films, not performances so that allows me to cheat a little. He's not on screen in Nil by Mouth, his debut as writer and director. However, the qualities we saw from him as an actor are displayed through the wonderful performances he gets out of a stellar cast which includes Kathy Burke (who gives her finest ever turn) and Ray Winstone (who is equally brilliant).
The film is an important one in the career of Oldman. Not least because it's based on his own experiences living on a council estate in London. It depicts domestic abuse, violence and addiction which might hint at Oldman's reasons for taking up acting – that sense of self-preservation through becoming someone else, a person unaffected by the troubles at home.
2. The Firm (Clarke, UK, 1989)
In the 1980s if you cut Gary Oldman's best films down the middle you'd see the same volatile rage and that cliff-edge-overlooking-madness across many of the characters he was choosing to play. Yet, despite these aspects defining the themes of his 1989 film The Firm, Oldman is actually comparatively restrained.
Alan Clarke's look at football hooliganism is a violent, uncompromising and characteristically bleak piece of social realism. Importantly however, the director was keen to redirect attention away from football and onto the perpetrators of hooliganism.
The film suggests that football is the victim. These angry young men "hitting each other" for entertainment is indicative of their pursuit of happiness – a "buzz" says Oldman's master hooligan Bexy – outside of their domestic normality and largely affluent suburban existence. It's actually quite fascinating to see another side of the 1980s "yuppie", one getting his kicks out of bloodying the nose of his fellow man.
1. Meantime (Leigh, UK, 1983)
Two of Meantime's actors would go on to huge Hollywood careers. Gary Oldman as "skinhead" Coxy steals the show despite not having as much screen time as co-star Tim Roth.
Oldman's powder keg character lives on a crevice between rage and psychosis; he's haphazardly destructive and driven by an almost pointless existence. It could be a young Norman Stansfield, the crazed cop he would play a few years later in Leon.
Meantime emits the stench of sink estates as generations of jobless lose sight of any aspiration they might have had, the government's dismantlement of industry and strangled public spending personified through a family on the dole. This contrasts with the widening gap between the working and middle class.
Meantime is very much a product of the period in which it was made but it has aged rather well. It's like a time capsule, offering us a glimpse into Thatcherite Britain at a particularly volatile period of modern British history.
Over to you: what are your fave Gary Oldman films?