Jennifer Lawrence has successfully managed to mix a sassy toughness with a sexiness that makes us go weak at the knees. The talented actress's charm, intelligence and dynamism on-screen has conspired to produce one of Hollywood's most bankable stars.
Jennifer Lawrence might be one of Hollywood's most beautiful stars but her status as a sex symbol is the sort of baggage that comes with celebrity. Lawrence is talented. She's sassy and strong willed, charming and intelligent. She boasts range on-screen, and can play quiet and contemplative just as well as loud and combative.
That said, her beauty has made fan boys and girls purr adding a bankable sheen to the talent she possesses as an actress. In Hollywood, she's the ideal star – sexy and accomplished in her craft. Indeed, her capacity to tackle roles as diverse as a depressed widow in Silver Lining's Playbook to an ass-kicking hero in The Hunger Games is indicative of her prowess and dexterity as an actor.
Here's 10 times Jennifer Lawrence made us (me) go weak at the knees…
Like Crazy
Love Scene
Jennifer Lawrence is the "other" girl in this tale of romance and international borders. Felicity Jones might be the film's star but Lawrence manages to grab some of the limelight with this sweaty love scene.
American Hustle
Dinner Scene
Lawrence's Rosalyn begins an affair with mobster Peter Musane. The dinner scene is deliciously seductive. It's also boosted by Rosalyn's corrosive hatred towards her husband who she's willingly destroying in more ways than one through her relationship with Musane.
X-Men: Apocalypse
Violence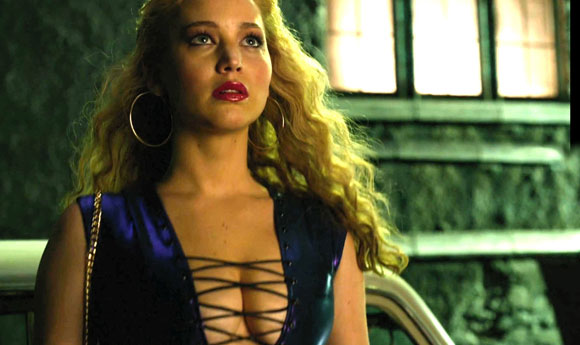 Mutant Raven is in East Berlin, investigating a seedy fight club where she discovers Kurt Wagner, a mutant with teleportation capabilities. During her efforts to help him escape she finds herself one on one with a burly security guard who says, "Did you get lost little mouse" only for Raven to uppercut him into unconsciousness! Feisty!
X-Men: First Class
Beast-iality
A touching moment between Raven (Jennifer Lawrence) and Beast (Nicholas Hoult) whose sexual urges bring out the mutant in them both.
Serena
Passion
The film might be rubbish but J-Law's performance is anything but. She even makes the gooey dialogue of this scene with Bradley Cooper – which leads to a wonderfully passionate kiss – palatable.
Okay guys, get a room!
Passengers
Date Night
Chris Pratt's reaction says it all. Simply "wow" he remarks as Jennifer Lawrence appears in a figure-hugging black dress ready for the couple's first date.
Passengers
Swim
One of Passengers' most visually impressive sequences sees Lawrence's swim become a fight for life after her spaceship's gravity system fails causing the swimming pool to become a ball of floating water, it's prey captured and unable to breathe. My knees end up trembling courtesy of the adrenaline as the scene plays out but it's the actress's scantily clad introduction that makes me blush.
House At The End Of The Street
Animalistic
Jennifer Lawrence isn't immune to the odd stinker and while House at the End of the Street is no Serena it's still lagging behind some of her best work. That said, the film does feature a passionate snog between her and actor Max Thieriot which showed the actress's prowess at delivering a great on-screen kiss! You can feel the chemistry between these two in the scene which definitely gets the knees dithering.
Passengers
First Kiss
Lawrence showcases her display of tough-girl and seductress all in one when she kneels on the mess hall's dining table to grab a kiss with Chris Pratt. It's hardly "first kiss" material, more "that's enough talking, let's go to bed". The grabbing of Pratt's neck to pull him in for the kiss is perhaps what really gets the knees shaking in this scene!
American Hustle
Arguments and Seductions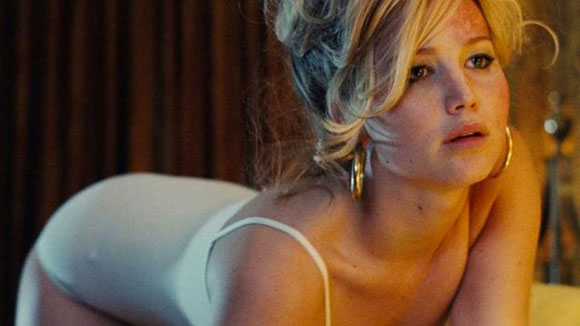 "We fight and we f***, that's what we do" as Lawrence's Rosalyn tries to keep her marriage alive with Irving (Christian Bale). In a film where the con is definitely always on, we're coerced by voice-over to suspect Rosalyn is playing the same sorts of games her husband has been doing for years. I couldn't help but go weak at the knees when the persuasive wife uses her sexiness in body and words to seduce her whimpering husband.
Over to you: do you have a favourite Jennifer Lawrence moment?
Written and Compiled by Rory Fish