Fun in the casino can be had in very different ways, just take a look at our list of the ultimate casino movies to see everything from risky romance in Indecent Proposal, risky profiteering in Casino & even riskier card-playing in Casino Royale.
Whether you're a spontaneous better, devoted gambler, or occasional risk-taker, you can't deny, when the stakes are high, witnessing an unpredictable casino scene can be just as thrilling as the real thing! Our mates at online casino, BGO.com have pulled together a list of the top casino movie scenes from a series of films around the world.
The Hangover (2009)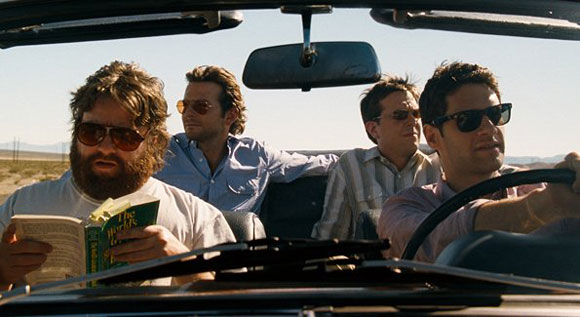 This border-line ridiculous casino scene won't make as much sense if you haven't seen the movie 'Rain Man', but very funny nevertheless. The black sheep of the group, Alan, played by comical genius Zach Galifianakis, has recently finished reading a blackjack guidebook and (far too) shortly after, uses his improbable and unrealistic card-counting skills to win his friends $82,000 in order to help find the missing groom. The scene hilariously parodies other movies that have used the intensity and changeability of blackjack, in an over-the-top and quite frankly, absurd way. The scene has been turned into hundreds of memes, and is a must-see for any blackjack fans.
Indecent Proposal (1993)
High school love birds and happily married couple, Diana, played by Demi Moore and David, played by Woody Harrelson have travelled to Vegas in hopes of winning enough moolah to support David's real estate dream. After betting away their savings, they meet a mysterious and super charismatic billionaire, John Gage, played by Robert Redford. Gage takes a serious liking to Diana, going as far as asking her to roll the dice for him as his special lucky charm. After an evening of casual drinks and playing pool with the couple, he proposes an offer of a lifetime… $1 million, in exchange for just one night with Diana. Desperate for the cash, the couple finally agree, and after initially resisting, Diana inevitably develops feelings for Mr Redford, threatening her relationship with poor, naive husband, David. You will have to watch the full film too find out who she ends up with though!
Casino (1995)
Set in the smoky seventies, Casino is renowned as one of the most classic casino films of all time, and with a cast including Sharon Stone and Robert De Niro, how could it not be? Jam packed with glam, glitz and an abundance of gangsters, it's tricky to pick just one memorable scene, as the entire film captures the excitement, adrenaline, and intrigue of a casino, not forgetting a serious bout of violence. One of the more unforgettable scenes, sees a cowboy refusing to take his feet off the casino table. De Niro, playing Ace Rothstein, politely asks the cowboy to remove his feet. After refusing, De Niro then instructs security to take him off the premises, not only by carrying him out, but using his head to open the doors. As the chaos unfolds, Ace casually watches in the distance as he calmly finishes his cigarette.
Casino Royale (2006)
Topping the list as one of the most intense casino scenes of all time, Daniel Craig, playing James Bond, is seen clashing heads with villain Le Chiffre, in a game of Texas Hold'em poker. Taking place at the fictional Casino Royale, right after Bond is poisoned by one of Le Chiffre's minions, which by the way, doesn't kill him, but sees him through to a four-way-all-in call at a table boasting $115 million. Cut to the dramatic pause where the odds are bound to be beaten. The first player boasts an Ace High Flush (with odds of about 508:1), the second shows off a Full House of 8s over Aces (with odds of 108,289:1), with similar odds, Le Chiffre outdoes them all, and displays his Full House of Aces over sixes. After a series of poker faces Lady Gaga could only dream of, Bond flaunts a straight flush, absolutely destroying the odds of 649,740:1.
Rounders (1998)
Starring an incredibly youthful Edward Norton, and even younger Matt Damon, Rounders is an American drama, which focusses on high-stakes poker. From the get-go your stomach will be in knots, as Mike, played by Matt Damon, is a reformed gambler who desperately needs to raise enough money for his good friend Worm, plated by Ed Norton. Worm basically got himself into a tonne of debt before he was thrown in jail, and is given just five days to pay off all his debt. No pressure. With not a lot of time on their side, Mike joins Worm in a serious race to get his cash back. One of the more memorable scene sees Mike sitting across from Teddy KGB (John Malkovich), who happens to be the man responsible for breaking Mike at the start of the movie, taking every single penny and temporarily ending his poker career. If you haven't seen it already, you'll have to watch to find out what happens next!
21
Inspired by a real-life story, 21 sees super smart M.I.T student and aspiring Doctor, Ben Campbell, aching for a scholarship to transfer to Harvard School of Medicine. A favourite scene from this flick, doesn't even take place in a casino, but rather in the classroom when Ben, played by Jim Sturgess impresses the class and stumps his maths Professor, played by Kevin Spacey with his mad maths skills. After quickly realising he can't afford the exorbitant fees of $300,000, Ben is introduced to a small and secretive club of five by Spacey. The unorthodox Prof Rosa, teaches the crew all about blackjack, while training them on the skills of card counting. Lured in by the potential to make enough money, Ben joins the group on a life-changing Trip to Vegas, where the team use their new skills to make loads of dosh. Ben is overwhelmed by the sheer amount he has won, and soon falls in the trap of greed and self-indulgence.
Ocean's 13 (2007)
After owner and former business partner Willy Bank refuses to set things right with Danny Ocean and his gang, they decide to make it their sole mission to annihilate the reputation of 'The Bank' casino and hotel. Danny's crew do everything they can to mess up the opening night of Willy's hotel, with evil antics like tampering with the slot machines, to stimulating earthquakes using industrial drills. Perhaps the most memorable stunt, was when they gave a professional hotel reviewer the most agonising hotel experience ever possible, while one of them posed as the professional hotel reviewer. Fast forward a few hours, to the final scene, where Rusty (Brad Pitt), sits at the slot machines beside the real hotel critic, who endured the most excruciating, awful hotel stay of his life. In a nutshell, Rusty ensures the ill-treated critic is compensated for the terrible torture they put him through, letting him win the $11,000,000 jackpot that was sneakily rigged!