The longest distance travelled in a single continuous journey in film is Forrest Gump's epic trans-continental jog. InsureandGo studied over 300 of fictional cinema's on-screen journeys – by plane, car, train, foot or otherwise – calculating distances in miles. It found Gump's cross country run across America and back again took the record with an unbelievable 15,248 miles.
On-screen journeys have been a staple of Hollywood film narrative since cinema's early days. Travel is a great discovery tool and as such filmmakers and screenwriters have mined the theme for physical and metaphorical drama.
Travel insurance provider InsureandGo studied over 300 on-screen journeys – by plane, car, train or otherwise – calculating distances in miles. The results make for interesting reading, not least because the longest screen journey was not by plane, as you might expect, but by foot.
You might think a film like Life of Pi would take the top spot. But that epic journey could only manage 2nd place. In a new study from travel insurance InsureandGo, Forrest Gump's trans-continental run, visiting America's Pacific and Atlantic coasts three times, covered an impressive 15,248 miles, trumping Life of Pi's boat voyage by nearly 5,000 more miles.
Gump's journey – made more impressive by virtue of being on foot – beat Indiana Jones and the Last Crusade's 8,000-mile plane flight, and the 6,000 miles ridden in The Motorcycle Diaries.
Surely Planes, Trains and Automobiles ranked highly too, I hear you cry. As it turns out, no it doesn't. The film, which sees Steve Martin and John Candy journey across a portion of the USA in order to get home for Thanksgiving, was only the 46th longest distance travelled in a fiction film.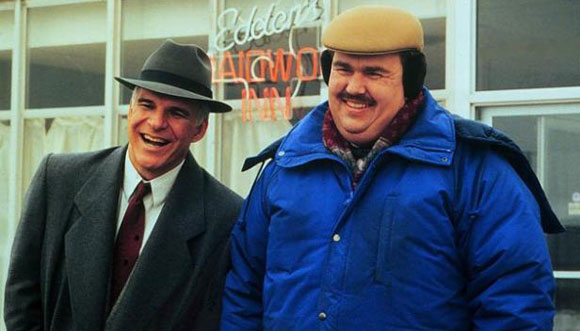 Other notable journeys in film include Walk In The Woods based on Bill Bryson's book (at 50 with 2,200 miles), National lampoon's Vacation (at 41 with 2,571 miles), and Screwball comedy Cannonball Run (at 28 with 2,886 miles).
Rain Man was at 16 (4,383 miles), Into The Wild at 8 with 5,787 miles, and Almost Famous came in at 6 with 5,847 miles.
Conversely, action film The Driver ironically travels just 3.4 miles in total while very few miles are actually covered in Mad Max 2 despite cars being such a focus of the story.
The study, carried out by InsureandGo, looked at over 300 movies from the 1930s to present day, where miles travelled, mode of transport and locations visited were all recorded. 378,244 miles were recorded in total using eight different modes of transport.
You can see the top 50 here.
Discover More:
Road Rage: Top 10 Films Featuring Terror On The Highway | Top 10 Car Chases of All Time | Top 10 Movie Bus Rides To Avoid | Top 10 Movie Train Rides To Avoid | Top 10 Two People Buddy Road Trip Films