It's that time of year again. A joyous celebration of family, friends and togetherness, sharing laughter, good food and a little alcoholic tipple. But before we get there there's the Christmas shopping to get out of the way. Thankfully, Top 10 Films has a few ideas…
Great Tech For The Film Fan
LG 65-inch 4K Ultra HD HDR Smart LED TV

4K home cinema experience at less than £1000 | £990 | Available from Amazon.co.uk
I love this TV. It's huge. It offers that at-home cinema experience at under £1000 and brings the ultra HD quality to you without the need to remortgage the house to get it. LG has a bolong history of producing good quality HD TVs while bringing value to the purchase. It often packages its TVs with high-end specification without the high-end price. The LG 65UJ630V is no different. It even includes a speaker system that packs a punch.
Satisfyingly, the TV provides a perfect harmony between IPS 4K display and HDR technologies generating incredibly rich and vibrant visuals. The IPS 4K display provides enhanced multi HDR delivering lifelike picture. The TV also boasts decent audio despite the need to add a standalone speaker unit or surround sound amplifier to really get the home cinema feel. It also supports 4K resolution and upscale standard definition pictures to 4K-like quality. The multi HDR capability is built with foresight in mind, enabling the LG TV to output both HLG and HDR 10 high dynamic range formats.
Samsung 65-Inch SMART Ultra HD TV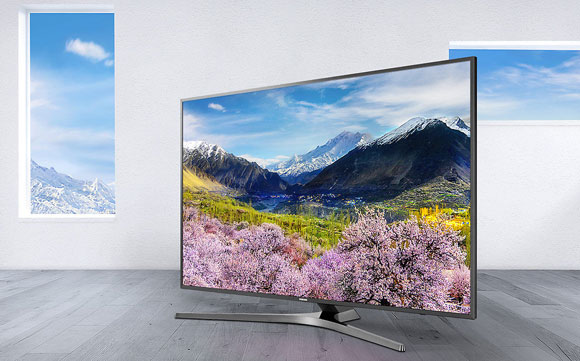 Great 4K Ultra HD big screen TV | £1200 | Available from Amazon.co.uk
Samsung is a personal favourite of mine. I've had many of Samsung's products over the years and never had any problems.
Indeed, I'm consistently wowed by the manufacturer's build quality, materials and longevity. While tech has a shorter shelf life than 20 years ago because of advancing technology constantly bringing new features (rather than products dying), Samsung always give me the peace of mind that their products – particularly TVs – will last the test of time.
This super-sized 65-inch TV enjoys certified Ultra HD colour and HDR with the MU6400 Active Crystal Colour functionality. With over 17 million colours in a wider colour range and a striking UHD picture, films look great if you have the tech to bring out the best of 4K TV and films on Blu-ray. Enhanced High Dynamic Range coupled with a unique 4 stage UHD Upscaling process—UHD Dimming, the picture is impressively detailed and vibrant.
The TV also looks great. It's one of the smartest TVs we tested this year with its plane-like stand and sleek edges. The bezel is refined, a brushed stainless effect giving it a contemporary feel which extends to the stand. A smart TV that looks the part.
Samsung HW-J6000 300W Curved Sound Bar

Minimalist soundbar and subwoofer set-up to boost home cinema sound | £330 | Available from Amazon.co.uk
This curved soundbar has six built-in speakers that deliver a powerful, robust and deep sound stage. Surround yourself with cinema sound without the need to bring multiple speakers into your living room. The Samsung HW-J6000 300W curved soundbar is particularly useful if you've got a curved HD TV. We found during testing that the soundbar produced a good balance between the high and low sounds, delivering a clarity to the dialogue while packing a punch when bass, sound effects and music accompaniment came into play. It helps that a separate wireless subwoofer provides deeper bass. With Bluetooth connectivity you can also enjoy your favourite music wirelessly.
A Big Read
Murder On The Orient Express

A wonderful version of the book from The Folio Society | £31.95 | Available from Folio Society
Very little has to be said about this novel. It's a classic from a great writer. One of Agatha Christie's most loved books will be further in demand this Christmas with the release of Kenneth Branagh's adaptation for the big screen. This follows the brilliant Sidney Lumet version from 1974 with Albert Finney in the role of Hercule Poirot. What makes this version of the novel extra special is the care and attention devoted to it by The Folio Society. Brought to life through the wonderful illustrations of Andrew Davidson, the hardback book is bound in buckram, meaning it'll stand the test of time and be a glorious addition to any book collection.
Ultimate Marvel, Star Wars Visual Encyclopedia, Star Wars: From A Certain Point Of View & Turner Classic Movies Must-See Musicals

Go inside the movies with these great books | £10 to £25 | Available from all good books stores inc. Amazon.co.uk
The popularity of La La Land makes Richard Barrios' book on Hollywood musicals – Turner Classic Movies Must-See Musicals – a must read for those interested in advancing their musical film experience. Spanning nine decades and showcasing the most memorable songs, dazzling dancing and brightest stars ever to grace the silver screen, this is the definitive guide to the genre. Barrios is the perfect host for an in-depth introduction to musicals as he takes us on a journey through the ages. Theere's some great images throughout this very well-presented hardback book while the writing is accessible for all. Never does the book feel too academic while remaining informative without being exhaustive.
Star Wars: From A Certain Point Of View is another fascinating read. Released to coincide with the film's fortieth anniversary and the release of the latest Star War movie, more than forty contributors lend their voices to bring new light to the Star Wars phenomenon. Indeed, the book sees each of the forty short stories reimagining a moment from the original film, but through the eyes of a supporting character. From a Certain Point of View features contributions by bestselling authors, trendsetting artists, and treasured voices from the literary history of Star Wars.
As a taster of what to expect, Gary Whitta bridges the gap from Rogue One to A New Hope through the eyes of Captain Antilles; Aunt Beru finds her voice in an intimate character study by Meg Cabot; and Nnedi Okorofor brings dignity and depth to a most unlikely character – the monster in the trash compactor.
We'd also recommend the Ultimate Marvel guide for big kids and Marvel fans (a definitive in-world guide to the Marvel Comics Universe featuring, in chronological order, every significant Marvel Comic character, location, vehicle, and weapon in the company's illustrious history) and Star Wars Visual Encyclopedia (throwing the spotlight onto carefully curated images and beautiful photography, Star Wars: The Visual Encyclopedia showcases characters and objects from episodes I-VII, Star Wars Rebels, Star Wars: The Clone Wars and Rogue One: A Story Wars. This stunning visual tour of the Star Wars galaxy celebrates everything from extreme architecture and hardworking droids, to ferocious sea creatures and decadent royal gowns).
Immersive Film & TV "On The Go"
Minirig Mini – Portable Bluetooth Speaker

Portable Bluetooth speaker adds a grand stage for your audio when away from home | £120 | Available from Minirig
There's no hiding it. We love Minirig speakers. As Christmas is a great time for giving, why not give your film fan family member one of these little beauties. Ideally suited to music fans who want to enjoy quality audio with depth, clarity and hearty bass with the bonus of small-scale hardware and Bluetooth connectivity, the Minirig speaker is the perfect partner. Now the Bristol-based company is launching a miniature version of its Bluetooth speaker. Measuring just 84mm x 53mm, the Minirig Mini reduces size and weight but doesn't compromise on its ability to project audio you can really feel.
Launching in time for Christmas 2017, the Minirig Mini boasts a custom 2" driver, 15W amp and more than satisfactory 30-hour battery life. Boosted by the latest technological developments, the Minirig Mini features Bluetooth 4.2 apt-X and wireless stereo, app controls, and output to recharge your smartphone, ensuring its leads by example when it comes to the Bluetooth mini-speaker market.
We also like the fact Minirig speakers can be paired with the rest of the range (such as the Minirig subwoofer). Now, without breaking your back carrying them around, you can have a multi-speaker set-up while travelling away from home and never miss an episode of your favourite show or the latest Netflix original movie without quality audio.
Master and Dynamic MH40 – Headphones

Headphones with style and substance | £350 | Available from Master and Dynamic
Master and Dynamic are trying – and succeeding – in marrying style and substance within the headphone market. Indeed, I'm not sure I've ever used a more handsome looking pair of headphones EVER! And you can tell they've been built with quality materials and a lot of attention to detail, the individual refinements really making our test model – the MH40 over-ear headphones – stand out.
These premium over-ear, closed-back headphones will strike a chord with those craving retro design and robust build quality. There are a range of colours available too so the choice is there to find the MH40's for you.
And what you get is a premium set of headphones. The price puts the MH40's in the upper tier of personal audio tech but the value is there for all to see and hear. Audio performance is strong, the stage feeling wide and the bass hitting you hard without being overpowering. There's a good balance between high and low-end tones even if the mid-range can sometimes become clotted when listening to music. For film and TV, however, the headphones are fantastic. Dialogue is meaty, sound effects are clear and defined, music is well-balanced and dynanic.
For those wanting to enjoy films and TV on-the-go, you'll be pleased to heat the ear-cups are closed. They also pivot flat meaning they can be easily packed for travel and while they are weighty, they don't take up an enormous amount of space given their over-ear build.
For those film fans who also enjoy their music, these headphones would be a special gift for a special person.
Plantronics BackBeat 500 Series

Value wireless over-ear headphones | £90 | Available from Plantronics
With BackBeat 500 wireless headphones, enjoy up to 18 hours of deep, rich sound on a single charge and a lightweight, cushioned design that lets you listen in comfort. Plantronics is trying to achieve the challenging task of marrying style, build, features and performance quality to the wireless headphone market at an affordable price. The BackBeat 500 Series achieves this.
Priced at under £100, it is an affordable option for those looking to make the move to wireless headphones. The headphones really hit the mark on performance. There's a good balance between the soundstage with some incredibly good bass reproduction. This is ideal for film and TV watching. Outside noise is nicely blocked out by the over-ear design too.
There's another bonus too – multipoint Bluetooth pairing meaning you can connect two devices simultaneously. There's also the DeepSleep mode which maintains battery charge for up to six months when your headphones are out of range or left on, a built-in microphone for taking phone calls and an impressive range of 33ft.
These headphones are a great alternative for those wanting to go wireless without breaking the bank.
NC-60 Active Noise Cancelling Headphones

Noise cancelling, affordable over-ear headphones | £60 | Available from Lindy
Lindy have managed to produce over-ear headphones that successfully provide noise cancelling technology that reduces a lot of the backgroud noise you'll hear on your daily commute. That makes these headphones perfect for those wanting an affordable over-ear option for watching film and TV while commuting to and from work.
Gadgets For Movie Mad Kids & Adults
Roku Express

Turn your TV into a Smart TV and access thousands of On Demand movies | £20 | Available from Roku & electrical retailers
Roku is a strong brand in the online streaming world. We've enjoyed the use of their devices in the past and always noted their reliability, functionality and ease of use. The Amazon Firestick probably leads the way, if only in brand recognition but Roku's competition continues to offer a value-for-money alternative with, in some areas, significant pluses.
For those wondering whether or not the Roku Express is for them, note that it'll meet all your needs in regards to access to Netflix, Amazon Prime Video, Hulu, and lots of other channels in full HD. The Roku Express is a new device that entered the UK market in the autumn. Importantly, it purports to e five times faster than the previous model. Although we wouldn't want to put a number on it, our tests showed that the new Roku Express is indeed faster than the previous model we tried last year.
The Roku Express benefits from shedding additional functionality that might limit its speed. Yes, spend more and get more, but the Roku Express does everything it sets out to do with effortless ease. It supports full HD video (1080p), connects via HDMI, has a Dolby Audio via HDMI, basic but perfectly acceptable Wi-Fi connectivity, offers screen mirroring for Android and Windows devices, and provides voice search and private listening using the Roku mobile app.
Other bonuses include the fact it comes with a High Speed HDMI Cable, set-up is very straightforward (you'll be watching TV and films in next to no time), and the free Roku app adds further things to play with such as private listening and "cast to TV" options.
You'll need to subscribe to services such as Amazon Prime, NowTV and Netflix there are free apps in the Roku store to keep you entertained. Indeed, the Roku Express is useful for watching catch-up TV or streaming your favourite YouTube channels on your TV. But perhaps the biggest plus is the remote control which brings another element of simplicity to using the Roku, adding further value to an already very affordable initial cost.
Jabra Sport Coach Wireless Bluetooth Earphones

Wireless in-ear headset | £50 | Available from Jabra
These wireless sports earbuds boast intelligent audio coaching optimised for cross training and indoor work-outs. The earphones come with an integrated cross training app. The Jabra's are available at half price at most electrical retailers so keep an eye out for a bargain. At £50 they're good value for those wanting an in-ear wireless headset for watching films on the go. I particularly liked using the Jabra earphones for watching films on my phone during the morning and evening commute. They offer good quality sound with a decent amount of bass and passive noise cancellation.
Flic Smart Button

Turn the lights down without leaving your sofa | £29.99 | Available at flic.io or amazon.co.uk
Flic describes itself as a "smart button". It's best thought of as a device that can access and control things your apps do on your smartphone. Compatible with iOS and Android smartphones the Flic Smart Button can be used for a number of things: order pizza, control music, and turn down your living room lights. I had fun using it alongside my Philips Hue set-up to dim the lights in time to my movie starting. It really gave the home cinema a "real" cinema feel.
There are lots of things you can do with the Flic Smart Button, the fun is discovering it all. Everyone will be different. I found it easy to use and set-up with an Android phone. iOS users shouldn't have any problems either. What's even better is that the device can be tailored to all kinds of tasks, meaning it's good for mums and dads wanting to make a quick takeaway order, cyclists and runners connecting to Strava or Runkeeper, the driver wanting to let their loved ones know they're on the way home via text message, or kids wanting to take selfies for afar.
RCA by Ventura Mercury 7L

Great for streaming movies on a budget | £49.99 | Available from Asda.com
I don't advocate kids watching too much telly but sometimes it's a necessity to maintain a parent's sanity. Yes, finally some peace and quiet! But TV and film can be educational and the shows available via online streaming and digital download open kids' minds, help them learn about the world, and encourage them to use their imaginations. The Mercury 7L does a great job for this purpose. It's lightweight so small children can hold it while watching or you can set it up in the car for long journeys.
What I particularly like about this tablet, which boasts a seven-inch touch screen with a display resolution of 1024 x 600, is the price. The worst thing is spending a lot of money on something the kids are likely to get sticky fingers all over. The Mercury 7L can withstand a few sticky fingers and the odd drop on the floor but, because it doesn't break the bank, can be replaced if needs be. For the price, it's relatively powerful boasting a Quad Core 1.3Ghz processor with 1GB RAM, 8GB of internal memory and built in Wi-Fi capability. In addition to watching films and TV, kids can take photos with the built-in 1 mega pixel camera while Micro SD and Micro USB ports enable data transfer and charging.
Keeping The Kids Happy
"Olaf's Frozen Adventure" Toys, Costumes and Accessories

Inspire the kids' imaginations with toys, costumes and accessories from Disney to celebrate Olaf's Frozen Adventure | £5 – £100 | Available from Disney
Following the announcement of the new "Frozen" mini movie, "Olaf's Frozen Adventure", which will be screened in cinemas across the UK in front of the much-loved original movie on 25th and 26th November, A new range of toys, costumes and accessories inspired by the new mini-movie Olaf's Frozen Adventure. They are available in the Disney Store and online (www.disneystore.co.uk). The new animated holiday featurette, which includes four new original songs, welcomes back the original cast and characters to the big screen, including Olaf (Josh Gad), who is on a mission to harness the best festive traditions for Anna (Kristen Bell), Elsa (Idina Menzel) and Kristoff (Jonathan Groff).
Frozen fans are in for a festive treat with the range of new toys, as they can dress up like the Arendelle princesses Anna and Elsa with brand-new dresses styled from the new holiday featurette. Olaf himself can also come home for the holidays with the new Olaf soft toy – a spectacular singing and swaying snowman, with changeable features including a colourful candy nose. There is also the Olaf's Frozen Adventure Snow Globe (£16.99), which captures Olaf's whimsical joy along with his candy cane nose. Kids can also enjoy the wintery magic of Arendelle with the new Arendelle Castle Playset, which offers the keys to the kingdom and includes a chiming bell tower, the Deluxe Figurine Playset, including all your favourite Frozen characters, or the Doll Special Gift Pack, with the singing dolls bringing musical joy accompanied by a medley of accessories.
Other new toys include a 23-piece Olaf's Frozen Adventure Travel Art Kit (£14.99 RRP) for when you're on the go or simply wishing to store children's crafty essentials in one neat place. The set features beautifully festive character artwork from the new mini movie. The range also includes Anna and Elsa Doll Set (£27.00 RRP), an Elsa and Anna Soft Doll (£17.99 each RRP), a Kitten Small Soft Toy (£14.99 RRP) and a reusable large Shopper Bag (£4.00 RRP).
Goodnight Baby Moon

Wonderfully illustrated bedtime story with self-illumination | £11.99 | Available from DK Books and all good book shops
A delightful bedtime story, Goodnight Baby Moon gives children a gentle, basic introduction to the phases of the moon with emotional, textual and visual appeal. With easy-to-follow text, simple rhythmic phrases and beautifully designed pages, little ones will want to return to this book again and again. A light up LED moon on the front cover will enchant little ones and enhance the reading experience.
Jolly Jingly Christmas

Immersive stories for children who like interactive reading | £12.99 | Available from DK Books and all good book shops
Jolly Jingly Christmas is an exciting board book with five sturdy flaps for preschoolers to lift, and five festive noises to delight, including a laughing Santa and a carrot-crunching reindeer. Develop your child's language with the rhythmic read-aloud rhymes, then work together to guess who or what could be hiding under each flap.
Gifts For Film Fan Mums and Dads
Christmas Jumpers

National Lampoon's Christmas Vacation jumper | £33 | Available from Absolute Cult
Celebrate the holidays with the calamitous Griswald family with this excellent piece of officially licensed National Lampoon's Christmas Vacation merchandise. Made from an 80% cotton / 20% polyester blend, this National Lampoon's Christmas Vacation sweatshirt comes with branded neck label and swing tag to prove its authenticity. I'm wearing it for the office Christmas party!
Snuggling Up…

Heat Holders blankets will keep you warm this Christmas | £26.99 | Available from Heat Holders
Snuggle up with a thermal Heat Holders blanket and never feel cold again. Guaranteed to keep you warm no matter how cold it is, these soft, warm blankets feature Heat Holders' much tested technology in their design so you can rest assured that they'll keep you warm when you settle down on the sofa in front of a good film!
Enhance The Home Cinema Experience With Blankets & Film-Style Lamps

Great gifts to enhance the living room | £10+ | Available from Red Candy & Gingersnap
We particularly liked the movie-style lamps from gingersnap. The minimalist design has a movie-set feel to it that's perfect for the film buff. We also had the chance to wrap up warm on these cold winter nights with a Tolly McRae pure new wool blanket. The Damson Gin blanket is a rich autumnal fruit colour, woven with a large cream herringbone pattern and off white fringe. It's ideal for draping over armchairs and sofas, and ideal for protecting upholstery from furry pets.
Electronic Diffusers

Ellia Reflect Ultrasonic Essential Oil Diffuser | £89.99 | Available from Homedics
With its upright design and translucent cover, the Ellia Reflect Diffuser is a striking choice for any room. Consciously crafted from glass and wood, it gently lifts the scent of your favourite essential oils into the air to transform the mood of your space. The Reflect Diffuser comes with a convenient remote and delivers up to 7 hours of continuous runtime. It also features a colour-changing light, a library of relaxing and uplifting sounds, and an Essential Oil Starter Kit with two samples.
DVDs & Blu-rays

Wonder Woman tops the list of films released on DVD and Blu-ray in time for Christmas | £10+ | Available from Amazon.co.uk and other retailers
On the home video front, DC's most critical and commercial movie success Wonder Woman stands out. The film is available in time for Christmas on DVD and Blu-ray.
Gifts For The Film Buff
The Coen Brothers: The Iconic Filmmakers And Their Work

Beautifully presented hardback; informative look at the Coen bros. work | £25 | Available from Amazon.co.uk
One for Coen brothers fans, this gorgeously presented hardback book from acclaimed film critic and Coen fanboy Ian Nathan is a lavishly detailed and fascinating in-depth look at the world of Coen brothers' movies. If you're a fan of Raising Arizona, Fargo, The Big Lebowski and many other darkly comic classics from the Coens, then this is an ideal purchase for you. If you know fans of these films, consider this a safe bet as a Christmas gift.
Nathan delves into the extraordinary lives of the Coen brothers to reveal how they survived flops and triumphs alike, never once compromising their vision, to become two of the world's most interesting, distinctive and creative filmmakers. Stunning images (over 100 are included featuring candid shots, on-set photography, movie stills and more) enhance this immersive read while Nathan delves deeper to discuss how the Coen brothers have influenced other films and filmmakers while collaborating on projects such as Steven Spielberg's Bridge of Spies and Angelina Jolie's Unbroken as well as looking at other producers that they frequently collaborate with.
Nathan's always been an engaging writer and The Coen Brothers: The Iconic Filmmakers And Their Work benefits from his entertaining prose as well as his research which sees the book boast lots of great anecdotes and interviews. Beginning with their upbringing in the Minneapolis, MN suburb of St. Louis Park, to their paths out of the Midwest to film school and onto Hollywood, Nathan shows how it all merged, influenced and informed the brothers' filmmaking. Perfectly timed to publish alongside the Coen Brothers' newest film, Suburbicon, The Coen Brothers: The Iconic Filmmakers and their Work looks great on your shelf with its elegant slipcase.
Live Cinema And Its Techniques

Francis Coppola on modern film technique; great for those serious about cinema as an art form | £19.99 | Published by A Liveright Book
Exhaustively detailed but not an exhaustive read, Francis Ford Coppola's Live Cinema and its Techniques is a non-fiction book for serious movie fans. Coppola is a natural storyteller – just look at his array of classic films including The Godfather, Apocalypse Now and The Conversation – and he brings that talent to his prose. He discusses his own experiences with autobiographical flair alongside his theory on what he calls "live cinema". Coppola suggests that digital movie-making, like live sports, can now be performed by one director or by a collaborative team working across the internet, to produce "live" films of the quality we've seen from works that have been in production for months or even a year. With lively anecdotes and invaluable tutoring, the book is ideal for serious film fans, students and academics.
Alien: Augmented Reality Survival Manual (AR)

An immersive tour of the Alien universe | £17.99 | Available from Carlton Books
Carlton Books welcomes fans of Alien to experience the franchise's world like never before with its fully interactive augmented reality book. See more in our review here.
Bollywood

The perfect introduction to the world of Bollywood | £25.00 | Available from DK Books
Bollywood continues to grow in popularity in the UK. But for some, this genre within Indian cinema, remains a mystery. This book, with a foreword from actor Amitabh Bachchan, charts the history of Hindi cinema which continues to produce more films than anywhere else in the world. Informative writing, brilliant photography, and insightful biographies on Bollywood cinema's biggest stars now and in the past.
Star Wars Stocking Fillers
Star Wars™ Made Easy

DK's beginners' guide to Star Wars | £12.99 | Available from DK Books and all good book shops
Star Wars Made Easy is specifically aimed at novices who want to get up to speed and make sense of the Star Wars references that permeate modern culture. This fun book provides pro tips for navigating all of those tricky Star Wars-infused conversations through a series of infographic movie timelines and character profiles, plus a glossary, a pronunciation guide, and a Skywalker family tree. Fun and accessible, Star Wars Made Easy prepares readers to engage in lively Star Wars banter, field questions about the dark side and confidently participate in major fan debates.
Where's the Wookie 2 & Star Wars Millennium Falcon Model-Making Book

Good stocking fillers at low prices | Under £5 | Available from Egmont
Build your own Millennium Falcon! Join Han Solo and his co-pilot Chewbacca for an adventure in the Star Wars Millennium Falcon Model-Making Book which is filled with fun facts, character profiles, ship schematics and story moments from across the entire Star Wars saga. Press out the pieces to build the Millennium Falcon – with no glue required! When fully built this model is approximately 30x30cm and has moveable cannons and radar dish. Removable panels allow you to look inside to find out more about this famous freighter.
Elsewhere, in the exciting sequel to the bestselling Star Wars book of the past 10 years, Where's the Wookiee, Chewbacca is back and on the loose across the galaxy, and this time he's brought some Wookiee friends. Find the hairy hero and a host of favourite characters in another, even more fiendish, search and find adventure. Where's the Wookiee? 2 features all new locations from Star Wars: The Force Awakens and Rogue One: A Star Wars story, as well as scenes from throughout the Star Wars saga.
Star Wars Keep Cups

Keep your drinks warm with this Star Wars range from KeepCups | From £14 | Available from www.keepcup.com
Global sustainability champion and reusable cup manufacturer KeepCup is celebrating Christmas and the launch of the latest Star Wars movie in intergalactic style this year with an exclusive new Star Wars range of its hit reusable cup.
KeepCup's Star Wars range has been designed to enable wannabe wookiees and sustainability-conscious Jedis nationwide to bring balance to the force through their daily cup of coffee and help reduce the millions of disposable cups sent to landfill every day.
Star Wars: The Last Jedi is released on December 15 and KeepCup's Star Wars range is available nationwide in the run up to the blockbuster release and in perfect time for Christmas.
KeepCup's Star Wars range includes its Original, Brew and LongPlay cups being transformed into familiar faces from the Empire, including BB8, R2D2, Stormtrooper, Rey, Darth Vader as well as Chewbacca, which is new addition for 2017.
The Star Wars KeepCups are available to purchase individually or as part of a new for 2017 limited edition collector's box set, which includes exclusive Stormtrooper, Darth Vader and R2D2 lapel pins.
While its Star Wars range is fun and light-hearted, KeepCup's goal is to enable people to make small changes to their everyday routine to address a pressing worldwide concern.
"Every minute, over one million disposable cups are discarded to landfill around the world," says Abigail Forsyth, KeepCup's founder. "We're talking about waste on a monumental scale, but it doesn't take a monumental act to address it. Choosing to reuse and divert disposable cups away from landfill is one small way we can all make a difference."
Star Wars-Inspired iPhone Cases

Lots of Star Wars-inspired gift ideas including iPhone and iPad cases | £10+ | Available from personalise.com
Star Wars Stationary

Star Wars-inspired stationary for children | £2+ | Available from Maped Helix
Feel The Force With New Maped Helix Star Wars™ 40th Anniversary range. Helix's iconic Star Wars™ themed stationery collection is based on the original range that has become highly collectible and valuable. Each piece features a favourite Star Wars character combined with Helix's original 1977 creative design, to make it the ultimate gift for Star Wars™ fans this Christmas.
Helix's NEW Star Wars™ Office range includes Rebellion-themed or Imperial-themed stationery gift sets, making them the go-to secret Santa gift for the Star Wars™ fanatic in the office. Enabling your colleague to feel the force this Christmas, these sets include all the essential office stationery items, adorned with the famous Light-Side or Dark-Side theme! The Rebellion gift set includes a Millennium Falcon hole punch, a R2D2-themed quality stapler, and X-Wing fighters themed scissors. The Imperial Stationery gift set includes Stormtrooper Scissors, a Darth Vader Stapler as well as a Darth Vader's TIE advanced fighter themed hole punch.
A Christmas Tipple
Masons Yorkshire Gin – Tea & Lavender Editions

Masons has extended its range to include some exciting new gin flavours | £13+ | Available from Masons and supermarkets
Rock Rose Gin

Gin and tonics don't get any better than with Rock Rose | £34 | Available from Dunnet Bay Distillers and supermarkets
Co-op Wine & Spirit Range

A range of quality wine and spirits at great prices from Co-op | £4.69 | Available from Co-op
Co-op has a number of terrific Christmas tipples available this year for affordable prices. We particularly enjoyed the Co-op Soave, partly because it comes from Verona, the home of Romeo and Juliet, but mainly because its delicious. A perfect white wine for pre-dinner or dinner drinks.
The gin market in the UK is very competitive. Co-op has its work cut out. But it equips itself well with the Irresistible London Dry priced at £17.49. For those wanting gin with their tonic, this is a cheaper option than the premium gins on the market.
Seasonal Wines

Wine for Christmas | £5+ | Available from various supermarkets/retailers.
David Gill, Master of Wine at supplier Kingsland Drinks, says: "The best wine doesn't have to cost a fortune, but it's often hard to know what to look for with so much variety available." That's why Kingsland Drinks has put together a top 10 list of its favourites for Christmas 2017 with a range of white, red, fizzy, sweet and dry to satisfy most taste buds.
We particularly liked the the fizzy Shorn New Zealand Pinot Grigio, a variety of white wine we'd only tried sans bubbles in the past. Pinot Grigio, especially from New Zealand, has also been a favourite. As Prosecco proves ever-popular, it's understandable to think a fizzy Pinot Grigio, available from Oddbins for £8.75, could enjoy the same kind of success. We were delighted with its creamy notes and gentle fizz as a pre-dinner celebratory tipple.
The Andrew Peace Chardonnay was also a favourite of ours. Not overly sweet but with enough fruity notes to counter the salty flavours of say, a cheese platter, this Australian white wine is a great choice for after-dinner. It's also a bargain at £5.29 from the Co-op.
Party Drinks

Shots for the after-dinner party | £2.99 | Available from Amazon.co.uk and in B&M stores
The traditional pre-going out routine is about to be shaken up with the launch of the fun and innovative Slingshots. The exciting dual-flavoured shots hit UK shelves in the autumn and make perfect stocking fillers for over 18s wanting a low-cost party-starter. The ready-to-drink shots come in a 30ml twisted cup in three flavours.
Each variant is split down the middle and features two popular liqueurs, measured for the perfect shot that mixes in your mouth. This eliminates the complexity around having to buy several liqueurs to pre-mix, making it perfect for gatherings with friends and/or as a pre going-out drink.
Each Slingshot has 16% ABV, which is lower than the usual 20% for RTD spirit based drinks, with each shot containing less than half a standard drink. The low alcohol content allows consumers to try a few delicious flavours while still ensuring they are drinking responsibly. The selection of fun flavours and their vibrant packaging mean they're set to be every millennial's go-to drink.
The Whisky Exchange

Range of characterful whisky for after dinner | £30+ | Available from The Whisky Exchange
For us, it's time for whisky as the evening is drawing to a close. And what better way to close Christmas Day than with one of The Whisky Exchange's range of characterful range. We particularly enjoyed Pure Islay, the lower strength release of Elements of Islay's Peat which is a blended malt Scotch whisky.
Bottled at 45%, this has the same classic Islay character as Full Proof – notes of fruit, spice and smoke – but with less power that makes it a great introduction to Islay whisky.
Written by Amilia Totten, Rory Fish and Dan Stephens