If you're a Sky Cinema subscriber, there's plenty of great Christmas films to watch in 2017. Here's Top 10 Films editor Dan Stephens' choices from the Sky Cinema Christmas collection…
How The Grinch Stole Christmas (Howard, 2000)
Jim Carrey is terrific as the Grinch, an unhappy inhabitant of Whoville. He hates Christmas. But the town he lives in loves the festive period and therefore dislikes him. He spends his time concocting pranks to play on the Whos. When a little girl becomes interested in the Grinch, she begins to trace his history, finding out he had a troubled upbringing and was bullied at school. Inviting the Grinch to a celebration it all goes wrong and he causes havoc. But displeased that he has failed to stop the Whos from celebrating Christmas he devises a plan to steal all the presents. Ron Howard directs this delightfully staged film that features some imaginative production design and an excellent performance from Carrey.
Home Alone 2: Lost In New York (Columbus, 1992)
How does one repeat the financial success of Home Alone? Answer: by remaking it two years later in a different location. Yes, Home Alone 2 is almost a scene by scene retread of Home Alone, but there are enough little moments of inspiration to entice lovers of the first film back for another ride. Heck, we go on roller-coasters time and time again and they are exactly the same ride. Home Alone 2 is the film version of re-riding the roller-coaster.
The Polar Express (Zemeckis, 2004)
Tom Hanks plays six different roles in this visual feast, a film photographed using state of the art motion-capture. It's about a boy who wants to believe in the true spirit of Christmas. On Christmas Eve, he is is whisked away on the Polar Express and taken on a magical journey to the North Pole. I've always enjoyed the first half of the film (the train journey) more than the second half (at Santa's home) but the film benefits from its awesome animated photography, a grand score, and a genuine sense of imagination that's perfect for its Christmas themes.
The Muppet Christmas Carol (Henson, 1992)
The Muppet Christmas Carol sees Jim Henson's puppet creations play the roles of the various ghosts and other characters while Michael Caine rejuvenates his career as Ebenezer Scrooge.
A Christmas Carol (Zemeckis, 2009)
Director Robert Zemeckis and actor Jim Carrey, who appear in this list for a second time each (for The Polar Express and How The Grinch Stole Christmas respectively), join forces for 2009's cinematic retelling of Charles Dickens' Christmastime story. The film dazzles with its wonderful visuals as Zemeckis once again uses motion-capture to create his make-believe world.
The Nightmare Before Christmas (Selick, 1993)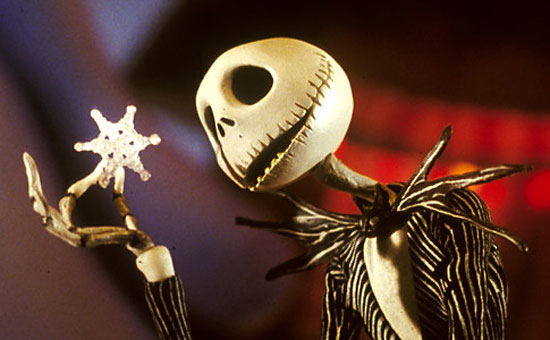 Produced by Tim Burton and directed by Henry Selick, The Nightmare Before Christmas is one of the most original Christmas films you're ever likely to see. It is a terrifically dark, funny and visually stunning film that uses the stop-motion technique in realising its macabre world.
Bad Santa (Zwigoff, 2003)
I didn't think I would ever find myself saying that if there was a role tailor made for Billy Bob Thornton it would be Santa Claus. That Santa is a shopping-centre-robbing drunk with a keen eye for a sarcastic remark and a total disrespect for himself and everyone else is perhaps more illuminating on the matter. Thornton, in a word, dazzles. He's simply superb as Willy T. Stokes, an alcoholic shopping mall Santa who moves around from store to store every year supposedly bringing Christmas joy to children everywhere but secretly plotting, with his accomplice Marcus (Tony Cox), to rob the mall's on Christmas Eve. Glenn Ficarra and John Requa's brilliantly sardonic script is matched by Thornton's acerbic delivery. The support cast, including Bernie Mac and John Ritter, is also top-notch. This is one of the funniest films I've ever seen.
Trading Places (Landis, 1983)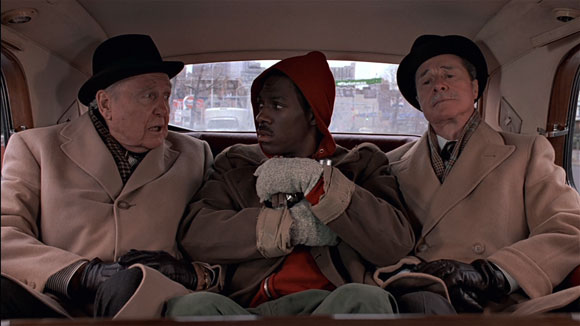 Set over Christmas and New Year, John Landis' Trading Places is one of my favourite films. Dan Aykroyd and Eddie Murphy make a wonderful comedy duo, but they are aided by an excellent script that makes light of the corporate shenanigans so prevalent in 1980s New York. It is great seeing Aykroyd dress up as Santa – or should that be a drunk, depressed, anti-social, suicidal and homeless Santa!
It's A Wonderful Life (Capra, 1946)
Prescribed by lazy psychiatrists as a remedy for their patient's depression, It's A Wonderful Life is Hollywood's answer for increasing those serotonin levels. It remains a firm favourite amongst audiences for its life-affirming story and James Stewart's wonderful performance.
Scrooged (Donner, 1988)
Scrooged deserves to top so many lists – best Bill Murray, best film based on Dickens' A Christmas Carol, best use of 12 sharp knives as a Christmas gift, and, perhaps most importantly, best Christmas film of the 1980s. Richard Donner directs this updated version of Dickens' classic tale as Bill Murray plays an egotistical, self-centred, conceited television producer who has shunned friends and family in order to progress up the corporate ladder. In keeping with his anti-family ethos, he has everyone working long hours through Christmas in order to produce a special Christmas show. As in Dickens' novella, Murray's character Frank Cross is visited by three ghosts who show him various parts of his life to example the error of his ways. The film is wonderfully funny thanks to a marvellous performance from Murray who has rarely been better in a comedic role.