It doesn't matter if you are a gambler or not, the moment you come across a gambling movie scene your hearts start to race faster, and the suspense gets the adrenaline going.
The thrill these gambling moments give is undeniable. Some of these real life moments have made real life gamblers relate their gambling practices to what they see on screen, all the way from winning to losing and inversely.
There are plenty of great scenes revolving gambling in various movies and TV series. Moreover, there are certain motion pictures that are entirely dedicated to casino and gambling. Gambling has evolved vastly, from the time of roulette and poker to online casinos and betting. But there are some evergreen classical moments in global movie history which would never get compromised in terms of their excitement level. We have gathered a list of those enduring yet heart throbbing moments for you. Here's your list…
Goodfellas
The performance of loose cannon Joe Pesci shocked viewers till the end of the movie. The unforgettable scene occurs when Joe starts playing with a bartender named 'Spider'. Tommy DeVito orders a drink from the bartender, but he refuses, and that's when all the tension starts in the movie. Poker is a game of choice, but not for all! The plot of the movie is excellent, and it is probably the best movie of Joe Pesci's whole career.
Rounders
Seeing Mike (Matt Damon) at a poker table against Teddy KGB (John Malkovich) makes everyone nervous and excited at the same time. The movie stars Matt Damon as Mike, who is under a huge debt and the last chance he has to pay off his debts is at the poker table against the Russian, KGB. The game intensifies hugely during the last game where Mike plays for all or nothing. Either he wins all and clears his debts, or he loses everything. Teddy KGB, with his slow movements and exclusive acting skills, steered the movie excellently.
Swingers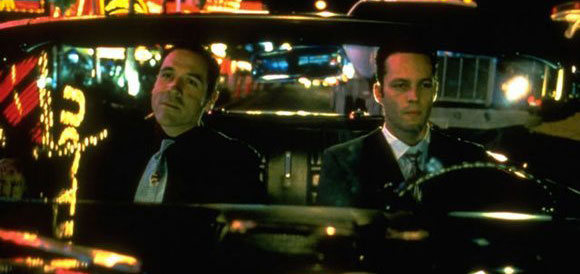 It was one of the best movies of the 90s. It features a classic road trip to Vegas of 2 friends and their casino action exploration. Trent and Vaugh, the duo heads to a casino where Mike goes over to the Blackjack table trying to be a high roller, bets $300 and then their spat begins over Trent's 'double down on 11'. The hilarious spat is worth watching multiple times.
Casino Royale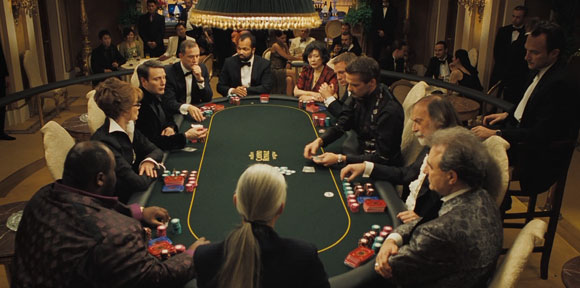 One of the biggest casino wins in cinematic history along with the most iconic scene in the history of gambling is what this movie has in store for you. It is an all-time movie for gambling lovers with the most intense casino scene. James Bond (Daniel Craig) faces off against Le Chiffre (Mads Mikkelsen) in Casino Royale where he makes one of the biggest casino wins even after getting poisoned.
Ocean's 11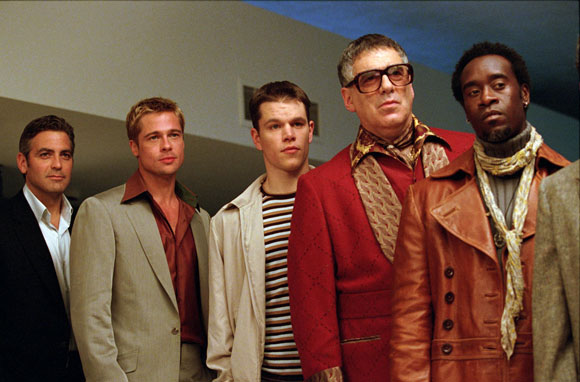 The cracking intro starring Brad Pitt and George Clooney is wittingly outrageous in this movie. The scenes highlighting Brad Pitt teaching how to bluff and the way he called off George Clooney's bluff are inspiring for many real life players. The movie features superbly shot scenes. For the people who know how to play poker the movie is filled with rib tickling poker scenes.