Updating classic film noir of the 1940s and 1950s, neo noir is the genre that brings stylish crime and mystery drama together with contemporary themes and aesthetic extravagances to produce movies that are distinct and memorable.
In the 1940s and 1950s a series of low budget, black and white, hard boiled detective and mystery crime films grew in popularity. Their aesthetic qualities were inspired, in part, by German expressionism of two decades previous. Later, cinema academics labelled this genre "film noir". Critics argued film noir explored postmodern examinations of masculinity, violence and social decay. The Maltese Falcon, The Big Sleep, Kiss Me Deadly, Touch of Evil, The Third Man, Double Indemnity and Strangers on a Train all became classics of this particular form of cinema.
Classic film noir slowly died around the late 60s when colour film became more popular. The downbeat overtones and overt style of film noir, as well as its preference for black and white, grew stale for audiences. However, for true film buffs, film noir never went away. Indeed, it inspired filmmakers to deconstruct the genre, interpreting it in new ways. Jean Luc Goddard's Alphaville, for example, saw a classic film noir story take place in a sci fi setting. From then on a new genre based on film noir rose in prominence. Known as neo noir, the themes and ideas of the film noir genre remained mostly intact, but they were updated to capture contemporary sensibilities. Here's 10 of the best neo noir films.
10. Mystery Road (Sen, 2013)
Film noir being adapted and modified in other cultures is incredibly fascinating. Japanese director Takashi Miike took film noir and added gore, comedy and all manner of weirdness in his works like Dead or Alive, Audition and Fudoh The Next Generation; Taiwanese director Ang Lee (who made Crouching Tiger Hidden Dragon, Brokeback Mountain and Life of Pi) made the erotic espionage film noir-inspired Lust Caution; Park Chan Wook's South Korean classic Oldboy is awesome; and French icon Luc Besson made film noir infused epics like La Femme Nikita, Leon the Professional and 2017's Valerian the City of a Thousand Planets. But my personal favourite non-American neo noir film is Mystery Road by Aboriginal director Ivan Sen. I already gave some info on this filmmaker in another article but the basic fact is Mystery Road is a perfectly made neo noir with Australian influences. It never devolves into parody; never panders to the audience or tones down its themes. It's a dark, well crafted, well told neo noir that can be fairly disturbing at times and boasts a particularly memorable opening.
9. Memento (Nolan, 2000)
One aspect of classic film noir that neo noir loves to utilise is the twist ending. In fact, there's been a bunch of neo noir films that are more famous for their twists than anything else. Seven, The Usual Suspects, Shutter Island, The Limey and Reservoir Dogs fit the bill. But if I had to pick the most satisfying twist that has the best execution overall, it'd go to Christopher Nolan's Memento. I won't spoil the twist for those who've not seen it, but it's basically the perfect execution – and denouement – of the mystery story. It's a great emotional twist. The reverse narrative structure may seem like a gimmick to delay the reveal, but it's actually an in-universe rule based around the main character's memory loss. This wouldn't be the last time Nolan would take a neo noir inspired story and give it his elaborate touch. Insomnia, The Prestige and Inception all reveal elements of neo noir, but Memento is the best.
8. The Nice Guys (Black, 2016)
Crime comedies work well for a broad audience base. Take the popularity of Beverly Hills Cop, The Big Lewbowski, 48 Hrs and Hot Fuzz, for example. But when it comes to combining mystery, crime and film noir, the mastermind is Shane Black. Screenwriter of Lethal Weapon, The Last Boy Scout and The Long Kiss Goodnight, and the writer/director of Kiss Kiss Bang Bang and Iron Man 3, Black's masterpiece is, however, 2016's The Nice Guys. Russell Crowe and Ryan Gosling as a pair of bumbling Private Detective's trying to solve a convoluted mystery is one of the best comedies and best neo noir flicks to be seen in years. Fun, funny, exciting and engaging, you should pick this up, especially before his next film The Predator comes in 2018 (of which he was an actor and uncredited writer on the original Arnie classic).
7. Renaissance (Volckman, 2006)
Why don't more people mix film noir and animation? The moody lighting, abstract angles and opportunities for hyper realistic style all make themselves accessible to the animation process. The rare examples include the short in The Animatrix, Zootopia copying the convoluted mystery and buddy cop angle of a film noir, and Ghost in the Shell and Akira being influenced by another famous neo noir we'll discuss later. But as for purest, Neo noir animation Renaissance is the king. This French sci fi neo noir starring Daniel Craig, Ian Holm and Jonathan Pryce is a slick, practically perfect version of contemporary film noir in stylish animation that most people have missed out on.
6. Nightcrawler (Gilroy, 2014)
Film noir often finds us focusing on and associating with really scummy people to the point we're basically watching the character study of a monster. No Country for Old Men gave us a classic monster played by Javier Bardem, and both Bad Lieutenant films make us watch two disturbed arms of the law, but Nightcrawler takes the cake. Jake Gyllenhaal as Lou Bloom as a scummy thief and sociopathic monster whose ego gets people killed. It is one of the best performance of not only his career, but ANY career. Nightcrawler was easily my favourite film of 2014 and should be watched by anyone who loves great cinema. And if you need more neo noir with Jake Gyllenhaal check out Nocturnal Animals, Prisoners and Zodiac because they're awesome.
5. Heat (Mann, 1995)
One great director of the neo noir film is Michael Mann. His themes of post modernism, culture critique and analysis of men and their place in their world make for already engaging stories. But add in his love of stylish visuals and action, and you'll get an impressive body of work. Thief, Manhunter, Collateral, Public Enemies, Blackhat and the Miami Vice are all great, but 1995's Heat is Mann's perfect film. Combining pulse pounding action and amazing visuals, this is a story about men's identities in a consumerist culture. It's a masterpiece, Heat cannot be beat. Robert De Niro and Al Pacino are on opposite sides of the law, but share a commonality: old fashioned machismo trying to define itself in a new age. It makes for one of the most engaging 160-minute films you'll ever watch. Do yourself a favour and go pick this one up. Fun Fact – the sci fi neo noir anime Akira is in this movie.
4. Chinatown (Polanski, 1974)
So here's the obligatory classic – Chinatown. What else do I need to say that hasn't been said about this Roman Polanski classic. Simultaneously a love letter to and dark version of classic film noir, Chinatown is a perfect example of finely tuned direction, acting, storytelling and thematic execution. It's a memorable, much loved classic for a reason. I don't need to say much more on this other than if you've somehow NOT seen this, you're obligated to now.
3. Lost Highway, (Lynch, 1997)
When it comes to more creative (or perhaps "strange") neo noir storytellers, David Lynch makes the top of the list. Blue Velvet, the entire Twin Peaks body of work and the masterful Mulholland Drive could easily make this spot (seriously Mulholland Drive is genius!). But if I had to pick the best neo noir flick of the bunch, I'll give it to the often forgotten Lost Highway. A strange and unclear narrative, unusual protagonist and head first dive into the criminal underworld make this fit the neo noir genre more than any other of Lynch's work. The first time you view this film it can be incredibly confusing, but once you start to piece together things like how the timeline works and duplicity, it becomes a narrative masterpiece. So I do encourage you to check this film out, especially if you love crazy stories and David Lynch himself.
2. Drive (Refn, 2011)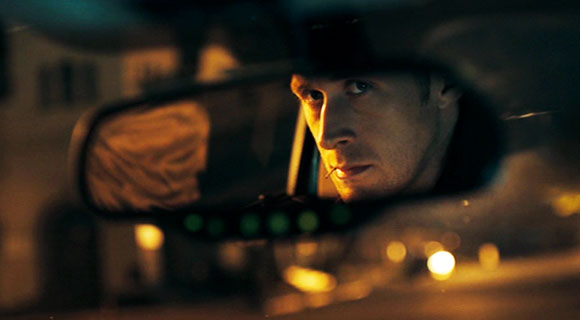 One neo noir film I continuously see ignored and overlooked as a masterwork in the genre is Nicolas Winding Refn's most popular film Drive. Refn started his neo noir fasciantion back in 1996 with Pusher and later its two sequels. After Drive he did another neo noir film with Ryan Gosling in the form of Only God Forgives. But Drive really is a masterwork, using a film noir-inspired story, set up and narrative elements to instead deliver art house action about violence and the nature of men. It's a subtle retelling of "The Scorpion and the Frog". Its genius stuff. The getaway driver getting involved with a gang through a friend and endangering innocent people is a strong film noir plot element. This is mixed with a classic Hero's Journey structure. But it's when Drive is allowed to be artful, violent and reflective upon those elements and Gosling's character, that it fully hits its stride.
1. Blade Runner (Scott, 1982) & Blade Runner 2049 (Villeneuve, 2017)
What else was going to top the list? Blade Runner has become a cultural icon; an institution in cinema and science fiction, even by those who've not seen it. 1965's Alphaville using film noir and sci fi arguably created neo noir and it's always been a successful combination. Creating a setting that can directly critique and examine the world the filmmaker wishes to look at in a sci fi context makes for more interesting cinema. Dark City, Looper, The Matrix, Strange Days and Minority Report are all awesome neo noir flicks, but none hold a candle to Blade Runner. Blade Runner's amazing production design, cinematography and visuals help inform its themes about identity, love, social hierarchies and moral decay. For reference, if your ever watch Blade Runner, make sure it's the Final Cut as it's Ridley Scott's true vision. And in terms of Blade Runner 2049, it too is masterful sci fi neo noir on par with the original, so I recommend you see both. They are each beautiful exercises in mood, building a world and creating a thriving atmosphere for characters and allowing that film noir aesthetic to bleed seamlessly into creating two of the best films in history, regardless of genre.
Agree? Disagree? Have your own you want to suggest? COMMENT BELOW!