Arrow Video brings this forgotten cult hit back to life as Steve De Jarnatt's 80s apocalypse Miracle Mile gets a sparkling DVD and Blu-ray release.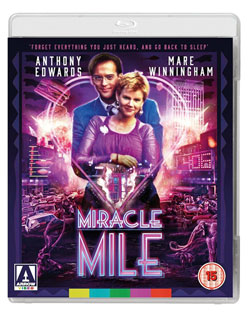 Now a bona fide cult classic, Miracle Mile has grown in stature despite being largely unavailable to audiences for years. Rather, it's a double bill favourite for arthouse cinemas exhibiting late night throwbacks to movies with apocalyptic overtones. Its forgotten status has fanned the flames of its cult existence, making this welcome release from Arrow Video even more intriguing. For fans, it's the release they've been waiting for – the correct aspect ratio is one reason to seek this out – while Miracle Mile virgins can revel in its real time drama as potential nuclear war hangs oppressively in the background.
The film begins with love at first sight. Harry (Anthony Edwards) meets Julie (Mare Winningham) and sparks fly. They spend some time together. They agree to meet later. All seems fine. But Harry's alarm doesn't go off after a power cut and Julie, after her shift at a city cafe, is left to make her own way home, believing Harry has lost interest. When he awakes, he rushes to Julie's place of work only to find her gone. He calls her from a pay phone only to get voicemail. He's dejected. He believes he's let the love of his life drift through his fingers. But his night is about to get much worse.
The pay phone begins ringing. Harry answers it hesitantly. At the other end of the line is a frantic soldier who reveals nuclear war is about to befall America and there's around one hour before the bombs drop. The caller wrongly thinks he's talking to his father only for Harry to reveal he's rung a public phone. Harry asks if it's a joke; a sick prank of epic proportions. But when the caller appears to be executed by superiors when a shower of bullets is heard, and a new voice tells Harry to forget everything he's just been told, the now terrified man is left to ponder his last moments on earth.
The film plays out in real time as Harry tries to track down Julie in order to get them both to safety. We watch as he reveals the news to others, some believing him, others preferring not to care. But the rumour spreads and the city falls into chaos. Writer-director Steve De Jarnatt, who is perhaps better known for Cherry 2000, keeps the tone dark throughout. Characters enter Harry's life over the course of the night, their individual fears resonating through desperation to save themselves as well as loved ones.
Miracle Mile benefits from being one of those "lost" movies. That status perhaps carries it above what it actually achieves. Jarnatt fills Harry's journey with obstacles that feel like the creations of a writer searching for dramatic intervention. It makes the night's events feel episodic and lacking any real menace. The film will shock and for a low budget it manages to deliver some excellent set-pieces but would have been better handled by a director without the same sense of attachment to a much-lauded script.
Yet, as an alternative love story, Miracle Mile is a wonderful example of how tragedy can accelerate the machinations of romance. Jarnatt combines his chief protagonists' blossoming adoration with a separated older couple settling differences to spend their possible last moments together. Edwards' Harry, an everyman with a good conscience, carries the story. He's an engaging character and the actor gives him heart and a fragility that makes us care. This permeates the paranoia to leave us with a film that, while not being entirely dramatically successful, leaves a bad taste that's oddly satisfying.

Arrow Video DVD and Blu-ray (UK release):
Arrow should be applauded for bringing another cult hit back to life. Previously releases on DVD and laserdisc have been criticised for picture and sound quality including the movie being released in the wrong aspect ratio. This release – on DVD and Blu-ray – boasts high definition Blu-ray (1080p) and standard definition DVD presentations in the correct aspect ratio of 1.85:1.
The original English stereo soundtrack is featured on the release with the Blu-ray disc having a lossless presentation. In addition, the release gets some lovely cover art and, for the first pressing, a collector's booklet featuring new writing from Tim Lucas.
But the extra video features are where this release really excels. There's a great reunion between the support cast in the bar used in one of the film's early scenes. This sees the actors reminisce about making the film, some discussing how their careers progressed from there. There's also new video interviews with writer/director Steve De Jarnatt and principle actors Mare Winningham and Anthony Edwards.
The release also features audio commentaries with Steve De Jarnatt and Jarnatt with cinematographer Theo van de Sande and production designer Chris Horner. There's a featurette on the the music of Tangerine Dream, deleted scenes and outtakes, and a short story read by writer-director Jarnatt.
Directed by: Steve De Jarnatt
Written by: Steve De Jarnatt
Starring: Anthony Edwards, Mare Winningham, John Agar
Released: 1988 / Genre: Science Fiction
Country: USA / IMDB
More reviews: Latest | Archive
Top 10 Films reviewed Miracle Mile courtesy of Arrow Video which releases the film on DVD and Blu-ray on October 16, 2017